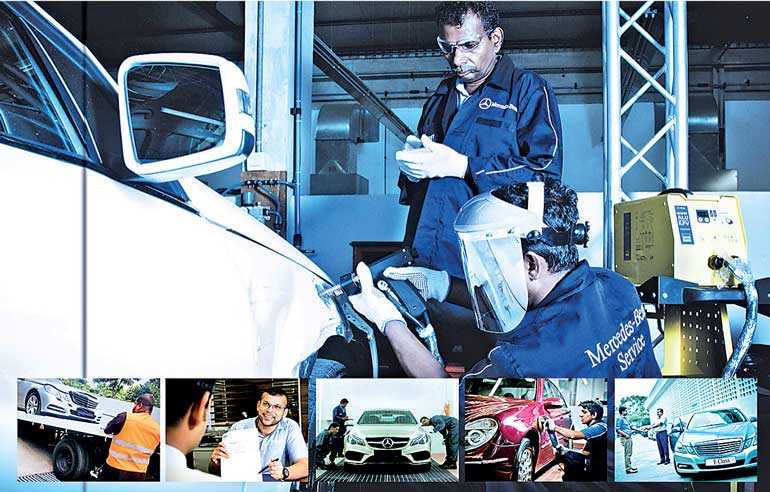 DIMO 800 Certified as Level 4
Certified as 'Only Daimler Certified General Distributor' workshop in South East Asia for body and paint repairs
The only authorised General Distributor for Mercedes-Benz in Sri Lanka, Diesel & Motor Engineering PLC's DIMO 800 – The Mercedes-Benz Centre of Excellence, has been certified as a Level 4 Body and Paint repair facility in South East Asia (SEA) by Daimler AG MS/OCC Accident Management – Body & Paint Facility Assessment. DIMO is the first General Distributor in South East Asia to receive this certification.

This certification has enabled DIMO 800 – The Mercedes-Benz Centre of Excellence to carry out body and paint repairs for Mercedes-Benz vehicles at Level 4, which is the highest level that is awarded by Daimler AG for any body and repair facility. This will enable to get the accident damaged vehicles back to '5 Star' state and retain the original safety standards. Since all repairs are carried out as per Daimler AG guidelines, factory standards and processes, DIMO assures the best in class repair quality and passenger safety while building the highest resale value for Mercedes-Benz vehicles.

The certification was obtained by DIMO after a series of vigorous audits carried out by Daimler AG over a period of two years, covering areas of investments on Daimler approved workshop equipment such as body jigs, straightening equipment, aluminium repair bays, computerised body measurement tools, availability of required special tools for accident repairs, use of Daimler approved paint booths, preparation bays, paint spray guns, paint mixing machines, environment friendly water base paint materials, quality management including the skills of all painters and body repair technicians and business management including all processes, bonding and aluminium repair methods for the most sophisticated repairs. These procedures and steps has elevated the service standards to a global level.

The paint booth at DIMO was initially installed in 1990, marking a historic landmark in the Sri Lankan automobile industry as the first paint booth installed in a workshop in Sri Lanka. Thus walking down the monumental path, DIMO introduced Celette bench and attachments in 1978, marking the first body jig set ever used in a workshop in Sri Lanka.

Furthermore DIMO 800 facility is equipped to carry out aluminium repairs up to Level 4, which is the highest level of accident repairs that can be carried out in any of the Mercedes-Benz Certified after sales facilities across the globe. DIMO Chairman and Managing Director Ranjith Pandithage mentioned: "DIMO strives to continuously improve on standards, for the benefit of the customers. Being process driven and striving for continuous improvement is inbuilt in the DNA of the DIMO Tribe. Using Daimler AG recommended tools and equipment and processes makes DIMO a safer working environment for the DIMO Tribe members."

This certification is of utmost importance to DIMO in order to benchmark their practices against the Daimler AG repair standards and guidelines, tools and equipment, skills of the technicians, processes to provide an exceptional service to the customers. Further, obtaining the certification has enhanced employee motivation, making the DIMO Tribe members feel proud of working at a globally recognised facility, DIMO 800 – The Mercedes-Benz Centre of Excellence.

Further, DIMO 800 being the only LEAD Gold certified automobile related facility in the Asian region and the most sophisticated and possibly the highest invested facility in the region has made it very much quicker in achieving the pinnacle and receiving honour of this certification, exceeding the standards of other countries in the region.