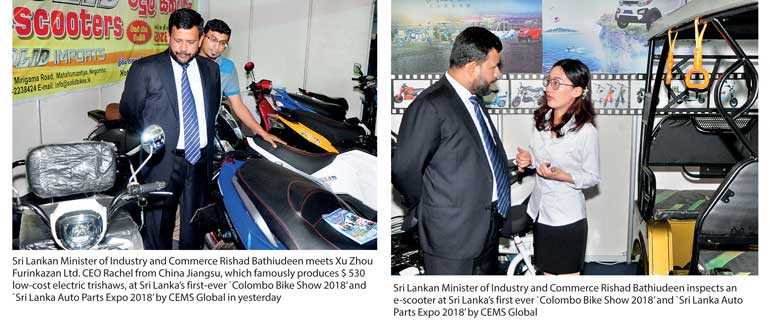 Colombo Bike Show 2018 and Auto Parts Expo opens in Colombo
Align with UN SDG 9, says Rishad
Calls automotive sector to study SDG 9 and use itChina's famed $ 530 Furinkazan trishaw introduced in Colombo
In an effort to promote green processes in its automotive sector, Sri Lanka has asked the sector to switch gears to the UN Sustainable Development Goals framework (SDG 9) introduced in Colombo last year.

Meanwhile, China's famed low-cost electric trishaw 'Xu Zhou Furinkazan' was unveiled in Sri Lanka for the first time yesterday.

"As the Government focuses more on pro-green products, e-bikes and electric automotives could become the future of Sri Lanka's transport due to it supporting sustainable practices. We introduced the Sustainable Development framework for industries called 'SDG 9' to Sri Lanka in August 2017 with the support of the UN," said Industry and Commerce Minister Rishad Bathiudeen yesterday in Colombo. Minister Bathiudeen was addressing the launch of Sri Lanka's first ever Colombo Bike Show 2018 and Sri Lanka Auto Parts Expo 2018 by CEMS Global in Colombo. The four-day exhibition showcases well-known automotive products such as Yamaha, Honda, Royal Enfield, etc. and new global brands like Furinkazan from China Jiangsu.

"As part of this broader vision, the Ministry of Industry is committed to the Sustainable Development Framework," said Minister Bathiudeen.

"That is the reason that we introduced the Sustainable Development Framework for industries called the SDG 9.2 framework to Sri Lanka last year with the support of the UN. The SDG 9 framework enhances support from the UN for sustainable industry development, industrial waste management and green industries. The good news is that automotive part makers and suppliers here today can make use of these SDG 9 guidelines and better target their production and markets through better infrastructure. I invite all the stakeholders to study the SDG 9 framework and also consider looking at other SDGs in their production work," he added.

Minister Bathiudeen also highlighted the steady growth of the Sri Lankan vehicle population.

"This show comes in the background of Sri Lanka's vehicle population increasing steadily. In 2013 a total of 5.2 million vehicles were in use in Sri Lanka. Last year this has increased to 7.2 million - a 38% increase in five years," he added.

An interesting first seen at the 2 August motor expo was China's famed low-cost electric trishaw Xu Zhou Furinkazan on display in Colombo for the first time. Furinkazan CEO Rachel said that the unit price of an electric trishaw is $ 530.

The category of motor vehicle with the largest share in Sri Lanka's vehicle population is the motorcycle. 56% of the country's 7.2 million vehicle population in Sri Lanka in 2017 comprised of motorcycles.
Futuristic green bikes and tuks unveiled
E-scooter targeted at differently abled people, affordability of new products highlighted
​Electric trishaws and e-scooters for the differently abled were featured for the first time at the Colombo Bike Show yesterday to promote affordable alternative transport options to Sri Lankans.

Xuzhou Furinkazan is a Chinese manufacturer of e-trishaws that cost about $ 530 (approximately Rs. 85,000) and runs 70 km on a full charge at a maximum speed of 45 km per hour. It can accommodate four to eight passengers and carries a futuristic look. Local company Solid Imports, which sources their wares from China, also exhibited an e-scooter for the differently abled retailing at Rs. 149,000 that can travel 50-60 km on a full charge. This product can even be charged at home through a 5 ampere electric outlet. The e-scooter is targeted at differently abled people and has been in the market for the last three years.

These new products were presented at the Colombo Bike Show at the Sri Lanka Exhibition and Convention Centre (SLECC) and will be on display until Sunday.

E-trishaws, also known as e-rickshaws, have been popular since 2008 in India and China due to their low price, low maintenance and zero fuel cost. Electric motorbikes were in the market since the early 2000s and both these products carry rechargeable batteries that store power in an electric motor which helps the vehicle to function.