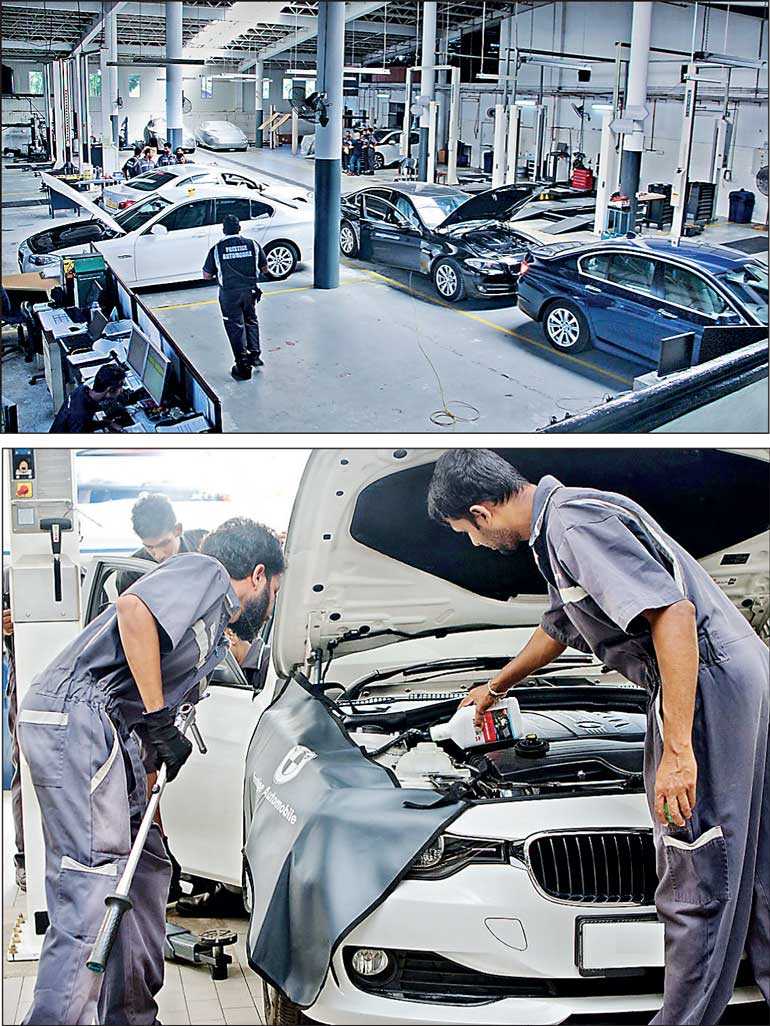 ---
Maintaining timely aftersales services from authorised dealers not only ensures high quality aftercare for your vehicle but also guarantees reliability, value for money and overall joy whenever you take your beamer out for a drive.

Being the sole authorised importer and distributor of BMW, BMWi, iPerformance and MINI vehicles, Prestige Automobile Ltd. has played a pivotal role in catapulting the BMW brand to unparalleled heights in Sri Lanka with its 20-year transformative journey.

Over the years, Prestige has expanded its portfolio with latest BMW models, state-of-the-art aftersales service facility, cutting edge collision repair centre and building lasting relationships with customers with its award-winning aftersales services coupled with advisory support.

Commenting on the eight-step aftersales approach, Prestige Automobile After Sales General Manager Laksiri De Silva said: "All of our aftersales services are customer-centric, which is a strategy adopted by BMW AG and proliferated globally to all authorised dealerships."

"The eight steps of the service process are as follows.


Customer Contact
Appointment Scheduling
Consultation Preparation
Service Consultation (at the car)
Order Processing
Invoicing (with clear explanation)
Vehicle Return
Aftercare Operations (customer feedback)


"It ensures that the customer is well-informed and aware of the exact repair and service requirement of his vehicle. Through a very transparent work process, it installs confidence and trust thereby providing peace of mind for vehicle owner and satisfaction of fulfilment to the stakeholders.

"With our expertise and experience in the local market and access to global dealerships, we envision elevating the aftersales services for BMW and MINI models to new heights, thereby offering the latest technical support along with genuine spare parts.

"As the only authorised dealer in Sri Lanka, our goal is to provide great accessibility and deliver high quality after sales services with advisory support. As such, one major gap we see in the aftersales industry is the lack of advisory support for customers, and we as the premium brand want to bridge this gap by inculcating our employees with multi-faceted skills, so that they are empowered to advise clients on the after sales services best suited for them.

"Further, we have implemented periodic training sessions for all our employees to educate them on the latest advancements in High Voltage and Hybrid repairs to relevant BMW models. Through our range of value added features such as the comprehensive manufacturer's warranty, two-year parts warranty, extended goodwill, mobility guarantee, online booking facility, free product and technical upgrades, tailor-made package prices and many other benefits, we are enabling our customers to feel and understand the value we give for their BMW thoroughbreds."

Commenting further, he added: "We are also witnessing the use of counterfeit parts by parallel imported BMW vehicles and the hardships they go through in trying to fix these problems without proper access to professional and trained skillset. Parallel imported cars have been designed and programmed for different climatic and environmental conditions. From time to time BMW AG releases product upgrades for different models and also issue recall campaigns which are essential to maintain the safety of the car.

"Only Prestige as the authorised importer will be informed of these product upgrades and technical measures and about the cars which need to be attended to. Understanding this, we have decided to offer special rates on our aftersales services for parallel imported vehicle registrations. By registering with Prestige Automobile, any BMW and MINI owner can enjoy a plethora of value added features encompassing official software upgrades announced through the manufacture, access to genuine BMW spare parts, and most of all, get to know their BMW from our certified BMW service advisors."

In addition, Prestige Automobile recently expanded its flagship workshop with state-of-the-art equipment and special tools specifically designed to diagnose any problems in BMWs. The service centre is equipped with certified service advisors who can provide first-hand advice on current repair and maintenance needs.

Furthermore, the facility has 30 work bays, enabling consumers with greater convenience by eliminating the hassle of waiting. In addition, the BMW Collision Repair Centre is the only BMW-authorised facility in the country to carry out carbon fibre repairs and replacement, and is also the first centre in the country to implement the use of water-based paint. Prestige Automobile also offers a 24-hour Roadside Assistance and Recovery Service, in the event of a breakdown, to pick your BMW up.