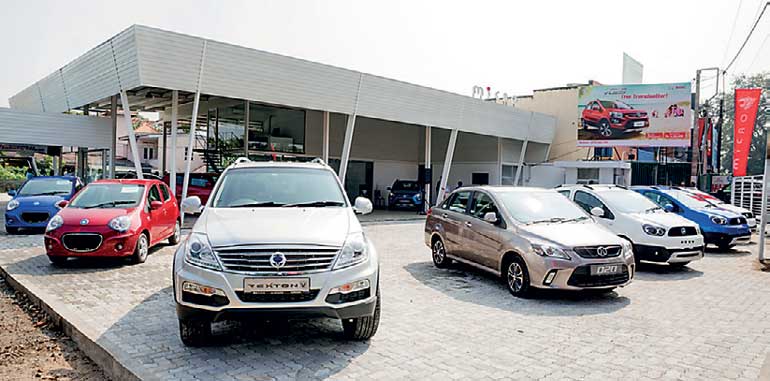 Micro Cars, Sri Lanka's only car manufacturer and the only company with an automated car assembly plant having island wide sales and service opened its own new Colombo South 3S centre in Ratmalana to the public, last Saturday 9 December 2017 under the auspices of Chairman/CEO Dr. Lawrence Perera and the board of directors of Micro cars.

The new state-of-the-art centre will function as a 3S Centre, (Sales, Service and Spare Parts) providing Micro customers the convenience obtaining all services at another prominent location Galle Road Ratmalana.

With an island wide branch network and an increasing service and spare parts dealer network, Micro has taken yet another step to increase their presence and provide sales and support services to customers in the Colombo South region.

The new centre will provide sales support to all Micro brands, Ssangyong (Rexton, Tivoli), Geely (Panda, Panda Cross,) BAIC (X25, D20), and also Luxury Bus Range (Yutong & Higer).

Also this new Micro 3S centre will have a "Robotic Wash", a state-of-the-art fully automated Touch-less car wash system, is a first of its kind in Sri Lanka, has the ability to complete a fully body and undercarriage high pressure wash including detergent spray just within five minutes of record time per vehicle. Since inception "Micro" has always been a pioneer in the automotive industry constantly looking at new and innovative ways to provide a faster, Quality and efficient service to their customers. Reducing the time spent on washing vehicles and delivering a fast and efficient service were the key objectives behind the implementation of the automated wash system while projecting the Paintwork of the car body.

The smart system uses an "L" shaped robotic arm which has built in series of high pressure nozzles which is used to spray water and detergent at the selected sequence using a well calibrated pressure according to the washing need. The arm is able to travel 360 degrees around the vehicle, delivering a quick thorough and efficient wash. The built-in under chassis wash is activated with the help of two sensors and perfectly placed nozzles will deliver high pressure pre-wash effectively removing dirt and stains from chassis, body sides and wheels.

Compared to the common automated brush car wash systems in the market today, the unique brush-less design provides minimal invasion on the body and paint of the vehicle and will protect your valuable car from unwanted paint scratches and damages.

Reduction in washing time, 50% less water and electricity consumption and less manual labour are the key benefits of the automated touch-less car wash system, which are also the key issues that impact the car wash industry today, and Micro has yet again taken the initiative by partnering with a leading brand to deliver high quality efficient service to the loyal consumers.

The automated wash system can accommodate a range of different sized vehicles from the larger SUVs, mid range SUVs and even the smaller compact cars.

Trusted in over 35 countries, "Robotic Car Wash System " is manufactured to EU specifications and standards using spare parts from leading reputed European, Japanese component suppliers and US. Today "Robotic Wash" is globally accepted because of its efficiency and reliability and continues to revolutionise the Car wash and service industry combining innovation and new technology.

Robotic Wash unit soon will be open to the general public and not restricted to only Micro customers. The new Micro showroom is located at No 421, Galle Road, Ratmalana.