From right: Carepoint Managing Director Salinda Pillawa, Carepoint Finance Director Kavinda Perera, Carepoint Head of Business Development Samantha Hathurusinghe, Carepoint Head of Marketing Dilanka Ratnayake, Micro Cars Director Asela Lihinikaduwa, Micro Cars Marketing Director Ruvindhu Guneratne, MG Head of Sales Prasad Malalasekara, Micro Cars Senior Service Engineer B. Shehan de Tissera and Micro Cars Accountant Sankha Premathilake

From right: Micro Cars Accountant Sankha Premathilake, Arabian Motors Service Advisor Mohamed Rimzan, Arabian Motors Managing Director Suraj Dandeniya, Micro Cars Director Asela Lihinikaduwa, Micro Cars Marketing Director Ruvindhu Guneratne, Micro Cars Senior Service Engineer B. Shehan de Tissera and MG Head of Sales Prasad Malalasekara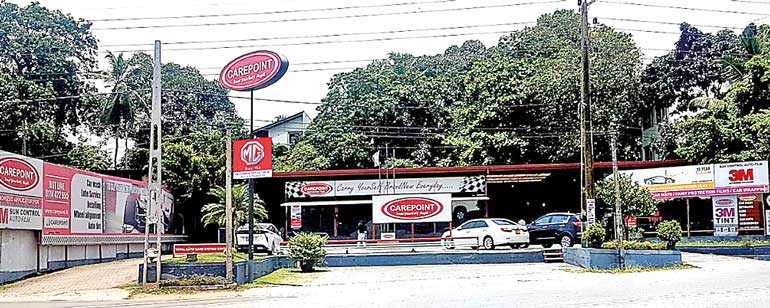 Micro Cars Ltd., authorised agents in Sri Lanka for the iconic British brand MG, today's best-selling SUV, has focused on uplifting the after-sales service via greater convenience and affordability for the brand.

Thus, the company has partnered with two well-known names in the automotive servicing and detailing industry to offer a wider range of Lubrication service locations for owners of MG vehicles purchased through Micro Cars with an unmatched five-year warranty.

"The MG ZS SUV is very popular now, as it offers a great set of features at an unbelievable price," said Micro Cars Director Ruvindu Guneratne. "The word of mouth from satisfied customers is phenomenal. We are constantly looking at ways to uplift the service for all our customers and towards this objective, we have partnered with Carepoint and Arabian Motors to offer lubrication services for all MG owners who purchased vehicles through Micro Cars."

In the pilot project, four Carepoint branches – those situated at Nugegoda, Maharagama, Rajagiriya and Thalawathugoda, as well as Arabian Motors to represent Colombo area have been upgraded by Micro Cars as well as training their staff in line with MG global standards. Customers can enjoy lounge facilities and will be charged at competitive market rate.

"If you are an MG owner, you simply give us a call on 0776626262 and we will advise the closest servicing location to you, and make the appointment at a convenient time to you. Our staff will monitor your appointment and the progress of your service right up to the end," said Guneratne. "We ensure the authorised agent service quality, but with greater convenience and affordability for customers in getting the lubrication services done for their MGs."

However, at every 20,000km interval the MG vehicle needs to be serviced at the Micro Cars Kelaniya main workshop, as to ensure that the MGs are updated with software, engine tune-up and general refresh. All mechanical and bodywork repairs also will still be centred at the Kelaniya Micro main workshop with greater space and updated facilities

Micro Cars is also broadening its Road Side Assistance (RSA) network by adding a small teams of riders at strategic locations. Many incidents and accidents that require a call to RSA can be helped out on-the-spot. These riders are trained to MG technical standards and carry the necessary tools and equipment to get the owner back up and running – even if it's a flat tyre!

Micro Cars is currently involved in a new endeavour to revolutionise the Sri Lankan automotive industry through its global innovative automobile partners, and offer Sri Lankans mobility that can offer more value for their money for the investments they make now and for the future.