Lanka Ashok Leyland has recorded turnover of LKR 3.2bn in the first quarter of 2018, against LKR 3.3bn for the first quarter of 2017.

It said vehicle sales saw a marginal decline year on year to LKR 3.0bn whilst revenue from other sources rose 44% to LKR 118.4mn against LKR 82.0mn for the same period last year.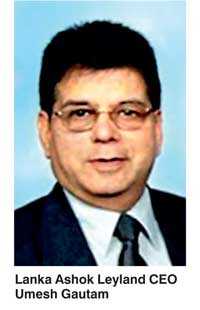 Prudent cost controls boosted the gross profit by 22% to LKR 308mn and saw the gross profit margin expand to 9.7% against 7.8% recorded a year ago.

Operating expenses for the quarter stood at LKR 138.9mn, a 172% increase over the first quarter of 2017 which was benefitted from a one off reversal. Net finance costs for the quarter rose 553% to LKR 67.2mn as we took on more debt to expand our stock of technologically superior BS3 compliant vehicles with latest safety standards. Inventory position grew 30% to LKR 5.7bn cf. 4.4bn in the first quarter of 2017 while interest bearing liabilities have risen 99% to LKR 4.1bn against LKR 2.0bn a year ago.

The increase in finance resulted in a profit before tax of LKR 51.7mn versus LKR 135.5mn in 1Q2017, signifying a 51% decline year on year.

Commenting on the results Lanka Ashok Leyland CEO Umesh Gautam said: "The first quarters' sales performance has historically been sluggish over the last few years. This quarter witnessed larger than normal exchange rate volatility which affected pricing and influenced our customers buying decisions. Despite these constraints, our vehicle sales continued to top the LKR 3.0bn benchmark. Our bottom line does not fairly reflect the progress the company has made over the quarter which witnessed margin expansion at the gross profit level and saw income from other sources like repairs, hiring and spare parts grow 44%. This restructuring of our revenue profile will reduce exposure to cyclical sales and improve our overall financial position.

The inventory build-up adversely impacts our financial strength and profitability in the near term however the company maintains a healthy balance sheet which can easily accommodate the leverage whilst the management is very confident in the medium to long term success of the strategic decisions to launch safer more reliable vehicles in the market"

On the future outlook Mr Gautam comments that the transportation sector will see the impact of the EURO 4 standard implementation coming into play in July 2018. We commend the government in its efforts to go green however commercially, transportation business models run on very thin margins and are cost sensitive. Higher initial investment in purchase of the vehicles and use of cheaper fuels in vehicles will be replaced by super diesel as required by EURO 4 engines adversely impacting running costs and profitability of the sector.

While we expect demand from key customer segments such as construction to pick up, external shocks such as weather and variables such as exchange rate volatility and high interest rates will drive our costs and dampen our outlook.

The switch in the duty structure will work in favor of our light commercial vehicle offering which boasts the best-in-class safety features and driving comfort in the segment and has faced sluggish sales due to cheaper alternatives in the past.

We will continue to explore innovative partnerships to bolster our turnover while our strategy to expand other revenue verticals such as spare parts, workshop repair segments and business of hiring of buses will continue to build steam to look forward to.

We remain cautiously optimistic for the year ahead," Gautam added.