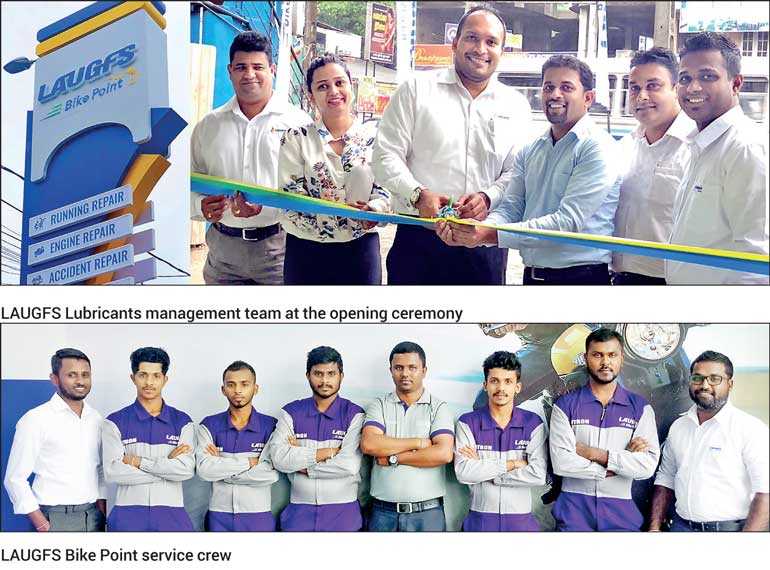 Marking another momentous milestone, LAUGFS recently unveiled a state-of-the-art high-tech motorbike service centre in Koswatta. The LAUGFS Bike Point caters to the diverse service and maintenance needs of motorbike and scooter customers.

Commenting on the opening of the new LAUGFS Bike Point service centre, LAUGFS Lubricants Chief Executive Officer Niroshan Pieries remarked, "This is the first of its kind within our portfolio and is a one-stop-shop to meet all needs of our local motorbike and scooter customers. We are always striving to gain a holistic understanding of our customer requirements to serve them better and LAUGFS Bike Point has beenlaunched to offer a range of on-site maintenance services exclusively formotorbike and scooter owners."

With the opening of the new service centre, a number of special offers are also made available for motorbike and scooter customers. As part of the introductory offers, motorbike owners are eligible for free engine oil for a full service under the sponsorship of LAUGFS Lubricants. Comprehensive and systematic motorbike inspections using advanced technology are carried out for customers completely free of charge, and the first 10 customers are entitled for a free motorbike wash at the bike service centre in Koswatta on a daily basis. All these exciting offers will take place till 30 November in celebration of this occasion.

Backed by a dedicated and professional service crew, the new centre is fully equipped to service and repair motorbikes and scooters. The Bike Point brings together cutting edge technology and a team of highly skilled professionals, providing bike owners with a high quality and reliable service.

The extensive array of services on offer includes motorbike washes, accident repairs, engine repairs as well as running repairs. Special full service packages are also made available for motorbikes completinga mileage of 2,500 km and 10,000 km. It will be a one-stop destination catering to all brands of motorbikes and scooters including Honda, TVS, Bajaj and Hero. Customers are also able to purchase a range of exclusive motorcycle accessories and spare parts for these brands. Being part of a reputed brand name the Bike Point will continue in its efforts to set new benchmarks in the vehicle care services industry. This newest centre is fully designed with ample space for a customer seating area and a vibrant ambience that will enhance the overall experience of motorbike owners at the service centre.

LAUGFS Bike Point is a strategic business unit launched by LAUGFS Lubricants Ltd., a wholly owned subsidiary of LAUGFS Holdings. With its inception in 2008, LAUGFS Lubricants is the first local lubricant brand to compete among multinational players. Its lubricants plant in the Malwatta BOI Zone utilises cutting edge technology to blend local engine oils in compliance with international industry standards. With the manufacturing of lubricants to suit local climate conditions and to provide extended mileage for vehicles, the company has gained the trust of local motor sporting stars and motorists alike.