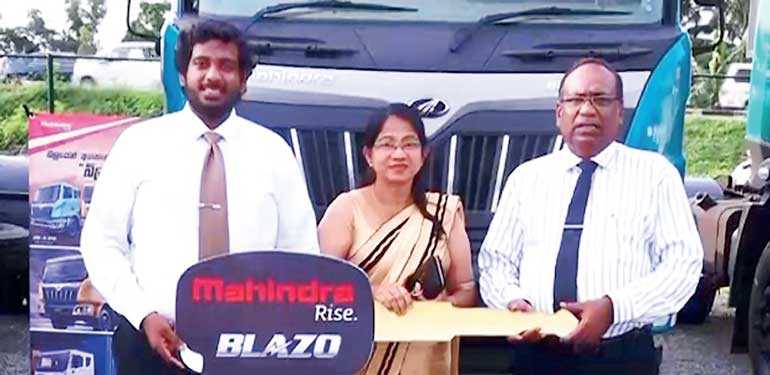 President of the Association of Container Transporters Upali Gunawardena and family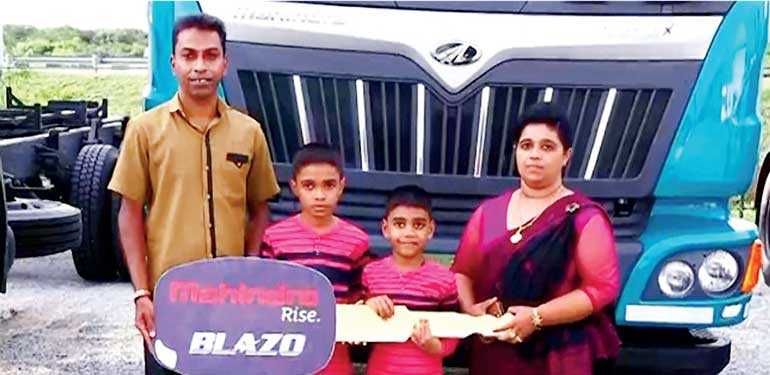 Mangalagama Transport owner Athula Samaraweera and his family
---
India's leading auto manufacturer Mahindra & Mahindra Ltd., a member of the Mahindra Group, together with its Sri Lankan partner Ideal Motors Ltd., a member of the Ideal Group, handed over brand new Mahindra Blazo trucks to their new owners during an official ceremony held recently.

The event was held at the company's Peliyagoda premises in the presence of Ideal Motors Chairman Nalin Welgama.

The three Mahindra heavy commercial vehicle models – Blazo Cabin Chassis, Blazo Tipper and Blazo Prime Mover – come with Euro4 technology and are well-positioned to meet the commercial transportation needs of the country.

The models provide a range of features including a 274HP powerful high capacity engine, Driver Information System, FuelSmart technology, adjustable driver's seat, six-speed heavy duty gearbox, Anti-lock Braking System (ABS) and a strong 8.5mm chassis.

When compared to the previous models, the new models provide more power, guarantee lower maintenance costs and are more environmentally-friendly. The new models also offer better fuel efficiency and the vehicles' full lubrication service only needs to be carried out at 90,000km or once a year.

The models possess numerous attributes that have enhanced their heavy-duty transportation capabilities while a host of comfort and safety features also contribute towards making them a perfect fit for today's transportation needs.

Seven Blazo Prime Mover vehicles were ceremoniously handed over by Welgama to their new owner, Association of Container Transporters (ACT) President Upali Gunawardena.

Addressing the audience, Gunawardena stated: "Mahindra is a very strong brand in the local market. Mahindra Blazo 40 is a prime mover that uses Euro4 technology and we are confident that it will do very well in the local market, especially since it is backed by Ideal Motors, a trusted name in the local automotive industry."Athula Samaraweera, owner of Mangalagama Transport and a first-time customer of Mahindra, stated, "Since this truck boasts of a special feature thanks to its loading capacity of 24 feet, we can make higher profits. With its sturdy, long-lasting build, I am very confident that we can use this truck for a long time."

A key feature of the Mahindra Blazo models is its two-year or 200,000km comprehensive warranty. Further, an island-wide 24-hour service for accident repairs and roadside assistance (RSA) is available to all customers. The factory-fitted Blower Cooling System available in all vehicles provides a comfortable cabin environment for the driver and passenger.

FuelSmart technology, an innovation that is available only in Mahindra vehicles, allows the driver to conveniently choose the engine power based on the load, enabling the trucks to demonstrate their best-in-class fuel efficiency. Blazo Prime Mover and Blazo Cabin Chassis come with factory-fitted, long-lasting radial tyres while the 16CMB capacity of the Blazo Tipper guarantees the customer a higher income.

Ideal Motors Ltd. is a fully-owned subsidiary company of the Ideal Group. Since November 2009, Ideal Motors has been the Sole Authorised Distributor for Mahindra motor vehicles in Sri Lanka. Ideal Motors has sold over 65,000 vehicles in the country and today, Mahindra has emerged as the market leader with over 50% market share.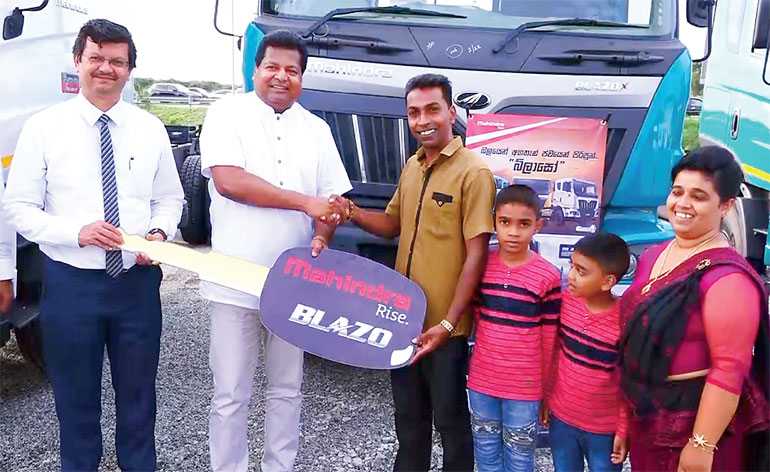 Mahindra & Mahindra General Manager and Country Head Sagar Bhadkamkar, Ideal Motors Chairman Nalin Welgama hand over the Mahindra Blazo Cabin Chassis to Mangalagama Transport owner Athula Samaraweera and his family at the official presentation ceremony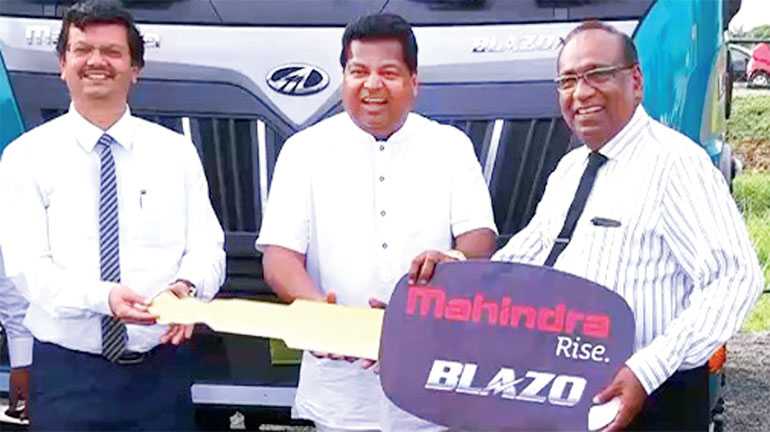 Representing India's leading auto manufacturer Mahindra & Mahindra and its Sri Lankan partner Ideal Motors, Mahindra & Mahindra General Manager and Country Head Sagar Bhadkamkar and Ideal Motors Chairman Nalin Welgama presenting the brand new Mahindra Blazo Prime Mover trucks to President of the Association of Container Transporters Upali Gunawardena