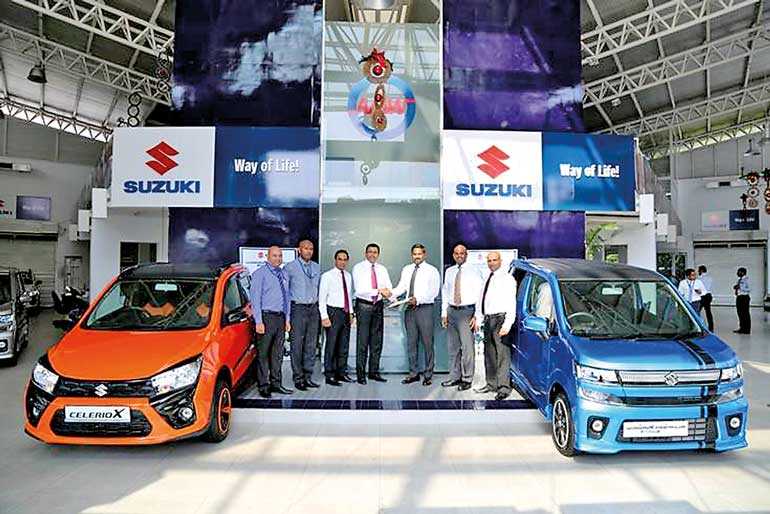 From left:HNB LeasingExecutive Business DevelopmentMahesh Ratnayake, HNBAssistantManager Leasing Roshan De Silva,HNBSenior Manager Leasing Niluka Amarasinghe, HNBHead of Personal Financial Services Kanchana Karunagama, AMWDirector Passenger Vehicles Yohann De Zoysa, AMWSuzuki and Auto MallGeneral Manager Virann De Zoysa, andAMWSales Manager – Suzuki Divan Wijerathne
---
Sri Lanka's premier financial solutions provider HNB PLC, signed a Memorandum of Understanding (MoU) with AMW Ltd. to offer exclusive leasing packages with attractive interest rates and benefits for customers who intend to purchase Suzuki cars.
HNB Head of Personal Financial Services Kanchana Karunagama and AMW Director, Passenger Vehicles Yohann De Zoysa signed the MoU on behalf of both organisations at a special ceremony held at the Suzuki main showroom in Borella.

"HNB'spartnership withAMWSuzukiprovidesauniqueframeworktooffernumerous benefits to our customers through tailor-made leasing packages inclusive of low interest rates in addition to other benefits. Particularly over the recent past, we have seen drastic increases in the number of customers who wish to purchase Suzuki vehicles, and we believe this is a sign of the growing respect that the Sri Lankan markethasforthisbrand.ThroughourpartnershipwithAMWSuzuki,wearepleased to offer our customers the most affordable pathway to owning their own dream vehicle," HNB Senior Manager, Leasing Niluka T. Amarasinghesaid.

HNB customers also have the option of choosing either a structured or residual leasingfacilitytofittheirbudgetaryneeds.Minimaldocumentation,personalizedone day service, doorstep assistance, and discounted vehicle insurance premiums are some of the added benefits that customers will be awarded as a result of this partnership.

"We are pleased to provide affordable leasing solutions and a host of other benefits to our customers through this partnership with HNB, it allows us to cater to the increasingdemandfortherangeofvehiclesweoffercoupledwithattractivebenefits,"Suzuki and Auto MallGeneral Manager Virann De Zoysasaid.

For more information contact 0112462462 (HNB) and 0117609609 AMW or visit any HNB Customer Centre or AMW Suzuki showroom island-wide.