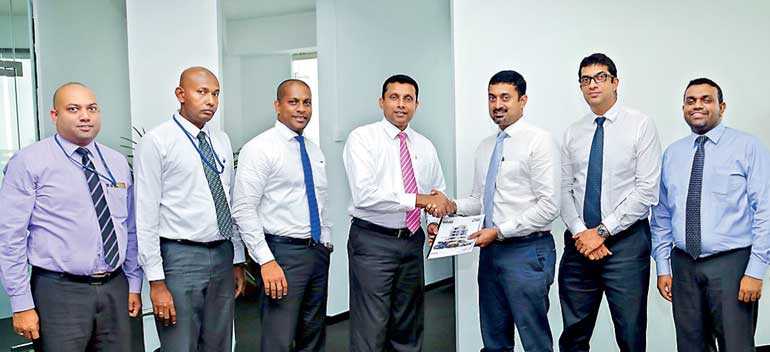 From left: HNB Executive – Business Development, Leasing Mahesh Ratnayake, Assistant Manager –Leasing Roshan De Silva, Senior Manager – Leasing Nalin Dissanayake, Head of Personal Financial Services Kanchana Karunagama, Drive One Chief Operating Officer Anushka Polonowita, Customer Support Specialist Janak Melvani and Brand Manager Akthar Rizvi
Sri Lanka's premiere retail bank, HNB PLC announced a new partnership with the sole authorised agents of Audi in Sri Lanka, Drive One Ltd. to offer special deals for customers of the bank who are aspiring Audi owners.

"As Sri Lanka's largest and most successful retail bank, we consider it a great honour to partner with Drive One Ltd. As sole authorised agents for Audi, Drive One's philosophy focuses on establishing long-lasting customer relationships that are defined by the excellence of the Audi brand. HNB is also passionate about delivering lasting value to customers, and these strong parallels between our brands makes for an ideal partnership.

"Audi is known for its pioneering technology, its passion for innovation, its progressive designs and the superior built quality brought forth an extremely strong and loyal customer base in Sri Lanka and of course, among our own sizable and growing HNB customer demographic. Hence we are excited to offer our valued customers a convenient, affordable, and efficient pathway to owning their own Audi," HNB Senior Manager – Leasing Nalin Dissanayake said.

The partnership between the two brands opens the door to a plethora of leasing facilities and benefits, including insurance, special leasing and credit card facilities with the promotion itself running between October and December.

Moving forward, HNB customers will be entitled to special leasing packages for the full range of Audi automobiles including the sedan range (Audi A3 , Audi A4 , Audi A5 Sportback , Audi A6) and the SUV range ( Audi Q2 , Audi Q3 , Audi Q7).

"As the sole authorised dealer for Audi in Sri Lanka, we consider it a great pleasure to partner with HNB to offer this special leasing facility. Drive One's primary focus has been our clients, and we are working towards offering them the best possible service," Drive One Chief Operating Officer Anushka Polonowita said.

Further, customers will also be entitled to free life insurance cover of Rs. 4 million for vehicle insurance premiums from HNB General Insurance – provided at discounted rates – in addition to a free credit card with the first annual fee waived off.

Drive One has created a progressive, sophisticated ecosystem that anticipates customer requirements and focuses on the philosophy of creating long-lasting customer relationships throughout the entire vehicle-ownership lifecycle to deliver the best possible after-sales care for Audi automobiles. The showroom is based at Duplication Road, Colombo 5, while the fully fledged service centre is located in Wattala.