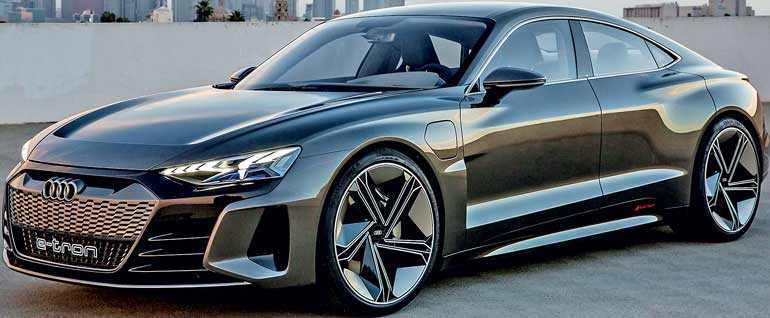 The Audi e-tron is the first fully electrically powered series production model from the brand with the four rings. Standing still or on the move, the Audi e-tron is electrifying. Its expressive sill area, the electric tailboard and the light grey single-frame are indicators of the high-voltage technology that makes for a special driving experience. The electric SUV is powered by two powerful electric motors that are CO2-neutral and virtually silent. A new generation of the Quattro drive, the electric all-wheel drive, ensures excellent traction and dynamics. It ensures the continuous and variable regulation of the ideal distribution of drive torques between the two axles within a fraction of a second.

A key factor for the sporty character and outstanding transverse dynamics is the low and central position at which the battery system is installed. It gives the vehicle a range that is suitable for driving long distances. During far more than 90 percent of all decelerations, the Audi e-tron recovers energy solely via its electric motors. The electric SUV taps its maximum recuperation potential in combination with the integrated electrohydraulic brake control system. Audi is the world's first carmaker to use such a system in an electrically powered series production vehicle. The cleverly designed aerodynamics also contribute significantly to its efficiency. The Audi e-tron is equipped with the virtual exterior mirrors – a worldwide first in a series production model. Not only do they reduce aerodynamic drag, they also take digitalisation in the vehicle to a whole new level.

From navigation with the e-tron route planner (which displays the appropriate route with the required charging points, automated billing at the charging station and all the way to remote control via smartphone) the Audi e-tron is extremely well-connected. It is equipped with the high-end media centre MMI navigation plus including LTE Advanced and a Wi-Fi hotspot as standard. Numerous assist systems further relieve the driver, such as the standard efficiency assist that promotes an economic driving style by displaying predictive information and performing automatic recuperation. If the customer selects the adaptive cruise assist, the system can also brake and accelerate the electric SUV predictively.

The Audi e-tron is being built in the CO2-neutral plant in Brussels and will be arriving in European dealerships in early 2019.