From left: Samson Rubber Industries General Manager (Trading Division) P.A.P. Dayarathna, Director Kavinda Rajapaksa; Dushan Gunawardene of Universal Tyres, Gemunu Gunawardene of Universal Tyres, DSI Samson Group Managing Director Ranatunga Rajapaksa, Chandravaas Gunawardhana of Silvery Tyre House, Ajith Chandima of Ajith Tyre Works, and W.A. Sanjeewa of Sandagiri Tyres and Battery works
---
Turning a new leaf in the radial tyre market, Samson Rubber Industries (DSI Tyres) recently introduced world renowned Hankook Tyres to Sri Lanka. Hankook Tyres which has a proud history of several decades is among the top 10 tyre manufacturing companies in the world. Manufactured with state-of-the-art technology to assure safety, durability, comfortability and environment friendliness, Hankook Radial Tyres give an innovative look and value to your vehicle.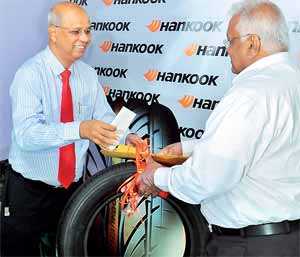 Ranatunga Rajapaksa offering a tyre to Gemunu Gunawardhana of Universal Tyres
The Radial Tyre has a straight zigzag groove that improves driving performance on dry, wet and snowy roads. A balanced distribution of ribs and blocks provides naturally stable steering, excellent braking performance and grip. It also features low tread wear and high durability and proven to be suitable to the road and weather conditions of Sri Lanka. Commenting on the new introduction, DSI Samson Group MD Ranatunga Rajapaksa said that Hankook Radial Tyres were launched in a move to present high quality radial tyres to Sri Lankan tyre market. With a successful business history of more than 30 years, Samson Rubber Industries secures a very high market share while exporting tyres to over 70 countries and marketing Bicycle Tyres, Motor cycle Tyres, Three wheeler and Farming industry vehicle Tyres and tubes island wide. Since the company is rich with an island wide distribution network, Hankook Radial Tyres are now available in any part of the country and the company assures an excellent after sales service too.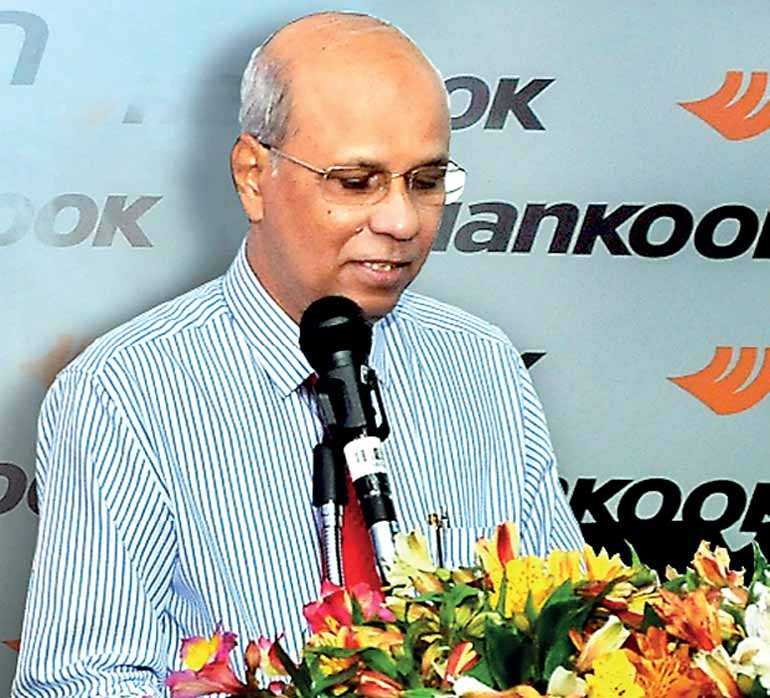 DSI Samson Group Managing Director Ranatunga Rajapaksa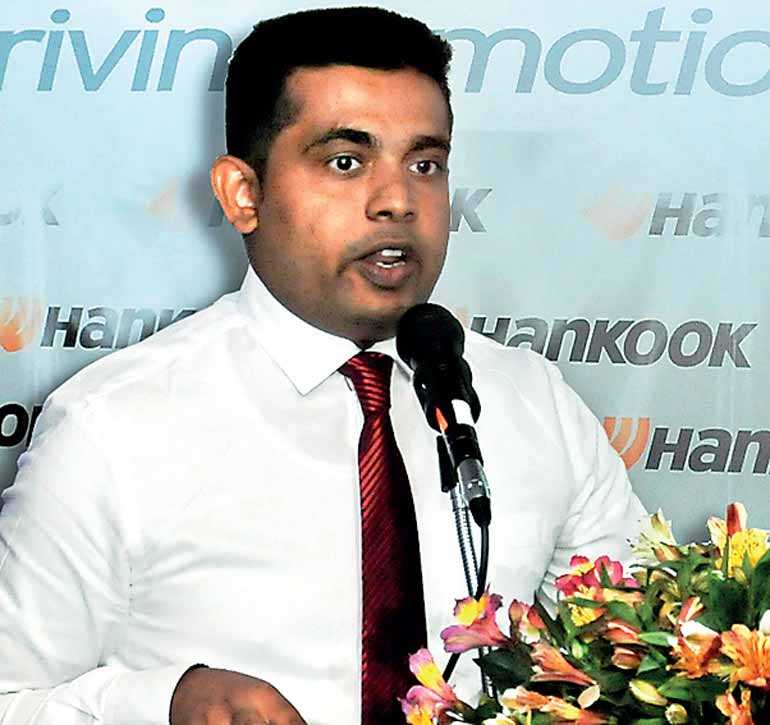 Samson Rubber Industries Marketing Manager Chamith Karunarathne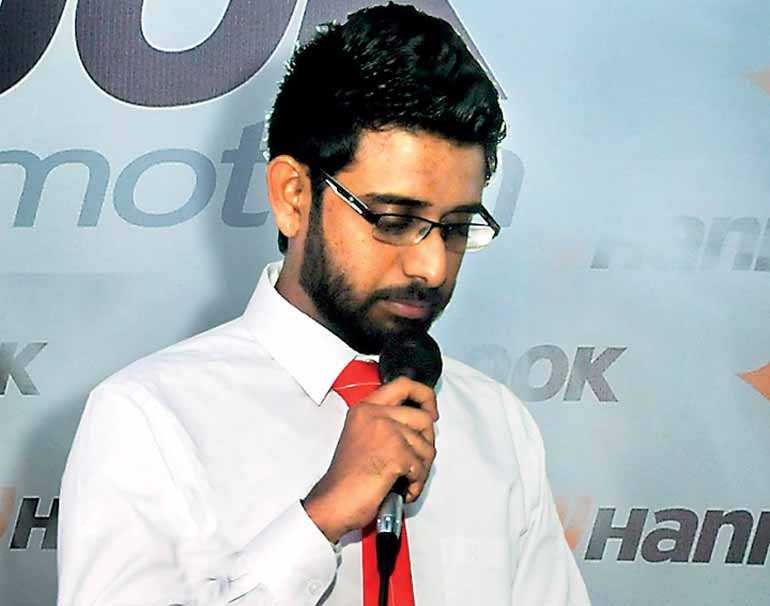 Brand Executive Menuka Kodagoda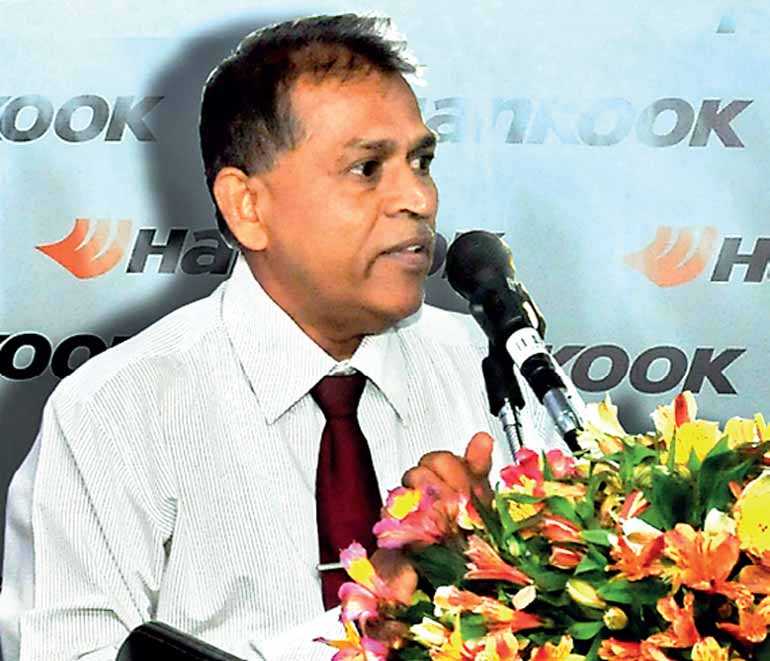 General Manager (Trading Division) P.A.P. Dayarathna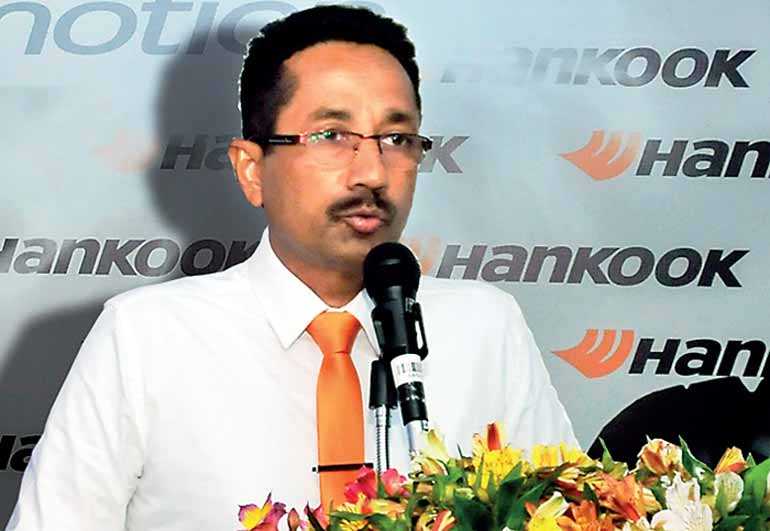 Assistant Sales Manager (Trading Division) Lakshman Kumara
---