NAITA Chairman Dr. Saranga Alahapperuma, DIMO Chief Human Resources Officer Dilrukshi Kurukulasuriya and DIMO General Manager TATA Commercial Vehicle Service Mahesh Karunaratne at the panel discussion
---
Diesel & Motor Engineering PLC (DIMO) recently organised a forum for representatives of the vocational training sector in Sri Lanka under the patronage of DIMO Group CEO Gahanath Pandithage.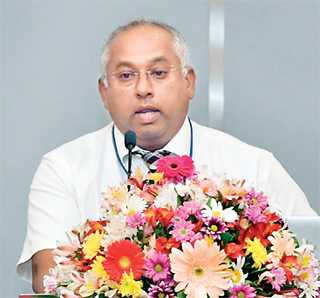 DIMO Group CEO Gahanath Pandithage addressing the gathering
Ministry of Skills Development and Vocational Training Additional Secretary Anuradha Illeperuma, National Apprentice and Industrial Training Authority (NAITA) Chairman Dr. Saranga Alahapperuma along with representatives from the Tertiary and Vocational Education Commission, Vocational Training Authority (VTA) and invitees from 17 automobile training institutes across Sri Lanka attended the forum.

This forum is an initiative which stems from DIMO's passion to support the development of vocational education and the growth of Sri Lankan automobile industry. The forum also helps to strengthen the relationship between DIMO and the vocational training schools which supply valuable skilled labour that enhance the company's service operations.

According to the labour demand survey conducted by the Department of Census and Statistics in 2017, Mechanical Engineering Technician is one of the top 10 high demanded occupations in Sri Lanka. However, employers feel that first time job seekers lack in job specific skills and competencies such as technical skills, IT skills, problem solving skills as well as soft skills like communications skills, approachable personality and strong work ethics. Lack of motivation and maturity in terms of work/life experience is also fronted as another issue. These factors lead to consequences such as, frequent lay-offs in jobs (unemployment) and struggle to find good quality labour (labour exhaustion) concurrently. DIMO's networking event was intended to form a common platform to increase the dialogue around this gap and explore mechanisms to improve Sri Lankan Automobile Vocational Education by joining hands with local authorities.

The event included a presentation on how a state-of-the-art vehicle service facility is maintained with reference to Mercedes-Benz standards and on how to deliver perfection and customer satisfaction which was conducted by DIMO Service Manager Mercedes-Benz Dinesh Buluthota. Moreover, he also discussed the career opportunities available to trainees stepping into the automobile service industry.

The highlight of the event was the panel discussion with NAITA Chairman, DIMO Chief Human Resources Officer Dr. Saranga Alahapperuma, Dilrukshi Kurukulasuriya and DIMO General Manager TATA Commercial Vehicle Service Mahesh Karunaratne. The discussion focused on increasing the quality of vocational education and the role of the private sector, government and training authorities. The panellists from DIMO elaborated on employer's expectation from the workforce produced by vocational training institutes while Dr. Alahapperuma briefed the gathering on the work being done by vocational training authorities to increase the employability of their students, to which the Additional Secretary added stating the support which can be provided by the corporations to fulfil this mutual interest.

DIMO in the past years has leaped into many initiatives to inspire new comers into the automobile industry and to increase the supply of highly skilled labour. In 1990, DIMO launched its very own automotive technology training centre, DIMO Academy for Technical Skills (DATS). The program is conducted in-conjunction with Daimler AG of Germany, the Principal of Mercedes-Benz which facilitates the provision of high calibre recruits with internationally acclaimed employment opportunities.

In 2016, DIMO facilitated a 'Train the Trainer' workshop for a pool of Automobile Electrical Instructors nominated by the vocational training authorities. Some of DIMO's experts attached to vehicle service divisions traversed the instructors through a learning journey to enhance their knowledge on the modern automobile technology at the organisation's fully equipped, state-of-the-art vehicle service facilities, namely, TATA and Mercedes-Benz vehicle service workshops.

DIMO thrives towards inspiring incredible talent to regenerate a better future. At any given period, the company accommodates 300 to 400 youngsters offering promising training/internship opportunities to nurture knowledge, skills and attitude the industry demands.Breaking stereotypes in the employment of women in non-conventional jobs such as auto-technicians/mechanics, DIMO launched an 18 months Automobile Technology course for female automobile enthusiasts. This program enrolled two batches of female students who had completed their GCE Ordinary Level and transformed them into globally competent automobile experts.

The aforesaid are just a few of many initiatives executed to fuel automobile education in Sri Lanka; by working together with the local authorities, DIMO looks forward to develop a variety of new mechanisms towards this cause.