CMSC committee members
1934 saw the birth of the Ceylon Motor Sports Club, believed to be the oldest motoring club east of the Suez. To mark the event, the Club organized a gala dinner evening at the Ramada Hotel in Colombo. The event was graced by Graham Stoker, the Deputy President for Sport of the FIA, the international governing body for Motor Sport. The CMSC has been the FIA affiliate for Motor Sport in Sri Lanka since 1963.

The evening was used to launch two new FIA initiatives, the "Girls on Track" program and the eSports initiative. The Girls on Track program targets aims to promote and develop the presence of young women in motor sports at grassroots levels. Specifically looking at girls in between the ages of 13 and 18, the program will use a karting slalom to FIA guidelines in a cost-effective and easy format for use.

The FIA eSports is a ground breaking project to promote eSports through the FIA certified Gran Turismo Cup. The game will act as a gateway to facilitate driver transition from virtual to real-life racing.



The dinner was also used as the occasion for the prize giving of the CMCS / DRASL / SLAF Drag Championship for 2018-2019. The series, conducted over 3 rounds is the first of its kind in Sri Lanka. Drag Racing offers a new and unique approach to motor racing where cars compete against one another to on a standing quarter mile track. The 3 rounds, were conducted as a joint championship of the Ceylon Motor Sports Club and the Drag Racing Association of Sri Lanka, at the Katukurunda Air Force base of the Sri Lanka Air Force. The SLAF have been an important part of this championship supporting it in many ways.

The gala evening included a message of congratulations from FIA President Jean Todt who was last in Sri Lanka for the 80th anniversary celebrations of the Club. A token of appreciation was also presented to CMSC President Niroshan Perera by the FIA.

A number of motor racing personalities were present that evening to celebrate the milestone event.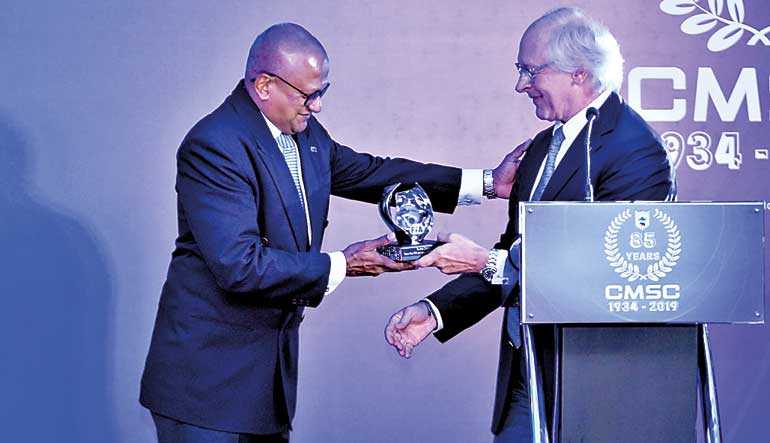 A token of appreciation was also presented to Niroshan Perera, the President of the CMSC by the FIA