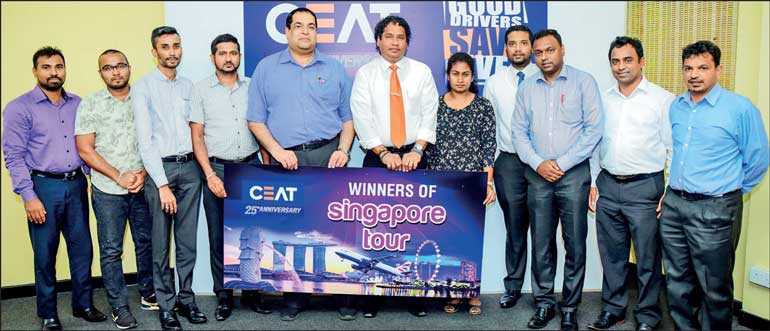 The eight winners of CEAT's 'Good Drivers Save Lives' campaign with CEAT Kelani Holdings Managing Director Ravi Dadlani (fifth from left) and representatives of the company
---
Top tyre brand CEAT has presented air tickets to eight Sri Lankans who supported its 'Good Drivers Save Lives' campaign launched to commemorate the brand's 25th anniversary in Sri Lanka.

K. A. D. Sampath Chaminda, A. Muditha Tharanga, M. T. A. Ashbal, and Namal Kumaranayake are among the lucky winners to be treated to a trip to Singapore for participating in CEAT's bumper sticker campaign to promote safe driving and reduce fatalities on Sri Lanka's roads.

The campaign's objective was to drive home the message that sensible driving in Sri Lanka is not just a matter of avoiding traffic fines and penalties, but represents a saving of lives, in the context of the country's alarming statistics on road deaths.

Four other participants, Buddhika Brian and Amila Ambagala from Colombo and W. Liyanage and Dulip Perera from Kandy, drawn from the large numbers of motorists who attended two mobile diagnostic clinics conducted by CEAT to offer free vehicle checks as part of the campaign, also won air tickets to Singapore. Participants in these clinics also received discount vouchers that could be redeemed with their next purchase of CEAT tyres.

"The Good Drivers Save Lives campaign was one of the most successful public interest messaging initiatives conducted in our 25 years in Sri Lanka," CEAT Kelani Managing Director Ravi Dadlani said. "The mobile vehicle diagnostic clinics were also extremely well received, and many participants and dealers have requested that they be continued." CEAT partnered with 'Sitha FM' to carry out its 'Good Drivers Save Lives' campaign which kicked off with sticker distribution activities in Colombo 6, using sandwich board men to grab the attention of motorists. Those who undertook to display the stickers on their vehicles received CEAT branded key chains, caps and umbrellas. Sticker distribution also took place in Borella, Narahenpita, Kiribathgoda, Kadawatha, Gampaha, Negombo, Kurunegala, Kandy and Katugastota.

Each 'Good Drivers Save Lives' sticker featured a unique serial number, which when sent to a designated number via SMS or WhatsApp, made the vehicle owner eligible to participate in a draw for the air tickets.

The mobile clinics at which motorists had their vehicles diagnosed free of charge by skilled automobile engineers were hosted by leading CEAT dealers M. J. R. Peiris and Sons, Kandy, and U&H Wheels, Colombo 2.

Promoting road safety has been a key community initiative of CEAT Kelani Holdings for the past 10 years, with an emphasis on schools children, their parents and the drivers of school vans. The Company's 'Road Safety for School Children' community program that comprises a series of presentations on road safety has been conducted in over 150 schools to date. It is coupled with the donation of traffic management kits comprising of traffic cones, safety jackets, traffic signs and other aids to the traffic squads in each of the schools visited.

More than 50,000 students have benefited to date from this series of programs titled 'Maga Yana Maga' conducted since 2009 by the company as part of its 'CEAT Cares' portfolio of corporate social responsibility initiatives.

CEAT Kelani's manufacturing operations in Sri Lanka encompass the radial, commercial, motorcycle, three-wheeler and agricultural vehicle segments. The brand accounts for market shares of 33% in the radial segment, 52% in the Truck/Light Truck tyre category, 50% in the Three-Wheeler tyre segment, 26% in the motorcycle tyre segment and 72% in the agricultural vehicle tyre category. The company exports about a third of its production to 16 countries in South Asia, the Middle East, Africa and the Far East.