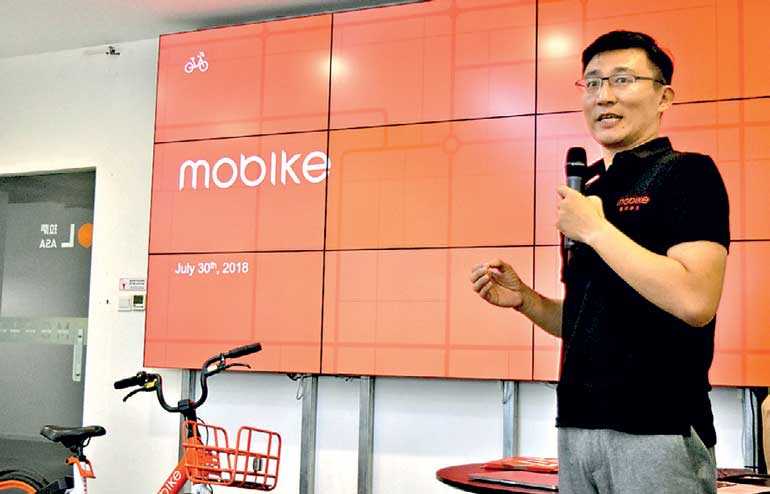 Enabling people to live better is the ethos that drives Mobike, which pushes sustainable growth with innovation and technology.

The company aims to solve the last mile issue faced by commuters who are a little too far from their destinations to walk but too close to get a taxi.

"Mobike was created to address modern challenges of urban mobility and seeks to enable people to use it in everyday commute," asserted Beijing Mobike Technology VP Peng Tian, addressing international media including Daily FT, during a recent visit to the Mobike Headquarters in Beijing.

Founded by Beijing Mobike Technology Co., Ltd. Mobike is a fully station-less bicycle-sharing system headquartered in Beijing, China. It is the world's largest shared bicycle operator.

Given the worsening traffic situation here in Colombo coupled with the resultant environmental pollution, such a solution would go a long way in easing commutes within the city and in all urbanised areas in the country – provided it is embraced by the Government and the people.

It would also possibly provide a perfect solution in places like Kandy and within Galle Fort – increasing mobility and decreasing environmental pollution, being a low-cost, convenient and green option.

Bicycle-sharing is rapidly growing in popularity around the world and the numbers at Mobike prove its success as a transportation solution.

As Tian revealed, "Mobike reached 20 million transactions in less than a year and has recorded exponential growth within just two years of operation."

It is now operating in over 200 cities around the world and keeps on growing. The fact that it's extremely easy to use vastly adds to its appeal – 1. Download the app, 2. Scan and ride, 3. Lock at destination. It's that simple!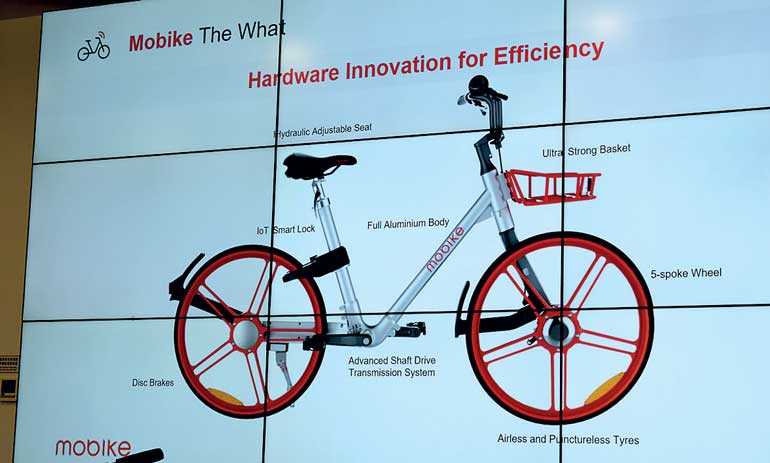 Technology to the fore

Mobike does not see itself as a transportation company but as a technology company which is a unique global leader in hardware and software, stated Tian.

"Mobike bikes feature an IoT lock, a transmission system that ensures no chain jumps, and airless and puncture-less tyres. All the parts of the bike can be recycled and each bike model is more environmentally friendly than the last."

Mobike is the world's largest bicycle hire company by number of vehicles, and one of the first to offer an electric option, its latest product, which is aimed for short- to mid-distance commutes.

In terms of software innovation, the app is extremely user friendly and the same app is used all over the world. It enables GPs tracking, QR code unlock, data records and easy payment.

As for parking, the bikes were initially parked individually but now they are gathered by choice. Riding coupons are gifted to those who park in the recommended spots. In China alone, it has over 300,000 parking spaces.

The IoT lock provides information on whether the bike has been used within a time period and it is relocated if needed to increase efficiency depending on usage.

Beijing Mobike Technology enters into partnerships with local governments wherever it launches operations and has many strong global and local partnerships in place.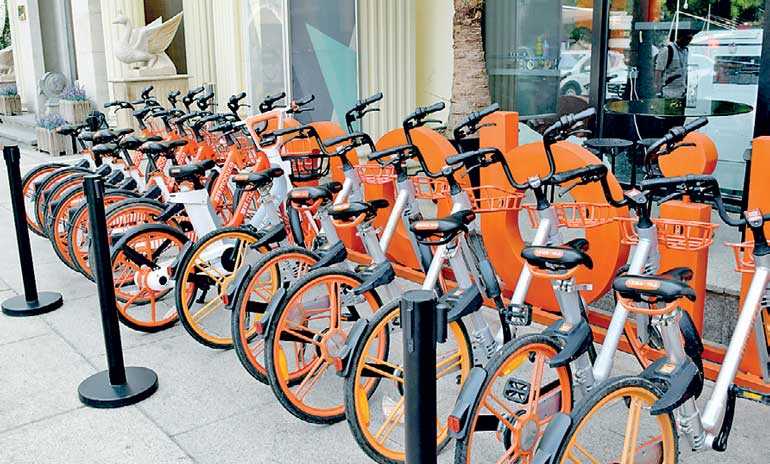 Remarkable global impact

Despite being a very young company, it has already made a remarkable impact globally, since it fills the gaps in public transportation very effectively. It is among the top three public transport systems in Beijing and Shanghai.

In terms of overseas operations, Mobike has proven to be quite popular in Singapore, where it commenced operations in March 2017.

While Singapore was the company's first overseas market, Mobike currently operates in 19 countries and over 200 cities around the world, including the UK, Australia, Japan, Malaysia, US, The Netherlands, Italy, Germany, France, Chile, and Israel.

With over 30 million trips daily, it generates some 40 tb of data each day. Serving a larger purpose using this data, Beijing Mobike Technology has also tied up with Microsoft Research and local governments to carry out urban planning for bike lanes.

Mobike users have covered over 18 billion kilometres in trips, effectively taking off 1.24 million cars from roads for one year. It was awarded the UN's highest environmental honour, Champion of the Earth, for its contribution to the environment and focus on reduce/reuse/recycle.

The average distance travelled by users per ride is one to two kilometres in China, while this figure is higher overseas, where Mobike is used more for leisure than for daily commutes.

Mobike is ideal for places with relatively higher density populations, good infrastructure for cycling and support from local governments, pointed out Tian.

In terms of funding, operations are either funded solely by the company or in partnership with local governments or local investors.

Penalties prevent theft and unauthorised usage. If a bike is ridden out of a specified area, the rider is fine. Bikes cannot be taken out of their operating zones and local police intervenes if the bikes are parked in private properties.
---
Design features
Every Mobike bicycle comes with an internet-controlled electronic wheel lock that automatically unlocks but requires manual locking after use.
Mobike bicycles are powered by a small generator installed on the rear wheel hub to power the lock, or by a PV panel in some bike models. The patented disc brake is said to withstand over 10,000 kilometres of riding without failure.
Mobike has partnered with Qualcomm (using its IoT chip MDM9206) and Gemalto for the use of NB-IoT technologies to provide connection for the bikes.
Mobike bicycles come in two versions, both of which requires a scan of a unique QR-code to unlock. Renters scan the QR-code, which is displayed at the base of the handle as well as on the smart lock.
The livery is black for the seat, handlebars and the lock, orange for the wheel and metallic silver for the body.
---
Mobike application
Access to Mobike bicycles is achieved using the purpose-built Mobike application, which requires a pre-paid country specific currency fee to prevent deliberate damage of Mobike property and ensure the user supplied bank details are correct.
Each user is required to register using their mobile number alongside their national identification number. The software automatically disallows users under the age of 14 to use the app, through the identification number.
As Mobike has no offline services, the Mobike app only accepts online transactions.
The app uses a "Mobike Score" system to keep track of user behaviour.