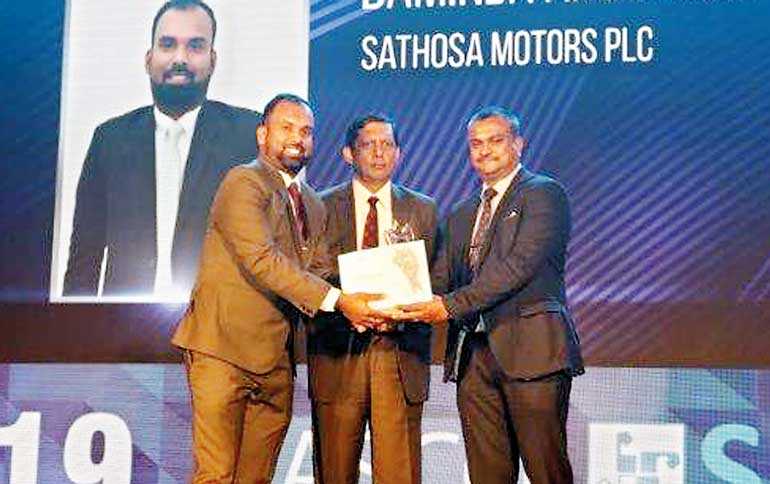 Sathosa Motors PLC ISUZU Genuine Spare Parts Division Head K.L. Daminda Anuranga recently brought honour to the company by winning a Silver medal at the 2019 SLIM National Sales Congress (NASCO) Awards.

During a gala ceremony held at the BMICH in Colombo, Anuranga bagged his Silver medal in the National Sales Manager category for his outstanding performances during the previous financial year.

Anuranga, a past pupil of Dharmapala Vidyalaya, Pannipitiya, is a driving force behind the success of the Sathosa Motors spare parts sales team.

Anuranga started his journey in the field of marketing as a trainee sales representative at David Pieris Motor Company in 2004. In 2014, he joined Associated Motorways Ltd. and due to his dedication and contribution to the company, he was promoted as the Head of Sales just two years later.

Anuranga, an MBA graduate at Cardiff Metropolitan University and a holder of an Advanced Diploma in Marketing from University of Sri Jayewardenepura, teamed up with the Sathosa Motors spare parts sales force in 2018 and has come a long way within a short span of time, giving his best to the company. The company has been able to reap benefits off his dedication and vast experience in the highly competitive automotive industry.

One of the most prestigious events in Sri Lanka's annual corporate calendar, the NASCO Awards, organised by Sri Lanka Institute of Marketing (SLIM), is the most recognised award ceremony dedicated for sales professionals.

This year's ceremony was held under the theme 'Excel. Engage. Ensure – Beyond all Limits' and reflected the call-to-action for sales professionals of tomorrow to be willing to stretch beyond the limits and achieve the unthinkable in a competitive, challenging marketplace.

The awards were adjudged on the performance for the financial year starting from 1 January 2018/1 April 2018 and ending 31 December 2018/31 March 2019.

The winners were judged by a panel consisted of seasoned corporate leaders who evaluated applications from 22 sectors.

Sathosa Motors, the authorised distributor for brand new Isuzu trucks and spare parts in Sri Lanka for the past 57 years, is well respected and recognised for being one of the oldest Isuzu vehicles and spare parts distributors in the world by Isuzu Japan.

The company has been expanding the presence in the island for the last few years, covering secondary marketers through their extensive branch network and has recorded a total revenue of nearly Rs. 5 billion in the last financial year.

Sathosa Motors is continuing to excel with the help of their able and highly motivated staff to assure excellent customer satisfaction by cultivating a dynamic and productive organisational culture to provide the best quality vehicles and after sales services at competitive and affordable prices.