Prestige Automobile Director Sales and Marketing Niranga Peiris calls for pragmatic policy for healthy vehicle population


By Darshana Abayasingha

2019 will be one of the best years for BMW globally, as the iconic automotive brand embarks on a major model offensive this year. Leading the list will be its luxurious X7 large SUV, the marque's first seven-seater, followed by an all-new 3-series, a new Z4 and the 8-series. Its high-performance M division is also getting in on the act, as the X3M, X4M and the M8 will stamp their presence in addition to the 7-series which will also receive a facelift. With these new additions BMW aspires to further strengthen its position globally as the premier luxury automotive company globally.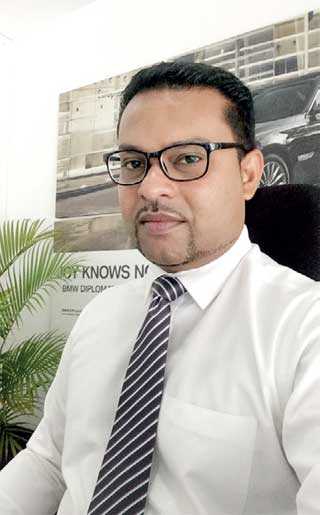 Prestige Automobile Sales and Marketing Director Niranga Peiris
Niranga Peiris, Director Sales and Marketing for BMW's only authorised importer in Sri Lanka, Prestige Automobile says, "2019 is the first year the brand is embarking on such a big model offensive, and synonymous to previous generations, these models will showcase a lot of cutting-edge technology, staying true to its promise of 'Sheer Driving Pleasure'. The brand is always reinventing and come out with the best possible solutions, and the next stage is fully electric vehicles. We are about to present the iPerformance line that showcases the iX3 for instance, which is fully-electric with a range of over 500 kilometres. In time to come it will be autonomous vehicles, and to a great extent we are already there."

BMW also offers a unique programme to diplomats and diplomatic missions all over the world, whereby missions could obtain official vehicles at a standard price anywhere in the world. Accordingly, the vehicle they choose for the embassy would be the same price be it here in Sri Lanka, the UK, South Africa or anywhere in the world. Peiris adds that this program brings a great deal transparency, and flexibility into operations of missions, and the brand would even assist in shifting official cars to new missions as assignments change subject to technical market specifications such as emission levels and manufacturing standards.

"BMW by far has one of the strongest diplomatic sales divisions. We have a dedicated person and division in each market to carry out diplomatic sales. There are two kinds of purchases, one is the official vehicle under the particular embassy. The other is for the ambassador's personal use. It's a statement as a premium service provider, and a segment we take good care of. BMW has close to 30 diplomatic cars in Sri Lanka. Alongside that we have a corporate program as well, with exclusive benefits to corporate clients. We offer similar benefits globally including fleet discounts, repair-inclusive packages, preferential pricing and priority bookings," he reveals.

Speaking on Sri Lanka's automotive trade, Peiris says that BMW enjoyed good growth throughout 2017 into 2018 with many BMW imports into the country. However, at present the market is relatively stagnant as customers and importers alike are awaiting the Government budget presentation. This also follows the suspension of vehicle permits by Government, and the Central Bank regulations of last year to control foreign exchange outflow. Accordingly, a vehicle importer must keep 200% of Letter of Credit margin which is significant in order to import a car.

"A BMW 7-series from the factory is about 95,000 Euros. Having to keep almost 200,000 Euros with bank is fairly substantial adding bank charges and interest, which at the end of the day we need to pass down to consumer. The product then becomes very expensive. Considering cashflows and daily business operations, it becomes difficult to keep that kind of margins to import a vehicle."

Peiris also calls for more pragmatic and sustainable policy with respect to vehicle imports, in order to shape a healthy vehicle population. He adds that policymakers must encourage electric and plug-in hybrid vehicle imports, but within a strictly regulated environment.

"If we are serious about going green and saving on our massive fuel import bill, then we must move towards a healthier vehicle population. Give concessions to electric and plug-in-hybrid vehicles provided that the network is there, if not we are moving towards a very dangerous thing. Unless you have certified personnel with the right technology to recycle these batteries and vehicles, we will end up in an utter mess. In developed countries there are minimum expected standards from a dealership, whereby they have agreements with third parties to dispose lithium batteries, high voltage batteries and even oil so the environment doesn't get affected."

"What happened when the duty structure changed was an influx of 1000cc and below vehicles and thousands of cars landed in Sri Lanka not from the manufacturer but used car importers. If an individual is importing and not a registered car importer, who will take accountability for this? Plus, most of these vehicles have been used for a year or two, so the warranty is already two years old and this battery will eventually fail. Then, the vehicle ends up in a way side garage rather than at an authorised importer who will have a contract with a recycling agent. BMW Sri Lanka re-exports used batteries. If not, these will be dumped into corners, lakes and rivers, and there is a huge number of small-engine vehicles with plug-in hybrid batteries. I see a huge issue coming our way, because we don't have the infrastructure to cater to this requirement," he says.

In the premium segment, BMW presents the biggest line-up of plug-in hybrid vehicles. Every model comes out with a plug-in hybrid version, with lots more emphasis coming to fully-electric versions such as the iX3. Almost 26 new M-powered BMW models are anticipated to hit the market this year, as BMW takes the fight to Mercedes in its segment.