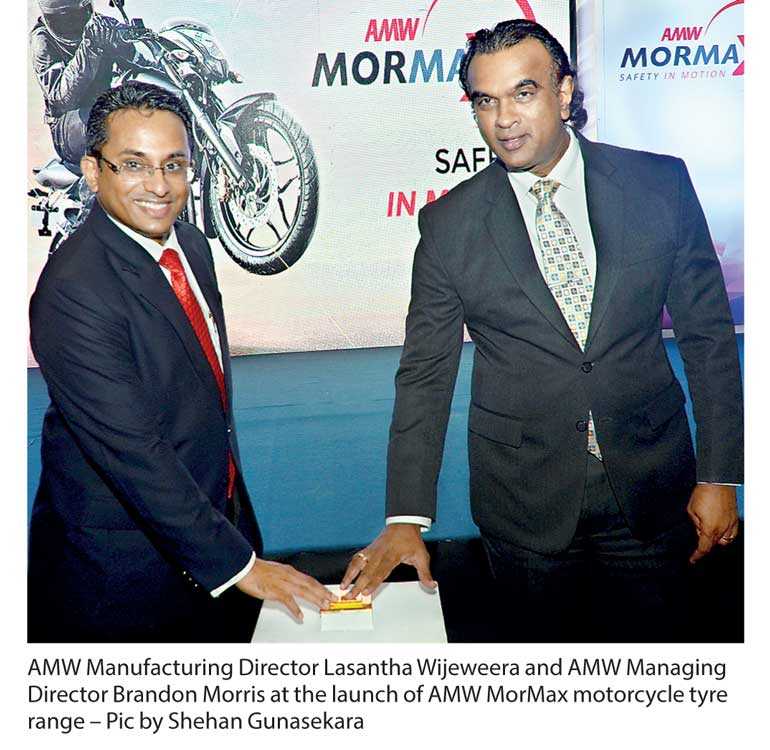 Associated Motorways Ltd. (AMW) recently unveiled the latest motorcycle tyre portfolio, 'MorMax', at a grand launch ceremony held at the Blue Water Hotel, Wadduwa.

The event saw the participation of key dealers and distributors for AMW islandwide, and the event was graced by the presence of AMW Managing Director Brandon Morris.

Established in 1949, a pioneer in the country's tyre retreading industry with more than 65 years of service experience, AMW concentrates on product and service development, while offering world renowned automotive and related products and service brands to its customers.

Speaking at the event, AMW Managing Director Brandon Morris stated: "The dominant market positions that AMW has built in the areas of tyre retreading, three-wheeler tyres and scooter tyres is further augmented by the introduction of motorcycle tyres. We are releasing MorMax to the market after extensive internal and external testing, thereby assuring that it exceeds the expectations of our customers."

AMW Manufacturing Director Lasantha Wijeweera said MorMax tyres are manufactured to international standards, and promises to deliver enhanced safety, superior performance, and exceptional comfort. These features meet their climax during the design and manufacturing process.

AMW Research and Development DGM Jude Wasantha explained in detail the perks offered by the product.

Under the aspect of safety, the tyres can undergo extensive dry and wet conditions with maximum grip, thanks to a combination of natural and synthetic polymers used in the manufacturing process. Better traction is provided thanks to a special tread pattern, and a resistance to punctures is made possible by a special tread compound and reinforced construction.

Comfort sees the right resilience by a special combination of polymers and reinforcing carbon black, while a cushioning effect is provided by improved sidewall design and construction.

Performance is where MorMax stands out, with resistance to wear by optimised tread contact area, resistance to thermal aging by special chemicals in compounds, and low heat build-up by a combination of compound, construction and tread design.

MorMax tyres come in four different sizes; 2.75 - 17 (Front tyre), priced at Rs. 4,480, 3.00 - 17 (Rear tyre), priced at Rs. 4,950, 100/90 - 17 (Rear tyre), priced at Rs. 5,490, and 3.00 - 18 (Rear tyre), priced at Rs. 4,870. Special introductory discounts of 20% offer the tyres at Rs. 3,584, Rs. 3,960, Rs. 4,392 and Rs. 3,896 respectively.