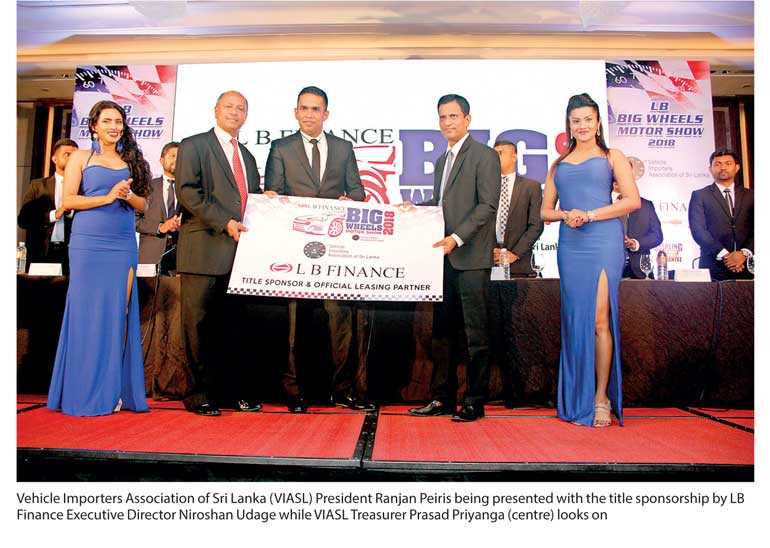 LB Finance PLC, one of Sri Lanka's most trusted financial companies and renowned for its innovative financial solutions and wide ranging leasing products is proud to come on board as the title sponsor and the official Leasing partner of the 'LB Big Wheels Motor Show 2018'.

Organised by the Vehicle Importers Association of Sri Lanka (VIASL) 'LB Big Wheels Motor Show' the inaugural event will take place on 18, 19 and 20 May at the Nelum Pokuna, Colombo 07. The show will include over 35 stalls showcasing a diverse range of small cars, luxury sedans, all sizes of SUVs, powerful jeeps and even supercars. Further over 200 brand new and reconditioned vehicles including hybrid and electric models will be showcased providing a broad variety of selection.

LB Finance joining as the official leasing partner for this prestigious event will be present at the event providing constant guidance and instant service for your purchase decisions also providing unparrarel offers and deals particularly during the three days to make your dream vehicle become a reality. Celebrating over 46 years of service, LB Finance has led the leasing industry throughout the years by providing its customers with convenient and easy leasing solutions. Vehicle Importers Association of Sri Lanka (VIASL) President Ranjan Peiris stated, "We have ensured to educate the Sri Lankan consumer about the top quality vehicles and through our Title sponsor LB Finance we are able to assist prospective buyers to purchase their dream vehicle by taking advantage of the special offers and deals available at the show."

Further LB Finance PLC Executive Director Niroshan Udage states that, LB Finance decided to partner up as the Title Sponsor and the official Leasing partner, since the Vehicle Importers Association of Sri Lanka (VIASL) is the most trusted and elite representative body of automobile importers in Sri Lanka which will ensure that customers are provided with the best quality automobiles. Further he stated that LB Finance will be providing unparrarel offers during the three days along with flexible leasing schemes.

'LB Big Wheels Motor Show 2018' is the first of many events to come, and it will be one of the best platforms for Sri Lankans to experience a diverse range of vehicles along with unbelievable benefits offered by LB Finance to make your dream a reality.