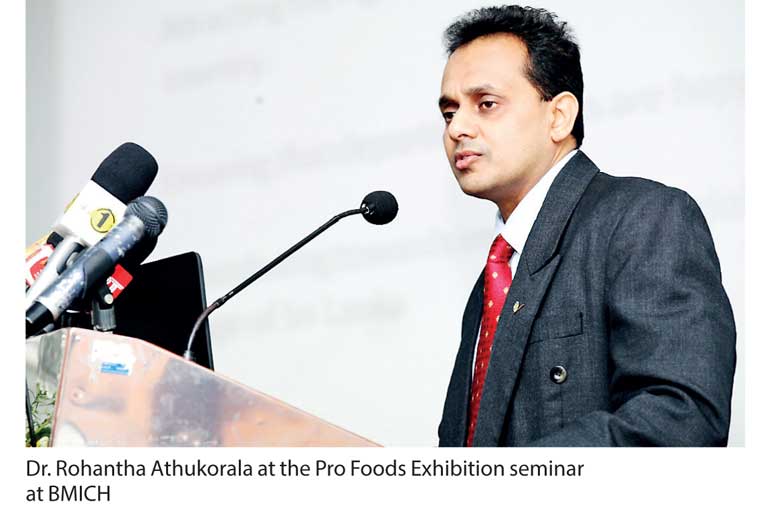 The Sri Lanka Pro Foods exhibition seminar was staged at BMICH under the theme 'Export Food Trade: Gaps, Potentials and Way Forward'. Coral Holdings Ltd. President/Group CEO Dr. Rohantha Athukorala highlighted that Sri Lanka has been ranked as a Top 20 Markets of the Future and will offer the most opportunities for consumer goods companies globally. This is why the top 10 advertising agencies globally are operating in the country whilst the key research agencies also support companies to understand the changing consumer needs in the market, he voiced.

A former Chairman of Sri Lanka Export Development Board and Sri Lanka Tourism, Dr. Athukorala went on to explain how the country is one of the fastest growing and promising economies among ASEAN countries in the last 15 years even during the conflict times but the political environment is complicated and the labour market is insufficient which needs focus from a typical private-public partnership.

The speaker highlighted that the 21 million people with a mean age of 32.6 years have increased improvements in living standards and healthcare which has resulted in a gradual increase and life expectancy to touch 75.5 years by 2020 which explains the market opportunity for niche products. Population growth in the country is set to stabilise and exceed 22 million people in 2020.

Driven by increasing urbanisation, rising disposable incomes and changing consumer preferences underpinned by Western trends, packaged food sales posted a CAGR of 11% over 2009-2015 to reach $ 1.9 billion. The latest trade off take research reveals that packaged food is forecasted to sustain growth momentum, posting a CAGR of 10% over 2013-2018 reaching almost $ 3.0 billion in 2018, which explained the entrenched competition in these segments said Athukorala.

On a separate note the speaker voiced Sri Lanka's expanding middle class is also demanding more sophisticated products which is why beauty and personal care sales experienced a value CAGR of 10% over the same period. Dr. Athukorala highlighted how the expanding middle class in Sri Lanka has also bolstered sales of consumer electronics with sales increasing to $ 1.1 billion which is the opportunity that Sri Lanka companies must chased after.