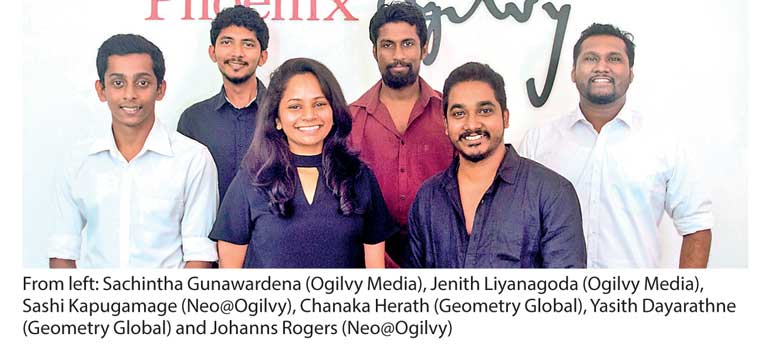 Wins Digital, Integrated and Media Categories to represent the country at Young Spikes Asia 2017, Singapore
The country's leading and most diverse communication firm, Phoenix Ogilvy Group Sri Lanka won all three categories at the local Young Spikes Asia competition, which is aimed at creatives who are aged 30 or under and working in the advertising or communication industries.

Sweeping the boards this year, the Ogilvy Group Sri Lanka won all three categories, namely Digital, Integrated and Media, at the competition.

The Digital category winners are Sashi Kapugamage and Johanns Rogers from Neo@Ogilvy, the Integrated category winners are Chanaka Herath and Yasith Dayarathne from Geometry Global and the Media category winners are Sachintha Gunawardena and Jenith Liyanagoda from Ogilvy Media.

The six winners of the local Young Spikes Competition will now compete with the next generation of creative talent, meeting the best of the best creative young minds in the world at Spikes Asia 2017 in Singapore.

"I am extremely proud of the young talent we nurture at Ogilvy. We have placed strong investment and emphasis on opportunities that foster creative thinking and build overall effectiveness of our people. As a result we have consistently had strong representation at international competitions such as Young Spikes Asia," said Irvin Weerackody, Chairman of Ogilvy Group of Companies in Sri Lanka.

The Young Spikes Competition at Spikes Asia Singapore is unique as National teams of young creative and media professionals from around the world will compete against each other and showcase their creative talent in a series of challenges.

Winners of the competition will be recognised before the international communication industry at Spikes Asia, where the world's creative community comes together for a spectacular three-day celebration of creativity in communication, featuring seminars by the industry's most influential figures to networking events, training and exhibitions of the region's best creative work.