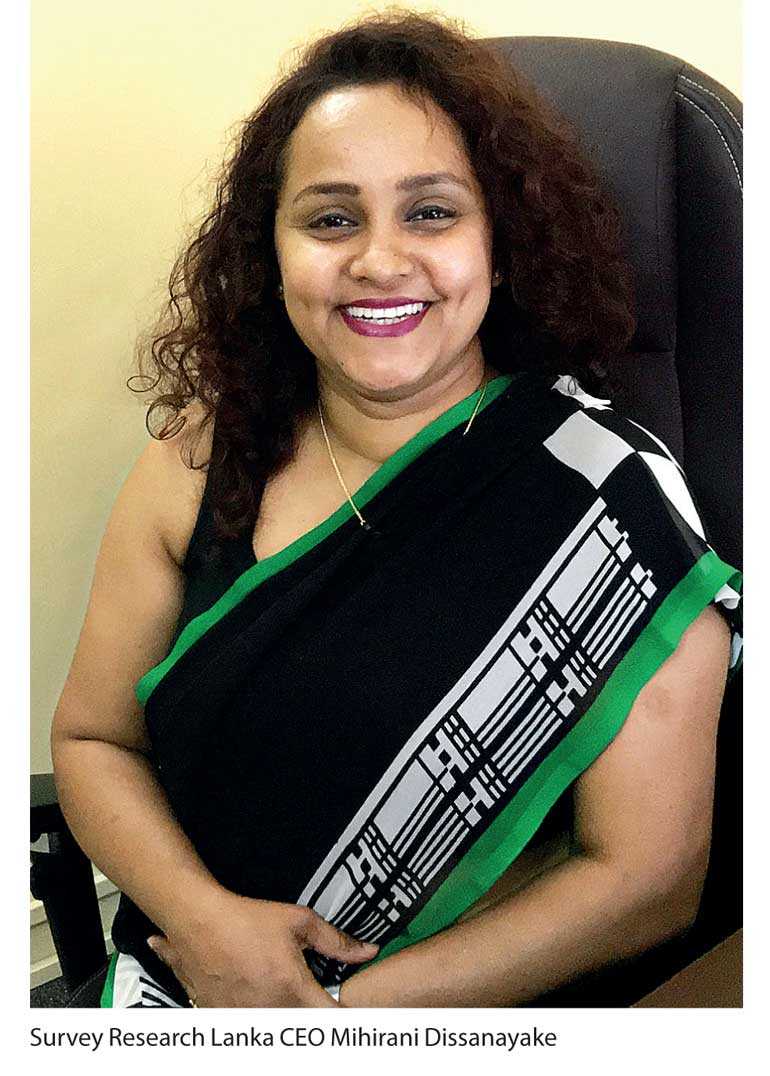 Survey Research Lanka Ltd. was established as an independent marketing and social research consultancy 29 years ago. Despite many lucrative and tempting offers to partner multinational and regional giants, the company refused to take the predictable and easy path to success.

Survey Research Lanka (SRL), enters its third decade having earned a reputation as a totally independent, full-service research agency in Sri Lanka which possesses the necessary tried-and-tested skillsets responsible for designing, implementing and delivering innovative homegrown, commercial and social marketing information systems and solutions on time. According to Executive Chairman Neel de Silva, the growth and development of SRL was and continues to be driven by two credos - 'We make the invisible, visible' and 'We do not merely tell you what the data says, we tell you what the data means'.

To overcome the challenges to the local research industry that have emerged over the last decade through the changing face of marketing, media and advertising and promotion in Sri Lanka, such as Big Data and Social Media Marketing and its inevitable evolution in the future, SRL is now changing gears and venturing into overdrive beginning with the appointment of its new Chief Executive Officer Mihirani Dissanayake, who took over operations this September.

With a personal record of nearly 15 years in the local market and social research arena which includes the provision of actionable solutions to many multinational and Sri Lankan companies and NGOs, Dissanayake brings a wealth of experience to her job.

In recognition of her remarkable contributions to the local research industry, she was elevated to the post of Country Manager/Senior Business Director, providing leadership and strategic guidance to the Sri Lankan business operations of a global research company prior to her arrival at SRL. She specialises in Brand and Communication, Stakeholder Management, New Product Concept Development and Digital Research and moreover her passion towards policy research is unparalleled in the industry.

Dissanayake holds an MSc. in Management from the University of Sri Jayawardenepura and a Bachelor's degree in Business Management from the University of Kelaniya. She started her career as an Assistant Lecturer at the Management Faculty of the University of Kelaniya before she moved into research. Knowledge-sharing is what keeps her going hence she enjoys teaching whoever needs knowledge. She currently serves as a visiting lecturer at the University of Kelaniya.

Dissanayake was excited about joining SRL, saying: "I am joining a great team with a bigger business plan and many innovations in the pipeline to make a significant impact on the business as well as on the industry."

"SRL has its own innovative product portfolio that is already highly appreciated by its clients who use it in order to make their day-to-day business decisions."

Speaking to the media, SRL Chairman de Silva stated that Dissanayake had made a great contribution to the industry through the Market Research Society of Sri Lanka (MRSSL) as an active member of the Executive Committee and as a Board Member. Further, he elaborated that with Dissanayake's arrival to SRL, the company could expand its offerings by developing new digital-based products and services. With that, the company said it would soon be in a position to service its clients faster than ever, enabling them to make prompt business decisions in a rapidly changing era.