The national body for marketing in Sri Lanka, the Sri Lanka Institute of Marketing (SLIM), has partnered with several provincial educational institutes in a bid to extend marketing education to all regions of the country. The tremendous growth and demand across the nation towards the field of marketing over the last couple of years has led SLIM to forge meaningful partnerships with selected institutes to reach out to more students in the country and offer marketing education in both Sinhala and Tamil mediums.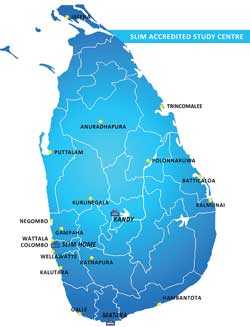 SLIM operates with an objective of decentralising marketing education by not limiting it to the commercial hub of Colombo, and bringing down the language barriers which are generally perceived to be an obstacle, especially for higher education.

The alliance with regional institutes was born through this viewpoint and the institutes commenced courses in both Sinhala and Tamil Medium by introducing Marketing in Sinhala (MIS) and Marketing in Tamil (MIT), thus ensuring a wider reach for those who are interested in pursuing Marketing as a career.

Apart from those who pursue marketing as a career, people from non-marketing disciplines and entrepreneurs also follow MIS and MIT, as they understand marketing is essential for entrepreneurship and business growth. At present these programs record a high number of enrolments, providing proof of the success of SLIM's national goal by contributing to the national economy.

Sharing his thoughts on this educational expansion, SLIM President Suranjith Swaris stated: "SLIM is always on the path of innovation and operates with the goal of extending marketing education to all the aspiring marketers across the nation. SLIM study centres add great value to the institute as well as the entire business fraternity as its reach spreads throughout the country. It is through these affiliated arms that SLIM is able to execute the task of promoting and facilitating the study of marketing island-wide and contribute to the national economy."

With the belief in a widespread decentralised education system for SLIM, SLIM Vice President Roshan Fernando added: "Marketing is not merely a qualification, but a lifestyle. Thus Marketing Studies should not be limited to the Western Province. SLIM has pioneered its widespread reach across the island. We invite all interested to join us in this progressive venture which would serve a great need of the moment."

Acknowledging the significance of offering marketing education in two languages, SLIM CEO/ED Sanath Senanayake stated: "Conducting regional Marketing programs in both Sinhala and Tamil mediums is a great step towards developing the Business and Management arena in Sri Lanka. In addition to making the students understand better, teaching in their mother tongue helps in the development of personal, social and cultural identity of the students, thereby creating confident and competent marketers who would provide an invaluable service to the economy of the country."

SLIM has accredited study centres around the country including Anuradhapura, Badulla, Batticaloa, Colombo, Galle, Gampaha, Hambantota, Jaffna, Kalmunai, Kalutara, Kurunegala, Negombo, Polonnaruwa, Puttalam, Ratnapura, Trincomalee, Vavuniya and Wattala. SLIM will continue its efforts to further enhance marketing education in Sri Lanka and provide more educational opportunities for aspiring marketers throughout the country.

To register with the SLIM Accredited Study Centres network, please contact Subodha Meepage on +94 70 3669 339.