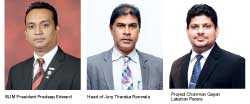 SLIM has yet again managed to raise the bar. The 10th edition of Effie Awards is gathering momentum with the highest number of participant entries ever received in its decade long history. SLIM this year recorded close to 130 entries, which is more than double the last year's count.

"This year's Effie is a record breaker. The massive number of entries, the new controls introduced by Effie World Wide and the smooth judging process which is ongoing during this month, all point toward benchmarking 2018 as a momentous year. Being the 10th edition of the Effie awards this was to be expected, as this achievement was a result of the collaborative efforts of the SLIM Events team, my project committee, and the officials of 4A's (Accredited Advertising Agencies Association), who pushed themselves the extra mile," revealed Project Chairman, Gayan Perera, Senior Brand Manager – Singer Sri Lanka.

SLIM President and Lanka Hospitals Diagnostics Ltd. Chief Executive Officer Pradeep Edward stated, "SLIM's aim through Effie Awards is to encourage greater competitiveness and promote campaigns which focus on results. Receiving this magnitude of entries this year is a valid sign of the confidence of the advertising fraternity on Effie. SLIM in turn upholds this confidence with the value addition brought to the industry by winning an Effie and having its name in the Global Effie Index."

Head of Jury, Tharaka Ranwala, Senior DGM Consumer Banking – Sampath Bank PLC said, "When the cream of the marketing and marcom fraternity gather in one room, it brings a lot of great minds together. This, while reflecting on the quality of the judging process, is the success of Effie, because they judge with an experience that is wide and eclectic". He also said, "Judging a large number of entries is a daunting task. But our eminent Jury in both rounds have undertaken the task in a true Goliath fashion."

Effie judging is currently in progress. A rigorous screening process was carried out prior to commencing judging, to ensure that all entries met Effie World Wide standards.

The Effie Awards are the global benchmark in recognising any and all forms of effective marketing communications that contribute to a brand's success. Effie Worldwide stands for effectiveness in marketing communications, spotlighting marketing ideas that work.