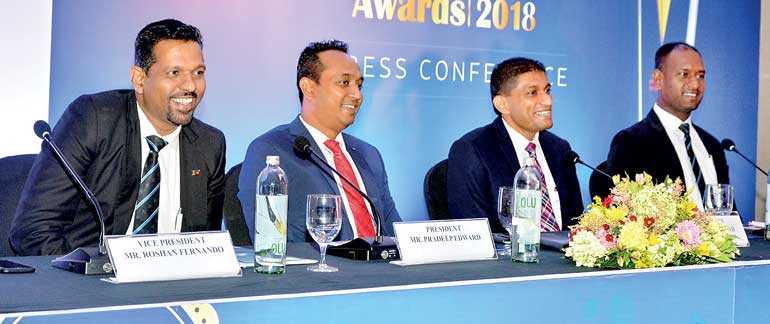 From left: SLIM Vice President Roshan Fernando, SLIM President Pradeep Edward, Brand Excellence Awards Jury Head Dinesh Nalliah and Project Chairman Ranga Perera at the

press conference
By Rahel Kirinde

SLIM yesterday announced the 17th edition of its Brand Excellence Awards, to be held in November.

Brand custodians around the country were called on to submit entries before August 15, and requested to participate in the special workshops that will be conducted during July and August for the benefit of the entrants.

"The SLIM Brand Excellence Awards is a place where every applicant will be given an opportunity to see the effectiveness of their brand and showcase their performance to the world," said SLIM President Pradeep Edward, speaking at the press and participant briefing yesterday at the Hilton Colombo Residences.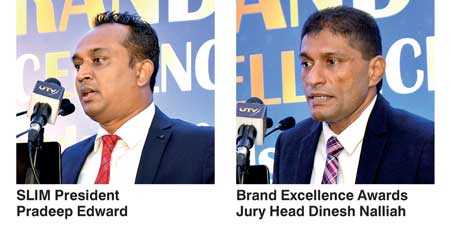 He added that they have made necessary alterations relative to last year to further ensure the flawlessness of the awards, including giving necessary recognition to the SME sector. "We identify the SME sector as the future of brands, we have brilliant products in the local market and exceptional entrepreneurs, but we continue to lag behind relative to the rest of the world because the relevant brands are improperly positioned."

"This year's committee has taken the necessary measures to accurately position the SME sector," he said.

Further asserting the significance of the awards Edward said, "The purpose of the SLIM Brand Excellence Awards lies in the need to encourage development in the marketing industry, which will directly contribute to the development of the country's economy. SLIM Brand Excellence Awards has and will always be a platform for all brands, local and international, to gain recognition and status in Sri Lanka." He added that this year's campaign would be on an entirely new platform, which will encourage participants to challenge themselves and step up to the next level.

Elaborating on the award categories, Head of Jury Dinesh Nalliah said that the award categories would be divided into two key segments namely the main awards category and the special awards category.

The main awards include product brand of the year, service brand of the year, innovative brand of the year, local brand of the year, international brand of the year, export brand of the year and brand of the year.

"Brand of the year will not require a separate entry, as it will be chosen based on the entry which scores the highest points from the main awards category," Nalliah revealed.

The special awards category will include turnaround brand of the year, CSR brand of the year, SME brand of the year, B2B brand of the year, online brand of the year, best new entrant of the year and the regional brand recognition award.

Divulging the general evaluation criteria of the awards, Nalliah stated that entries would be scored under four segments. "15% for brand intent, 15% for brand content, 40% for brand process and 30% for brand performance, which is inclusive of 12% for financial performance of the brand."

On a different note, reaffirming the impact of the awards SLIM Brand Excellence Awards project, Chairman Ranga Perera said, "This year's SLIM Brand Excellence Awards has been revamped to allow diverse participation. For the very first time in the campaign, the SME entry kit has also been prepared in Sinhala and changes have been made to the CSR entry kit." He further invited all brands, custodians and entrepreneurs obsessed with excellence to participate in the awards.

SLIM Vice President Roshan Fernando said: "It has been the honour of the Sri Lanka Institute of Marketing to organise the SLIM Brand Excellence Awards for the past 16 years. As the national body of marketing in the country, we at SLIM see it as our privilege and duty to encourage the development of the industry and in doing so ensure a brighter future for Sri Lanka's economy."

Pix by Upul Abayasekara