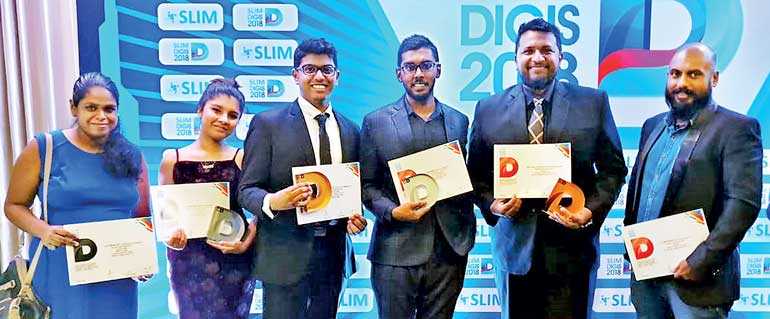 Young, yet empowered by multi-folds of experience in digital content creation, Newton Lanka turned heads and created a buzz when their names were called up five times at the recently concluded SLIM Digi 2018.

Newton Lanka won awards for Best Use of Mobile for Marketing - Bronze Award for Dandex Freedom Run campaign, Best Digital Marketing Campaign - Silver Award for Anchor PediaPro campaign, Best Digital Marketing Campaign - Bronze Award for Dandex Freedom Run campaign, Best Digital Marketing Campaign - Bronze Award for Anchor Newdale campaign, and Best Digital Marketing Campaign - Finalist Award for Anchor Milk campaign.

Still celebrating post event, Newton Lanka Ltd. Director Reshad Mohideen said, "As a young company entering a landscape of veterans in the field, we stood out and impressed beyond doubt with our style and skills. This is just the beginning of our journey and we are confident of becoming even better in what we do."

Fine-tuning their skills and expertise with creative content-based Social and Digital Marketing, Newton Lanka also dabbles in Shopper Marketing, specialising on how to get FMCG brands to move off-shelf through concepts that create "talkability" across mediums such as TV, print, activation and radio.

"Our specialisation is in ideating and creating effective 'actions' that prompt people to gravitate towards desired reactions; ultimately boosting brands with buzz and business, pull-factor and profit, conversations and conversions," said Newton Lanka Creative Director Rushain Rodrigo, "Ultimately, we are creative agents of reaction."

Sri Lanka Institute of Marketing held its first digital marketing awards ceremony, SLIM Digi 2018 with the sole purpose of celebrating and acknowledging Sri Lanka's best digital marketing work, innovation and talent, as well as to recognise the region's growing influence on the global digital industry. With the new generation of consumers and customers influenced via social media, SLIM realises the potential and requirement for agencies to embrace new ideas and innovative strengths, perspectives and experiences for their audiences.

"We've had the privilege of working with some fantastic clients this past year, producing concept based creative digital campaigns for leading brand e-commerce redesigns," added Mohideen. Newton Lanka offers in-store activations, content branding, media, shopper and digital marketing, activation, and packaging for their clients. The agency has been operating in Sri Lanka since 2016, and is the local arm of Newton TAC Malaysia.