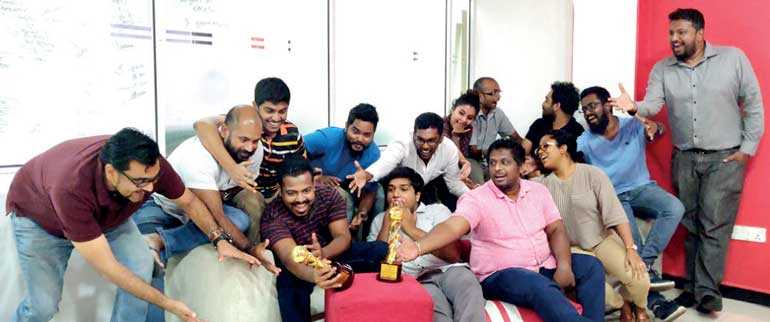 Team Newton Lanka with their ACEF awards
---
Newton Lanka Ltd., a young, innovative and highly motivated digital agency, brought home two awards from the Eighth Global Customer Engagement Awards 2019 held recently in Mumbai, India. The agency bagged Gold in the Creativity Category for a campaign done for Fonterra's Anchor Newdale brand, and Silver in the Innovation Category for Hemas Manufacturer Ltd., Dandex Brand.

Vying for top place with over 750 entries from 220 companies across the Asia-Pacific region, Newton Lanka proved its mettle again, having already won big at SLIM awards earlier this year.

"Our digital marketing campaigns are different. They are engaging, current and highly innovative which is why we are successful in what we do," said Newton Lanka Director Reshad Mohideen.

Since 2013, Asian Customer Engagement Forum (ACEF) has been recognising Customer Engagement Activities, Branding, Marketing, CSR, Rural Marketing, Properties (Hospitality and Real Estate) and HR campaigns across India, Sri Lanka, the Gulf States and the Asia-Pacific regions. This year's theme was centred on Artificial Intelligence for Enterprises, a topic that is current and changing the way the world does business.

"Since we started Newton Lanka in 2016 we have been persistent in our creative and digital marketing campaigns. Our aim is to ensure our clients and their brands benefit in this highly competitive market space," said Newton Lanka Creative Director Rushain Rodrigo.

With creative digital messages becoming increasingly effective in the advertising space, Newton Lanka has successfully understood the power of the digital age and created content that connects people in the right place at the right time.

Newton Lanka is a digital and shopper marketing agency in Sri Lanka. With a team comprised of creative and talented designers and idea-preneurs, the agency has been handling brands such as Fonterra, Hemas, Dominos and Ninewells, and SriLankan Airlines, and strives to innovate the industry through ground-breaking, heartfelt and creative advertising with the usage of new technology and effective story telling.