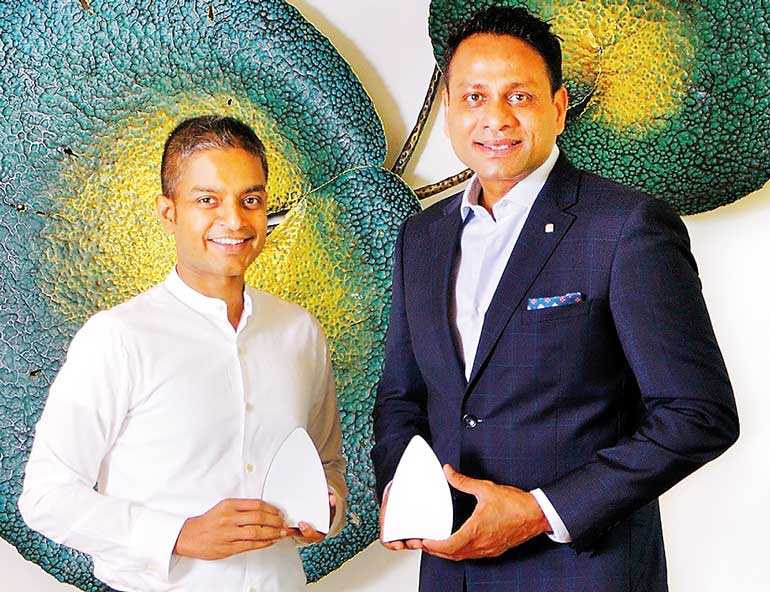 Leo Burnett Sri Lanka CEO Arosha Perera (left) and JAT Holdings Managing Director Aelian Gunawardene with the awards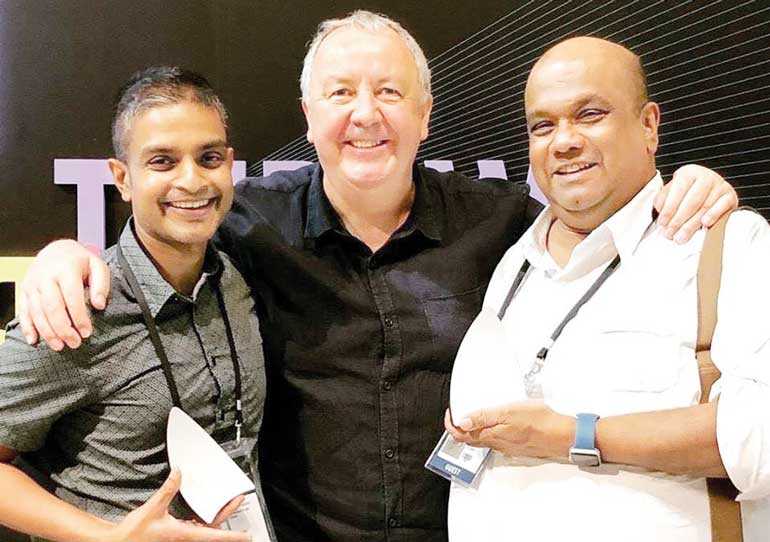 From left: Leo Burnett Sri Lanka CEO Arosha Perera, Leo Burnett Worldwide, Chicago Executive Chairman and Global Chief Creative Officer Mark Tutssel and Leo Burnett Sri Lanka Founder and former Managing Director Ranil De Silva

Leo Burnett Sri Lanka Petal Paint project team
Leo Burnett Sri Lanka took centre-stage at Adfest 2019 in Pattaya – Thailand recently, by winning as many as four coveted awards for its Petal Paint campaign for JAT Holdings in collaboration with Leo Burnett Toronto. The agency was awarded the prestigious Innova Lotus and Lotus Roots awards along with Bronze for Brand Integration and Bronze for Brand Entertainment for Petal Paint.

Judged for genuine innovation, talk-value, and cultural relevance, the Innova Lotus is presented to world-class concepts that have made a dramatic impact; while the Lotus Roots award, unique to Adfest, is awarded to works that embody local values whether in terms of culture, religion, beliefs, traditions, or language. The Petal Paint campaign embodied all these qualities. Adfest is Asia's most celebrated regional creative festival designed to promote and recognise creative excellence and exchange of ideas. Over 1,000 delegates from all over the world converge on Adfest every year. Adfest 2019 was themed 'TMRRW.TDAY' – bringing the future to the present.

Commenting on the clean sweep of awards at Adfest 2019, Leo Burnett Sri Lanka CEO Arosha Perera said, "We are elated to be recognised yet again on an international platform for the Petal Paint campaign. Adfest is a highly respected festival for the global creative community and for us to win four awards at such a high profile award ceremony is a matter of immense pride. The Petal Paint campaign is close to our hearts because it sustains our rich legacy whilst at the same time infusing innovation and thinking outside the box for our client, JAT Holdings. We are grateful to our founder and past MD, Ranil De Silva, for initiating this project in his tenure and guiding it through to success."

Adding further, JAT Holdings Managing Director Aelian Gunawardene said, "Petal Paint is an initiative to pay homage to Sri Lanka's rich heritage of Temple art, bringing cutting-edge manufacturing technology through an innovative concept in order to preserve our rich culture. Every aspect of this campaign has been inspired by our commitment to innovation and sustainability and we are thrilled to have partnered Leo Burnett Sri Lanka and Leo Burnett Toronto to win these accolades at the prestigious Adfest platform."

The Creative Campaign consisted of extracting the pigment contained in temple flower offerings to create a range of safe, long-lasting paints and use them for the creation and restoration of temple art. Petal Paint is an initiative that pays homage to Sri Lanka's rich heritage of Temple art, often found in the form of captivating wall murals in Temple Shrine Rooms.

In Buddhism, flowers signify the impermanence of life. Their highest purpose is to become an altar offering. However, due to the high volume of daily worshipers, flowers offered at temples are discarded within minutes. This results in millions of fresh flowers being wasted daily. By extracting the pigment contained in these temple flower offerings, Leo Burnett created Petal Paint in collaboration with JAT Holdings. The flower offerings are collected from various temples across Colombo and taken through a drying process, after which their natural pigments are extracted to create Petal Paint, thus giving them a second life to continue venerating Buddha through restored temple art.

Leo Burnett has become a crucible for creativity and great thinking, producing to be executed in a fresh, relevant and insightful manner to add value to clients' brands. The agency conveyed the sustainable and eco-friendly benefits of this unique paint through a touching campaign, which evoked the culture and heritage of Sri Lanka in a relevant manner. As Leo Burnett celebrates its 20th year of operations in Sri Lanka and looks ahead to the future, the agency will continue to help build powerful brands and meaningful partnerships with its clients, while delivering gratifying results and gaining peer recognition in the industry.