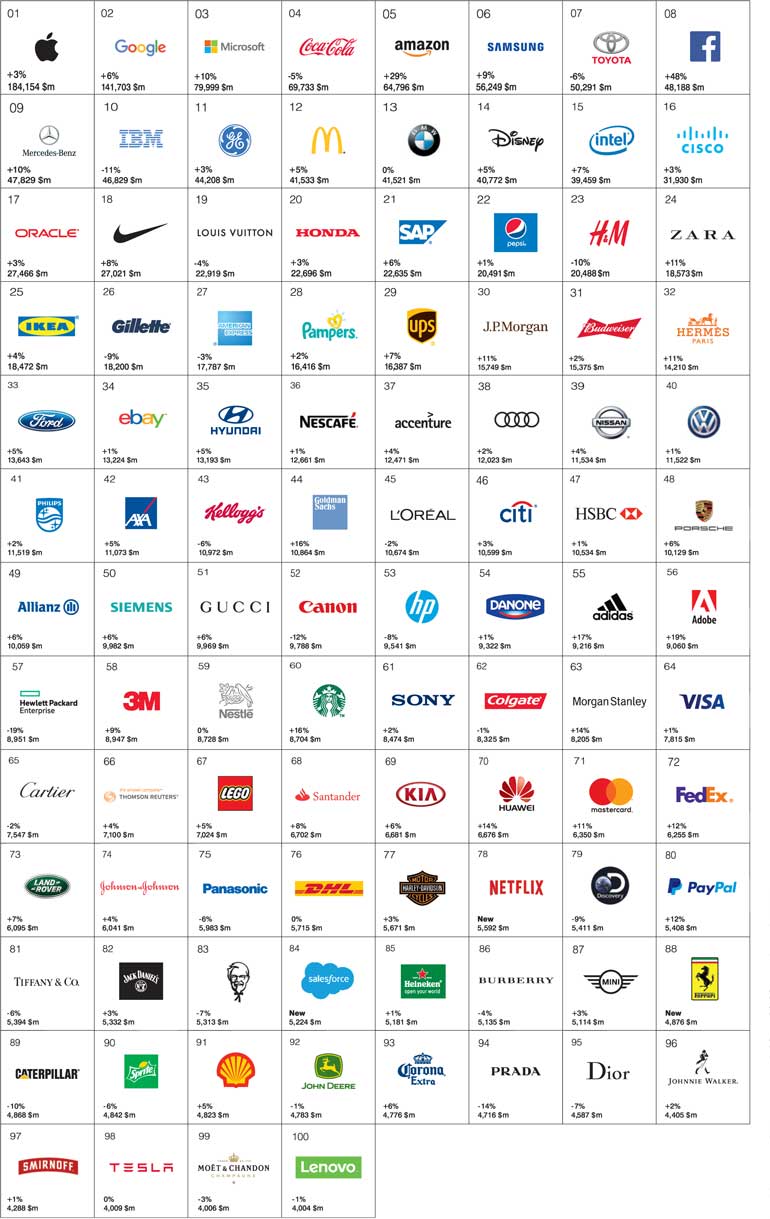 Apple, Google and Microsoft ranked 3 most valuable global brands of 2017
Ferrari, Netflix and Salesforce.com make first appearance on prestigious listing
World's gold standard in brand valuation for Best Sri Lankan Brands, coming November 2017
Interbrand, the world's largest and most influential brand consultancy, has announced the Best Global Brands for 2017. Now in its 18th year, the theme of this year's Best Global Brands report is 'Growth in a Changing World' and examines three key components: People, Technology and Brands.

The combined total value of the world's top brands, $1,871,730 $m, is an increase of 4.2% from the previous year while 42% of that amount can be found in the Top 10 brands on the table.
The Top 10
Interbrand has named Apple, Google, and Microsoft as the three most valuable brands in the world, with technology as the dominant sector. This year, the list also features three new entrants: Ferrari at #88, and Netflix and Salesforce.com, who make their first appearance on the list, at #78 and #84.

"We are living in one of the most exciting periods of change – societal, technological, industrial – that impacts every aspect of commerce and life," said Jez Frampton, Global CEO of Interbrand. "In this ever-shifting context, growth becomes more challenging, which is why businesses need brands more than ever. The Best Global Brands understand that brands are the platform for growth."

For five consecutive years, Apple and Google continue to hold the top positions. Apple's brand value grew by 3% to $ 184,154m, as Google's brand value grew by 6% to $141,703m. Microsoft rose to #3, as one of 16 brands with double-digit percent growth. Closely following Coca-Cola at #4 is Amazon, Samsung, Toyota, and Facebook, which breaks into the Top 10 for the first-time at #8 (up from #15 last year). Mercedes-Benz and IBM round out the Top 10. Frampton said the most significant change in the list is the continued rise of technology-centric brands, especially among the Top 10.

Jeff Hansen, General Manager of Branding for Microsoft, said, "We are excited and humbled to see Microsoft recognised again as one of Interbrand's Best Global Brands. Our employees around the globe are obsessed with finding ways to empower people and organisations to transform in an increasingly digital, connected and rapidly changing world. Our brand value is a testament to our customer obsession and the amazing things our customers accomplish every day."

Meanwhile, Samsung cited the Interbrand Best Global Brands report's evaluation of its fast and exemplary recovery from last year's Galaxy Note 7 crisis, the company's successful launches of flagship products, and its continued financial performance.

Y.H. Lee, CMO of Samsung Electronics, said, "Our efforts to make meaningful progress to improve people's lives contributed to the rise in brand value. Our ranking this year is a positive sign that demonstrates our efforts to regain trust have resonated with global consumers."

In particular, Samsung's mobile business reconfirmed its market leadership through the successful launch of the Galaxy S8 and The Frame TV. Samsung's memory division also performed strongly, with its record profits contributing to the rise in brand value.

A big focus in this year's report is that of brand purpose, as defined by a clear objective embodied in everything a brand does.

"Brands embody the purpose and values of the business, helping us to understand them on a deeper level," says Frampton. "All of the Best Global Brands have a strong sense of purpose – not just in a CSR case, but by having a higher-order reason for everything they do. Whether it's to change the world with innovation, delight customers, or grow like never before, the Best Global Brands make it onto the list because that sense of purpose underpins their entire business strategy, making them highly-effective in the market and supercharging the metrics that determine their brand value."

The five top growing brands include Facebook (48% growth) who leads for the second year running, Amazon (29%), Adobe (19%), Adidas (17%), and Starbucks (16%).

More than half of the Best Global Brands came from four sectors: Automotive (16), Technology (15), Financial Services (12), and Fast-Moving Consumer Goods (9). Retail is the top growing sector in percentage terms (19%), followed by Sporting Goods (10%), Technology (8%), Logistics (7%), and Financial Services (6%).

Toyota at #7 continues to lead the automotive sector with a brand value of $50,291m (down 6% from 2016). Mercedes-Benz – ranked ninth with a brand value of $47,829m, a 10% improvement from last year – is followed by BMW at #13 with $41,521m and Honda at #20 with $22,696m. Other auto brands on the list are Honda (#20), Ford (#33), Hyundai (#35), Audi (#38), Nissan (#39), Volkswagen (#40), Porsche (#48), Kia (#69), Land Rover (#73), Harley-Davidson (#77, the only two-wheeler maker in the list), Mini (#87), Ferrari (#88), and finally Tesla at #98.

Interbrand said: "Automotive is the second most valuable sector, representing 14.5% of the Best Global Brand's total value at $ 266,827 m. These companies have an opportunity to leverage the significant strength of their brands for the future. Brand value comprises both external and internal elements. Great design, engineering, and use of technology are clearly important, but if an organisation cannot change its culture, it will not be positioned for success in the fast-approaching automotive future."

The industry is also facing a massive challenge in the form of policy changes – most directed at going greener – across the world.

Acknowledging Nissan's jump to #39 in this year's table, Roel de Vries, corporate vice president and global head of marketing and brand strategy at Nissan, said: "Brand power has been a consistent focus across the company for the last six years, and it's very encouraging that all our efforts continue to be recognised by this influential ranking. The high rank from Interbrand was a result of Nissan's Intelligent Mobility projections, commitment to viable electric vehicles, and attention to autonomous driving technologies. The fact that we continue our growth proves that our activity focusing on Nissan Intelligent Mobility and our vision for the future of driving is appealing. With the launch of the new LEAF, we are hoping to see further improvement in our brand."

Financial service companies like Paypal (#80) understand the importance of building up their brand value with audiences around the world. Part of this strategy has involved strategic partnerships, recognising that there is more value for both brands by doing so.

Greg Fisher, Head of Global Brand Marketing at PayPal, explained, "We put our customers at the centre of everything we do. Our brand has shifted to a partnership-centric approach that has accelerated creating great experiences for our customers globally. In the last 18 months, PayPal has forged more than 20 partnerships with other top brands, including Visa, Chase, Google, and Facebook, to power the new era of digital commerce."

It's not only about partnering with other brands within an industry anymore, but it now means forging new partnerships across industries as PayPal has done.

Frampton says that if there's one take-away from this year's report, it's that right now businesses need brands more than ever. "The change all of us are facing may seem overwhelming, but it is a fundamental part of life, and so is that desire to grow – personally and as a business," says Frampton. "Brands are, in our mind, the way businesses form a connection and a relationship with real people. So as people change, and the world changes, a strong brand is the only chance your business has to keep up."

Commenting on the 2017 annual report, Ashish Mishra, Interbrand India Managing India, said, "'Growth in a Changing World" is best exemplified by South Asian markets which include one of the world's fastest growth markets and the one that is undergoing maximum change. Our objective through Best Global Brands and the Best Sri Lankan Brands league table launching in November 2017 is to raise the bar for Sri Lankan brands through our global best practices. For example, Samsung, which entered the ranking in 2001 and is now ranked at #6 invested heavily in R&D to improve its product. Second, it developed a brand platform and brand architecture that laid the foundation for all marketing activities. This meant that they could shape people's perceptions in a coordinated and consistent manner, while creating greater impact and operational efficiencies at the same time."

Michel Nugawela, CEO, MND/Sri Lanka partner for Interbrand, said: "Interbrand's Best Sri Lankan Brands league table would be modelled on Best Global Brands so the world's gold standard in brand valuation methodology will be used for the ranking. As well as providing a rigorously analysed valuation number, Interbrand's methodology also brings together market, brand, competitor, and financial data into a single, value-based framework within which the performance of the brand can be assessed and improved, and the financial impact of investing in the brand quantified."
Methodology
Interbrand's Best Global Brands, the most prestigious brand ranking table globally, identifies the 100 most valuable global brands by analysing the many ways a brand benefits an organisation. The Best Global Brands methodology was the first brand valuation method to become ISO certified. The ranking is based on a combination of attributes that contribute to a brand's cumulative value:
The financial performance of the branded products and services
The role the brand plays in influencing customer choice
The strength the brand has to command a premium price or secure earnings for the company
For the complete Top 100 ranking and the report with a comprehensive analysis of growth, sector and industry trends, visit www.bestglobalbrands.com.