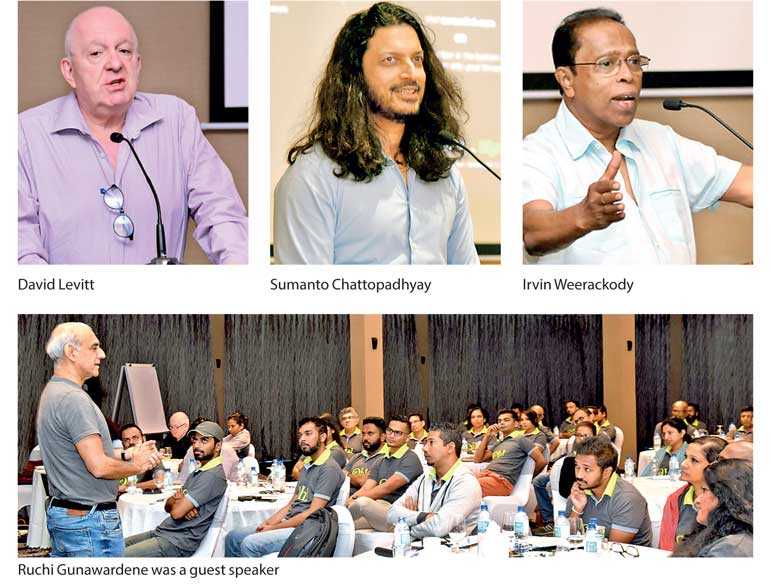 70 of Ogilvy Group Sri Lanka's members, drawn from different disciplines, including Advertising, Activation, Digital, Media and Public Relations attended three days of intense workshops and activities at the 'Good to Great' training program held from 22 to 24 September at Arie Lagoon, Negombo.

The training was conducted by an eminent faculty which included David Levitt, Director of Talent and Training, Ogilvy & Mather Asia Pacific, Sumanto Chattopadhyay, Chairman and Chief Creative Officer, Soho Square, India, and Mayur Varma, Executive Creative Director and Creative Head, Soho Square, India. Sri Lankan Branding Guru, Ruchi Gunawardena, joined the training as Guest Speaker.

Meticulously constructed to enhance the Ogilvy Group's integrated offering to clients, the training's first day focused on advanced account management and client servicing, delivered by David Levitt, whose global experience in the industry spans 50 years. The second day centred on enhancing creativity through greater storytelling and unlocking new communications possibilities through visual and art mediums. The two creative sessions were conducted by Sumanto and Mayur, respectively, both highly-lauded creative powerhouses.

Dissecting the subject of agency-client relationships and what it takes to maintain a healthy one in today's marketing context, Ruchi utilised his 40 years of experience in the field of branding to give agency members new perspective on the challenges faced by clients in today's fast-paced world. The final session of the training programme was an overnight live brief from a client, which was enthusiastically taken on by the participants, who in 15 hours, produced strategies and creative ideas for national-level campaigns for a brand, which the client ecstatically accepted and discussed executing.

Speaking about the 'Good to Great' training, Ogilvy Group Sri Lanka Chairman Irvin Weerackody who also added his vast experience in the advertising industry to the sessions said: "The 'Good to Great' training program was unique because it was the first time we tailored one extensive training programme to include six different disciplines within the Group. The faculty was carefully selected to deliver learnings and tools that will enhance what our people do daily. It was encouraging to see the interest each one took in the sessions and the enthusiasm they displayed in taking on the challenge of a mammoth live brief. It just goes to show the strength of highly-motivated integrated teams."

'Good to Great' was the first training program of its kind conducted by international training experts from the Ogilvy network, for a cross-section of people from different arms of the Group. It was three days full of learning, engagement, planning and gearing up to deliver a more powerful integrated offering to clients.