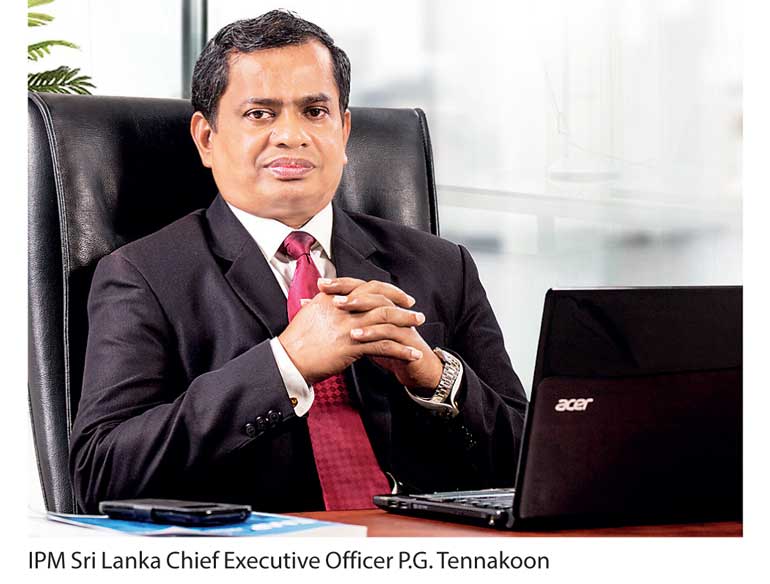 IPM Sri Lanka, the nation's leader in human resource management, recently announced the promotion of P. G. Tennakoon as its Chief Executive Officer to lead the internationally-affiliated professional body to the next level of growth and value addition.

Multi-skilled Tennakoon is a finance as well as human resource management professional and is IPM's incumbent Chief Operating Officer as well as Director of Finance and Administration.

"It is indeed my pleasure to congratulate P. G. Tennakoon on being promoted to the position of Chief Executive Officer of IPM Sri Lanka. The CEO position of an organisation carries with it a significant amount of responsibilities, a clear vision and organisational capability including aligning diverse teams to achieve the goals and objectives of IPM. As a person who has been at the center of activities at IPM for over 14 years and leading the team to achieve many accolades, we are confident that he will help steer IPM to greater heights in the coming years," said IPM Sri Lanka President Prof. Ajantha Dharmasiri.

Tennakoon started his career at IPM Sri Lanka in 2004 as an Accountant and progressed to the positions of Head of Finance and Deputy Director Finance and Administration. In 2011, he was promoted to Director Finance and Administration. During his 14-year tenure at IPM, Tennakoon functioned as the Acting Chief Executive Officer on two occasions while working as Director Finance and Administration.

"I am delighted to be appointed as Chief Executive Officer of IPM and am confident that I will be able to lead this prestigious professional body to greater heights. Stakeholder value addition, provision of efficient services to the IPM member community, providing leadership to the team IPM and retaining talent, continual improvements in IPM quality standards, engaging in more foreign and local collaboration to enhance the image of IPM and uplifting IPM's brand image are some of my priorities," said Tennakoon.

While functioning as the Chief Operating Officer, IPM was crowned as the Winner at the National Business Excellence Awards (NBEA) 2017 in the Educational Services Sector. In 2013, when he was functioning as the Head of Finance, the IPM Annual Report won the Gold Award under the SME Category at the Annual Report Competition organised by CA Sri Lanka, and since then over the last five consecutive years the IPM Annual Report was recognised as one of the best annual reports under the SME category.

Tennakoon also gave leadership towards obtaining IPM's Quality Management System Certification ISO9001:2008 and ISO9001:2015 covering all its operations including branch operations in Galle, Kurunegala and Kandy from Sri Lanka Standards the Institute in 2012 and 2017 respectively.

Tennakoon is a Corporate Member of IPM (MIPM) and a Member of the Senior Certified Business Accountants (SCBA) of CA Sri Lanka. He also holds the Post Graduate Diploma in Business & Finance Administration (PGDBFA) from CA Sri Lanka. He has obtained his Master of Business Administration (MBA) from Wolverhampton University, U.K.

IPM was founded in 1959 and was subsequently incorporated by an Act of Parliament in 1976. IPM is affiliated to the Asia Pacific Federation of Human Resources Management and also to the World Federation of People Management Association.

IPM, being a professional institute is also a constituent member of the Organization of Professional Associations (OPA) Sri Lanka. Currently, IPM comprises of over 1,200 professional members who serve in both public and private organisations.