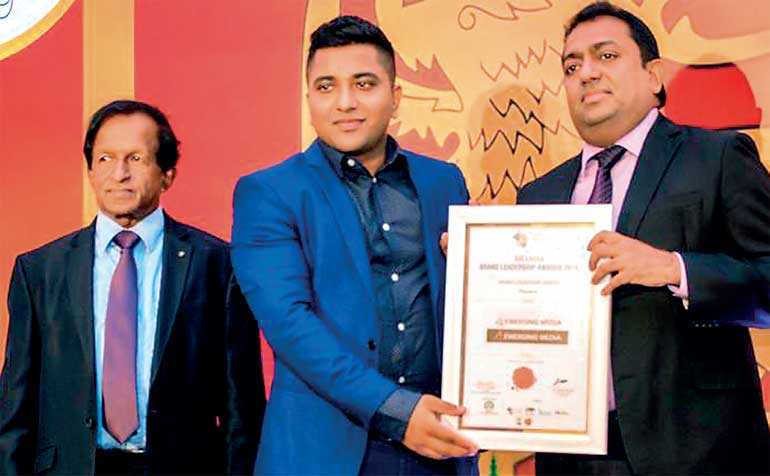 Emerging Media Founder and Managing Director Sanjeewa Rajapakshe receiving the award from Minister of Education Akila Viraj Kariyawasam
---
Emerging Media Ltd. was awarded the prestigious 2019 'Brand Leadership' award from the World Marketing Congress for its innovative outdoor display solutions for brilliant business advertising, and overall excellence in the integrated audio/visual (AV) arena.

The company created waves in the world of branding by offering brands a platform to communicate their messaging in a relevant and progressive manner in the pursuit of brand excellence.

The Internationally-acclaimed World Marketing Congress focuses on changing marketing dynamics towards a sustainable tomorrow. Marketing in today's world is not just about the product, it is about the culture in which the product is marketed, uncovering the unconscious: the power of brands in recalling nostalgic memories, customer empowerment, perceptions, and sustainability.

"With state-of-the-art technological development and close collaboration, Emerging Media enables our partners to create customised, immersive and interactive experiences for their own audiences – even in potentially challenging outdoor environments," says Emerging Media founder and Managing Director Sanjeewa Rajapakshe. He further added, "We are thrilled to be recognised by the World Marketing Congress for our commitment to deliver impactful outdoor visual displays, and we look forward to building new, innovative AV technologies that will further enhance the customer experience."

Founded in 2009, Emerging Media was formed with the idea of introducing a novel concept in outdoor advertising through a digital revolution in Sri Lanka. With the massive success from the introduction of Bus TV, Emerging Media launched TV Salon for the first time in Sri Lanka, followed by LED advertising, giving brands the much needed opportunity for an effective outdoor display advertising method. Currently Emerging Media is the market leader in digital signage solutions and location based advertising with indoor and outdoor screens placed in 200+ prime locations in Colombo, including eight large LED screens.