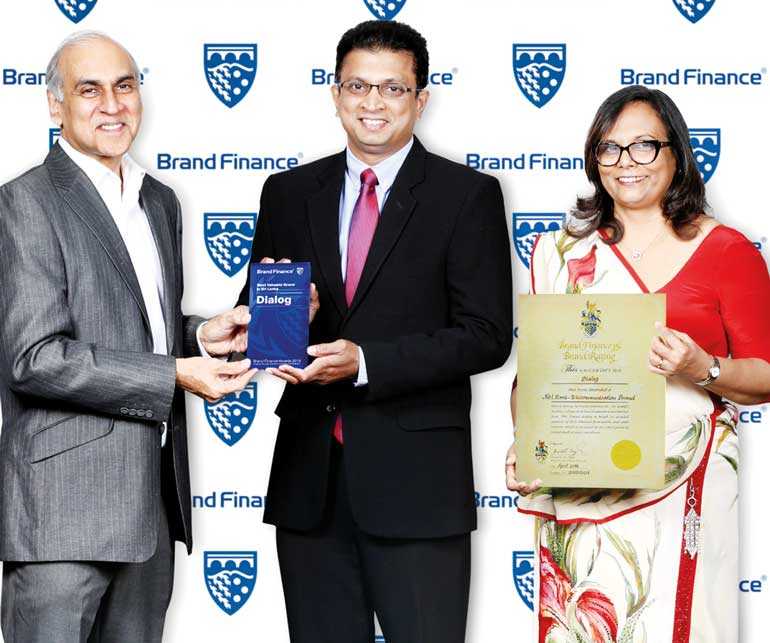 Premier connectivity provider, Dialog Axiata was evaluated as the most valuable brand in Sri Lanka in the 2019 edition of 'Sri Lanka's Most Valuable Brands' by Brand Finance Lanka. Dialog Axiata Group Chief Executive Supun Weerasinghe and Dialog Axiata Group Chief Marketing Officer Amali Nanayakkara receiving the award from Brand Finance Lanka Managing Director Ruchi Gunewardene
---
Dialog Axiata PLC, Sri Lanka's premier connectivity provider, had the distinction of being awarded the title Sri Lanka's Most Valuable Brand 2019 by Brand Finance, the world's leading independent brand valuation consultancy, at the 16th edition of its annual awards. Dialog was also accorded the title 'Top Telecommunications Brand' for 10 years, by Brand Finance, reaffirming the brand's ethos of consistently enabling a connected future for every Sri Lankan.
As a brand, Dialog has high recall, reverberated across Sri Lankans' minds, because of its success in establishing itself as the main driver of Sri Lanka's digital transformation which is underpinned by inclusivity and equitable access to transformational outcomes, delivered through technology that perform a multitude of immersive user experiences that connect people, devices, content and services.

Dialog brand's growth has been attributed towards its sustained investment of introducing new technology and consistently establishing technology firsts including 3G, 4G and now 5G in the country and the region. The company was the first in Sri Lanka and in the region to successfully conduct South Asia's first 5G trial in 2017, the first successful 5G Pilot Transmission in 2018 and first successful demonstration of a 5G mobile-based service and live showcase in 2019.

David Haigh, the UK based Chief Executive Officer of Brand Finance PLC, commenting on Dialog's performance said, "The brand has been one of the strongest on the table for many years and this year, we have seen the fruits of all those efforts paying off, by translating brand strength into brand value. This is a transformative moment for Sri Lanka, with a connectivity provider taking the number 1 position while creating tremendous value for its business in the process. This augurs well for the country, as Sri Lanka joins the rest of the world, where technology brands now lead the most valuable tables."

Dialog Axiata PLC Group Chief Executive Supun Weerasinghe said, "We are honoured to be awarded the title 'Sri Lanka's Most Valuable Consumer Brand' in 2019 and the 'Top Telecommunications Brand' for 10 years. This award is a representation of the trust and confidence placed in our brand by over 14 million Dialog Customers." He continued, "This recognition is also an attestation to the brand's commitments of delivering the Future.Today. as espoused in our brand signature, to impart the very latest in technology and connectivity to Sri Lankans, homes and enterprises."

The Brand Finance Most Valuable Brand measures the value and strength of 100 Sri Lankan brands that are listed on the Colombo Stock Exchange, using a method based on the royalty relief mechanism that Brand Finance uses globally. Brand Finance PLC is the world's leading independent brand valuation consultancy, which advises strongly branded organisations on maximising their brand value through effective management of their brands and intangible assets. Brand Finance is headquartered in London and has a network of international offices including its Colombo office.