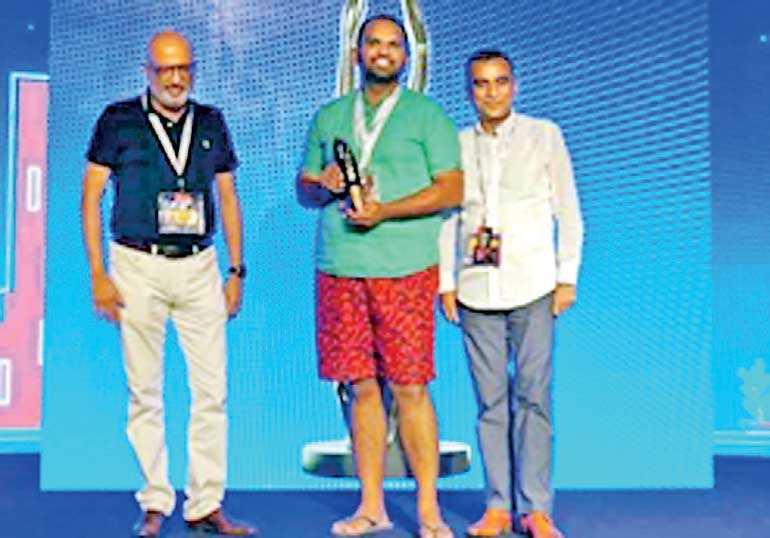 Dentsu Grant Head of Media Strategy, Isuru Dias receiving the

Gold Award for the Innovative Use of Integrated Media – South Asia' category at Goafest Abby Awards 2019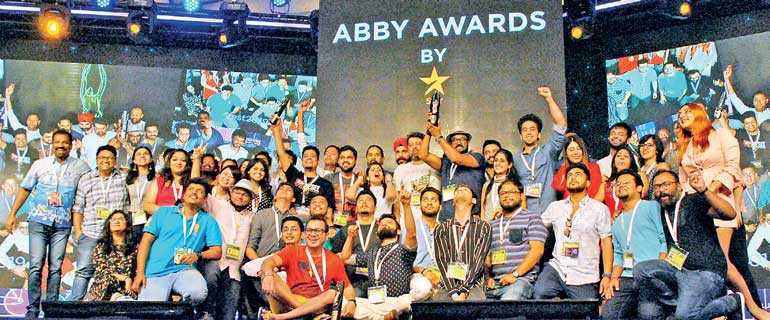 The Dentsu Aegis Network regional team at the Goafest Abbys Awards 2019
Dentsu Aegis Network bagged the topmost number of metals at Goafest
Dentsu Grant brought home Sri Lanka's only gold from Goafest Abby Awards 2019, the region's biggest advertising festival held recently in South Goa. Winning Gold for the 'Innovative Use of Integrated Media – South Asia' category for its media campaign 'Sri Lanka's Biggest Tea Party' to launch Red Cow Milk powder. The Dentsu Grant team also bagged a Bronze award under the same category for its 'Quest for Students with Talent' campaign for Anchor Milk.
Both award winning campaigns were led by Head of Media Strategy, Isuru Dias along with the media team Shiana, Sandaruwan, Pavithra, Sahan and Dentsu Grant Group's full-service digital arm – Isobar, who played pivotal roles in ensuring the campaign's success.

The wins contributed to a total tally of 56 awards for the Dentsu Aegis Network (DAN) team across South Asia, which included 15 Golds, 15 Silvers and 26 Bronze wins. Goafest 2019 is an annual celebration held to honour creativity and campaigns across markets, mediums and languages and sees a multitude of agencies vying for top honours. 57 media agencies from across South Asia participated in the Abby's this year and saw an over 660 entries contending for awards.

Commenting on the win, Dentsu Grant Group Chairperson and Managing Director Neela Marikkar said, "It is indeed an illustrious win for the Dentsu Grant media team to be awarded both the Gold and Bronze awards, under the same category and for the same corporate brand. My warmest congratulations to both the Dentsu Grant and Fonterra Brands teams for their innovation and dedication towards their brands, which culminated in multiple wins at the Goafest. This is a wonderful working partnership between Dentsu Grant and Fonterra Brands and demonstrates our continuous and collaborative efforts, in converting inspiring ideas to award-winning campaigns."

Further commenting on the win at Goafest Abby by the team, Head of Media Services, Chaminda Dias said, "We are proud that two key campaigns in partnership with Fonterra Brands has been recognised and awarded at Goafest Abby Awards 2019. Both Dentsu and Fonterra Brands has had a very healthy partnership for nearly a decade now and this win symbolises the synergies we are able to achieve with our partners, who value the way we work and are willing to push forward with creative and innovative strategies in communicating their brand's presence in the market."

Dentsu Grant Group Chief Operating Officer Chalaka Gajabahu added, "We also have much more award-winning inspiration from our regional teams who we work closely with, particularly Dentsu Webchutney, the digital agency from the house of Dentsu Aegis Network (DAN), which was named the 'Digital, PR and Direct Specialist of the Year' at the Goafest Abbys, 2019 edition and adding 56 metals to the network's tally – overall this is tremendous win for our network both locally and for the region."

Dentsu Grant Group is an award-winning agency with 130 people spread across six entities with a rich communication heritage of over 60 years. In 2017, the Grant Group joined the Dentsu Aegis Network, the global media and marketing communications conglomerate and one of the largest award-winning agency networks in the world, to create a unique entity that combines a deep knowledge and love of Sri Lanka with world class innovation, know-how, and technology. The Dentsu Grant Group business areas span across media buying, creative, out-of-home media, public relations, digital and content marketing.