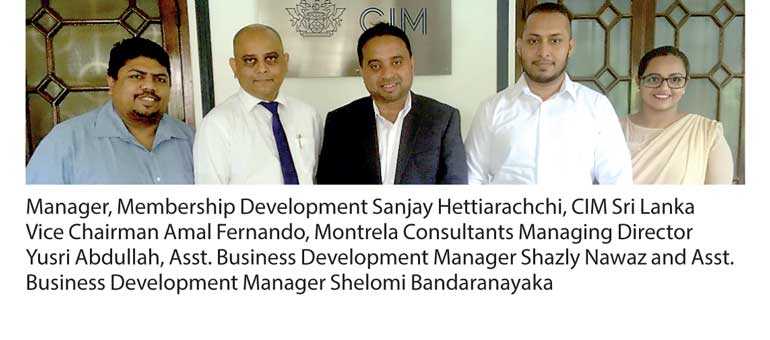 The Chartered Institute of Marketing Sri Lanka and Montrela Consultants Ltd. recently renewed a successful working partnership of two years by tying up again for the year 2018. The Memorandum of Understanding (MOU) signed between CIM Sri Lanka and Montrela Consultants will be a partnership of mutual respect and benefit. CIM Sri Lanka Vice Chairman Amal Fernando commenting on the partnership said: "We are proud to partner with Montrela Consultants Ltd. and extremely grateful for their continued support to help promote CIM marketing profession and its activities in Sri Lanka."

CIM Sri Lanka is the first International branch of CIM UK and is proud to claim the largest membership outside the UK. CIM Sri Lanka has always campaigned for high professional standards, greater recognition for the profession and marketing excellence in Sri Lanka through education, training and development.

Montrela Consultants Managing Director Yusri Abdullah stated: "We are delighted to partner with a renowned professional body such as the Chartered Institute of Marketing Sri Lanka as it will be a great opportunity to work together with the largest professional body for marketing to further strengthen our valuable customer network." Montrela is an international migration consultancy, headquartered in Dubai which was formed to provide one stop visa solutions to people throughout the world who wishes to migrate and settle for better living standard. Montrela offers professional, efficient immigration and relocation services by providing hassle-free solutions. It has teamed up with licensed consultants from various government immigration authorities and is a one-stop centre for potential immigrants to the Canada, US, Australia, New Zealand and some European Schengen regions at highly competitive and affordable prices.