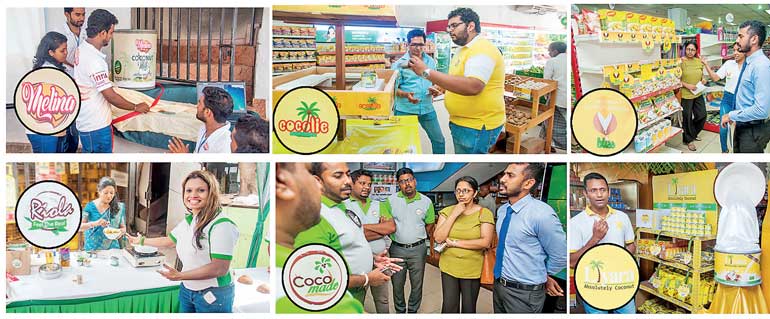 Introduced by the Sri Lanka Institute of Marketing (SLIM), the Diploma in Strategic Brand Management (DSBM), which encompasses a vast curricular in regard to branding, is the foremost strategic branding qualification in Sri Lanka.

Each student is required to carry out a practical brand unveiling session, which is unique to the program, and is an integral part as well as a key element in SLIM-DSBM.

With this innovative approach to mentoring, SLIM-DSBM has made a unique reputation for itself and continues to facilitate marketers who aspire to become Brand Managers. The 12-month part-time program is ideal for young executives interested in branding, trainee brand managers and professionals in the corporate sector.

Students of DSBM 2016 were offered an opportunity to carry out practical brand unveiling sessions in July. Practical sessions carried out in six different locations including leading supermarkets in the vicinity of Colombo offered hands-on experience to students in launching their own special brands. The primary objective of organising such an event was to provide students with real life experience and exposure parallel to their theoretical learning in the classroom.

Chene Wickramathilake, Nuwan Rathnayake, Sanjana Senevirathna and Shalika Alahakoon supervised the six teams involved in the practical sessions.

The product which the students were expected to launch this year was coconut milk and their performances were evaluated based on the innovative ideas that they produced to market branded coconut milk to the Sri Lankan market. Mentor Denzel Perera guided the students with the assistance of Examination Coordinator, Prasangika Kumarage and Business School Coordinator Kasun Thushara.

It was significant to witness some customers including housewives purchasing the newly-launched branded 'coconut milk products' from the students whilst they were shopping.

Teams named Avengers, Spirits, Creative, Authentics, Pelicans and Silver Bullets unveiled their new coconut milk brands, Riola, Melina, Liyara, Cocolie, Bliss and Coco Made, at LAUGFS Supermarket Kiribathgoda, Best Food City Kaduwela, Deshan Super Piliyandala and LAUGFS Supermarkets in Moratuwa, Wellawatte and Kohuwala.

The DSBM program in addition to its theoretical element and practical sessions comprises of experience-sharing sessions featuring eminent personalities in branding. This is done as an added focus on practicality, preparing students for the inevitable challenges in the corporate world.

The DSBM curriculum covers vital areas such as the role of a brand manager, brand marketing, brand planning, strategic implication in branding and managing brands overtime.

Students who enrol in the SLIM-DSBM program can follow the course at the SLIM Business School in Colombo.

SLIM CEO/Executive Director Sanath Senanayake said: "Branding is a magical tool which facilitates marketers to create an edge over the competitors on their products and services. Brand managers thus are a rare breed of individuals who engage in making 'brand loyal' customers and grooming them to become ambassadors of the company's brands."

He added: "We enhanced the practical value and realistic application of DSBM by forecasting and identifying the needs of the industry. We did this in order to ensure that we produce skilled personnel who can cater to the needs of marketing and branding in the modern world.

"DSBM endows students with an integrated learning experience via brand launches and other aspects. It will enable students to face challenges in the marketing arena. The DSBM syllabus, text books and course content were prepared to suit the current industry requirements, benchmarking with international standards."

Senanayake congratulated the students who participated in the practical sessions and wished them good luck in their written exams.