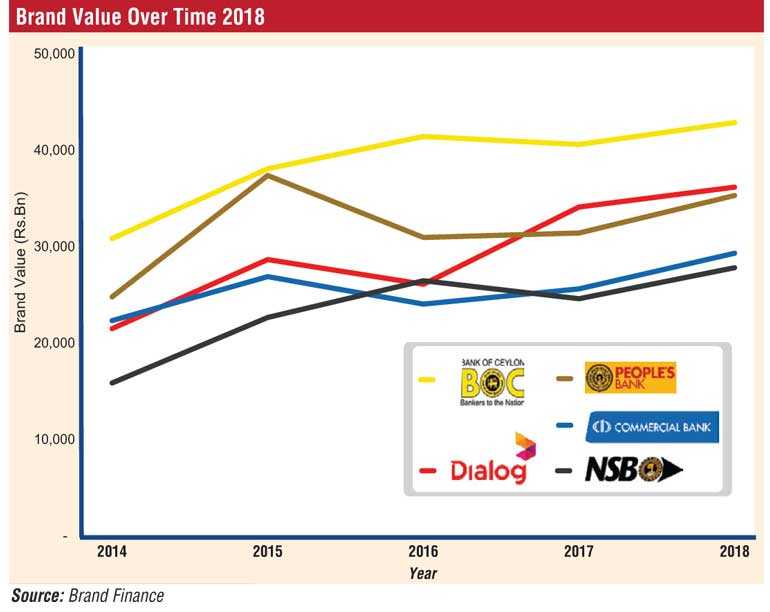 16th edition of Sri Lanka's most valuable and strongest brands to be launched next week
Coincides with the launch of LMD's 2019 Brands Annual
Contains comprehensive review and analysis of Sri Lanka's brand landscape
Brand Finance Lanka, the pioneering brand valuation and strategy firm which first launched the most valuable Sri Lanka brands in 2004, is gearing up to release its 16th consecutive annual review.

In last year's edition, BOC retained its ranking at the top of the table for the 10th consecutive year, but its performance was somewhat overshadowed by the faster growing Dialog which had taken the number two position.

The key question this year is, will a technology brand beat out the long established banking behemoth, BOC?

The rise of technology brands is a trend that is seen across the world. In the Brand Finance Global 500, technology brands occupy the top positions. These include Amazon at No.1 followed by Apple, Google, Microsoft and Samsung. These brands have overtaken the old legacy brands such as Coca-Cola, Citibank, Walmart and GE amongst others, dramatically changing the business and brand landscape within a decade.

This phenomenon has long been a possibility in Sri Lanka too, as Dialog has consistently been given a triple A brand rating, which means it is the strongest brand in the country. Brand strength is an indicator that it has the potential to create greater value in the long term. As in previous years, the Brand Finance launch coincides with the release of LMD's Brands Annual which contains all the detailed analysis, reviews and supporting articles. This publication includes the most valuable brands ranking with methodologies of computation, along with analysis on sectors which are important in Sri Lankan business. These include the influential conglomerate brands which dominate the Colombo Stock Exchange, export corporate brands, multinational corporate brands and the emerging e-commerce brands.

Brand Finance Lanka commissions exclusive consumer market research for its analysis each year. This was carried out in October/November 2018 by an independent market research agency, Breakthrough Business Intelligence. The fact-based approach includes financial forecasting with data derived from Bloomberg, in line with global methodologies. This aligns and benchmarks Sri Lanka's brands and ranking with global league tables, ensuring comparability.

Partners of the Brand Finance launch event at Park Street Mews are Landor, PickMe, LMD and Breakthrough Business Intelligence. Brand Finance PLC, is the world's leading independent brand valuation consultancy, which advises strongly branded organisations on maximizing their brand value through effective management of their brands and intangible assets. Founded in 1996, Brand Finance has performed thousands of valuations for the purposes of strategy development, maximizing brand asset management, in mergers and acquisitions amongst other purposes.

Brand Finance is headquartered in London and has a network of international offices including its joint venture partnership with Brand Finance Lanka.