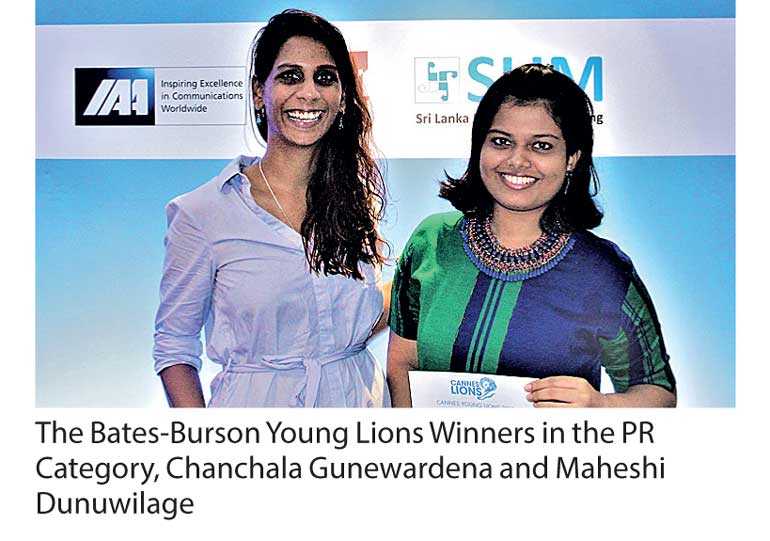 Two young, creative IMC professionals from Bates Strategic Alliance's Burson-Marsteller affiliated Public Relations' arm, will be the first to represent Sri Lanka in the PR category in the Young Lions competition at the prestigious Cannes Lions International Festival of Creativity in France from 18-22 June.

Events and Digital Communications Specialist Chanchala Gunewardena and PR Executive Maheshi Dunuwilage were among just eight Young Lions, or just four teams, selected this year to represent Sri Lanka at Cannes following their victory at the local level competition conducted by the International Advertising Association.

The Young Lions PR category was introduced to Sri Lanka in 2017. However, it was only this year that a team was judged as fit and prepared to compete internationally. To be chosen, the young competitors had to tackle a surprise brief within eight hours, devising a creative and strategic PR solution and subsequent deployment plan. They then presented and defended their approach to a jury of veteran industry judges. Following a lengthy defence of their strategy and ideas, commented upon as 'unconventional', the duo was deemed worthy of representing Sri Lanka at Cannes.

Chanchala holds a Master's Degree in Professional Communication and a Bachelor's in English from Clark University, Massachusetts, USA, and also finds time to be a social entrepreneur with her 'Kimbula Kithul' brand and serves as country liaison for the Asian University for Women. Maheshi holds a BBA Special Degree in Marketing from the University of Colombo and a Diploma in Strategic Brand Management from the Sri Lanka Institute of Marketing, and joined the agency following an internship at Unilever.

Strategic Alliance Chairman and CEO Nimal Gunewardena said: "We are delighted that Chanchala and Maheshi showed their mettle and will now compete at Cannes representing us and Sri Lanka. This marks many moves we are making in this our 25th Anniversary year to ensure that our agency is playing our due role nationally with international class work."

Strategic Alliance PR is a pioneer in public relations and its principal Burson-Marsteller network recently merged with Cohn & Wolfe to create an IMC agency that mirrors Strategic Alliance's pioneering IMC approach of 25 years. The Agency has long been known as a training ground for the communications industry's young talent and those coached by in-house Guru Nimal have joined the ranks of industry leaders and have credited their progress to their time at the agency. The Agency is on the lookout for more bright millennial talent to join their ranks and be trained in PR, Strategy, Advocacy and Digital.