Ranked among the Top 20 best conglomerate brands compiled by Brand Finance and published by LMD
Ambeon, the corporate brand of Ambeon Holdings PLC, a medium-sized conglomerate reputed for its market dominance in the areas of financial services, manufacturing, real estate, technology and strategic investments, has been named among the Top 20 Best Conglomerate Brands ranked this year by Brand Finance. The dynamic group, which was repositioned and transformed recently to represent the group's business vision and to take on the dynamic, technocentric business world of tomorrow, continues totake the leap and transform latent opportunities into lucrative ventures that delivers sustained value to its various stakeholders.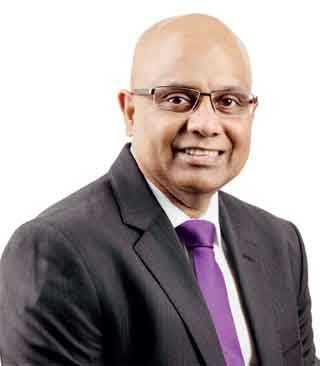 Ambeon Capital and Ambeon Holdings Group Managing Director/CEOMurali Prakash
Commenting on the birth and transformational journey of Ambeon Group, Ambeon Capital and Ambeon Holdings Group Managing Director/CEOMurali Prakashstated that, "Mid last year, we announced the birth of Ambeon and the transformation of Ambeon Group, one which included the restructuring of its diversified businesses bringing about collective focus and optimised investments with increased shareholder value. Within a short period of time, empowered by market dominance, infinite potential and financial strength of its parent Ambeon Capital, the group continues to be astute, driven, nimble and visionary – one with an expanded range of products, strong globalised local brands, premier technology and innovation platforms, extending its footprint across new businesses, markets and regions."

Commenting further, Prakash stated,"The Ambeon group is built on a set of values that are considered cornerstones of building a sustainable and future-proof organisation. The agility and learning mindset come from these values of empowering people, channelling teamwork, auctioning results and seeing beyond. These are built on a robust platform firmly anchored onto governance, risk and compliance. Customer centricity is the ultimate objective of our value congruence; thus we build sustainable business models for all stakeholders in the years ahead. It's certainly heartening to see Ambeon being recognised for who we are and what values we stand for," he concluded.

With over 3300 employees, Ambeon Holdings is the subsidiary of Ambeon Capital. The subsidiaries of Ambeon Holdings include Taprobane Capital Plus Ltd. (a leading financial services provider with a wealth of experience in capital markets in Sri Lanka), South Asia Textiles Ltd., (leading manufacturer of exceptional quality weft-knitted fabric. The company also specialises in knitting, dyeing, finishing, printing, brushing, sueding and pre-shrunk fabric for leading global brands such as Victoria's Secret, Next, Marks & Spencer, Tesco, Calvin Klein, Decathlon and Adidas), Dankotuwa Porcelain and Royal Fernwood Porcelain Ltd., (manufacturers of porcelain tableware and gift items for global giants such as Oneida, Macy's, Country Road, Lenox, John Lewis, Crate & Barrel, Megros, Jashanmal, Ralph Lauren, the Walt Disney Company and Dilmah), Ceylon Leather Products Ltd. (manufacturer of leather footwear and accessories), Millennium I.T.E.S.P. Ltd.(Sri Lanka's leading information systems solutions providerdelivering IT solutions for many industries, including banks and finance, telecommunications, apparel and leading conglomerates) and Colombo City Holdings (real estate).

The Ambeon Group is powered and guided by corporate giants Galle Face Hotel Group, Hirdaramani Group and Navitas Investments. The group is steered beyond ambition to re-engineer success byits Group Managing Director/Chief Executive Officer, transformation leader and renowned Industry veteran Murali Prakash.

The Ambeon Group also has independent and eminent members on its various Boards to bring stability, independence and integrity to brands and businesses across the Group. The Ambeon Capital Board of Directors comprises ChairmanSanjeev Gardiner, Deputy ChairmanAjith Devasurendra, Group Managing Director/ Chief Executive OfficerMurali Prakash, Priyantha Fernando, Harsha Amarasekera P.C, Ranil Pathirana, SarindaUnamboowe and Desamanya Deva Rodrigo. The Board of Directors of Ambeon Holdings include Chairman A.G. Weerasinghe, MD/CEO Murali Prakash, Ruwan Sugathadasa, Mangala Boyagoda, and Priyantha Maddumage.