Panel discussion on 'What's Next'
---
With consumer needs being fragmented and competition to engage them being steep, Nielsen Lanka recently held a discussion in Colombo on developing effective sales and marketing strategies in a changing environment and in tailoring business intelligence to support decision making.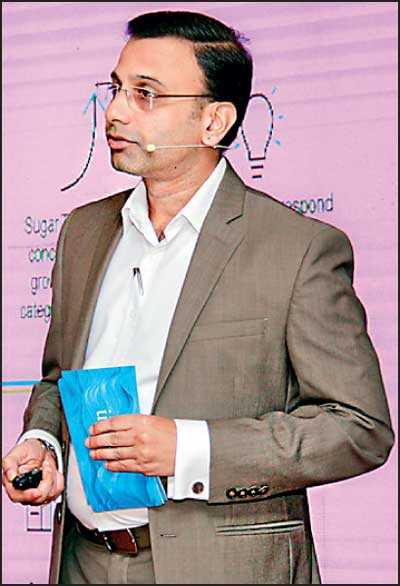 Nielsen Lanka Managing Director Sharang Pant addressing the audience


Aptly titled 'What's Next', the forum included several keynote speakers of various expertise, who availed the audience on gaining the right consumer insights, different approaches to be adopted to engage consumers and new models for innovation and growth.

Commencing the session, Nielsen Lanka Managing Director Sharang Pant stated the importance of having a set of evolving tools and approaches to understand the drivers of change and influences of the consumer, retail and business landscapes. He outlined several key areas that will shape future trends, such as digital media, sugar tax changes, innovations in practice and e-commerce.

Marketing, Sales and Business Management Consultant and Strategic Advisor Nandana Wickramage gave an insight into the necessity of having the right data to understand where the consumer and business environments might be heading, so that organisations know exactly where and when the big opportunities will emerge, to capitalise on them and establish a strategic advantage.

He outlined the biggest gap in most companies as the lack of investing in business intelligence and data, to support strategic planning and be better positioned to mitigate risks of disruption and change. He stated that the 'Push' and 'Pull' strategies of the past will not work and products required to be better packaged and presented to meet the needs of shoppers.

With multi-channels moving to Omni channels, selling he said was no longer an "art" but a "science" that will mean engaging in broader and deeper analysis of evolving consumer needs.

Nielsen South Asia Sales Effectiveness Director Sujoy Das provided an overview into "in-store execution efficiency", pointing out that consumers spending their time on multiple channels before making a purchase, such as websites, smartphone apps, and social media, meant that in-store visibility can be used as a key sales driver.

He discussed ideas on implementing successful marketing strategies to include initiatives at the pre-store stage and in ensuring that all in-store tactics be focused on actively engaging consumers.

South Asia Nielsen Sales Effectiveness Executive Director A.J.R Vasu touched upon the importance of in-store product placement. He affirmed that "eye level is buy level" and informed how the right data could help determine a product's optimum positioning.

An interesting panel discussion followed on the topic of 'Changing Environment, Changing Strategies'. The panellists comprised of Nandana Wickramage; Atlas Axillia Managing Director Asitha Samaraweera; Perfetti Van Melle Lanka Country Manager Mohit Bhalla; Hemas Sales and Customer Marketing Director Subir Chowdhury and Axienta CEO Manju Fernando. The session was moderated by Sharang Pant.

Discussion points included new skillsets required by sales personnel, how to gain the right insight into buyer behaviour, understanding the shopping journey, and the driving importance of data in all of these activities.

Overall, the consensus was that data took precedence as a much-needed source for future marketing and sales activities. As Manju Fernando explained: "The data today is definitely there but the magic is how you use it to gain insight, drive results, and make business goals and decisions. Through utilising data, marketers can work towards deeper knowledge of the path to purchase and make more informed decisions on what is really affecting sales. New sources of revenue can be identified and ways to deepen customer engagement. These insights can also help the entire organisation chart a course for success ahead of the competition."

As such, the final conclusion was that companies with strong organisational intelligence, comprising of data, insights and measurement tools to understand market performance, trends and evolving consumer demands are those best positioned to forge a successful path into the future, armed with their ability to monitor and optimise business performance, respond to change and successfully manage their market offerings.