The Sri Lanka Club Symposium Toastmasters (SLCST) of the Kingdom of Bahrain conducted the 500th Grand Session of Toastmasters followed by a gala reception. The Toastmasters Symposium earned the charter in 1998 with only about 25 members. The Sri Lanka Club Toastmasters Symposium became the third Toastmasters Club to be established in Bahrain. Today, there are well over 60 Clubs in Bahrain.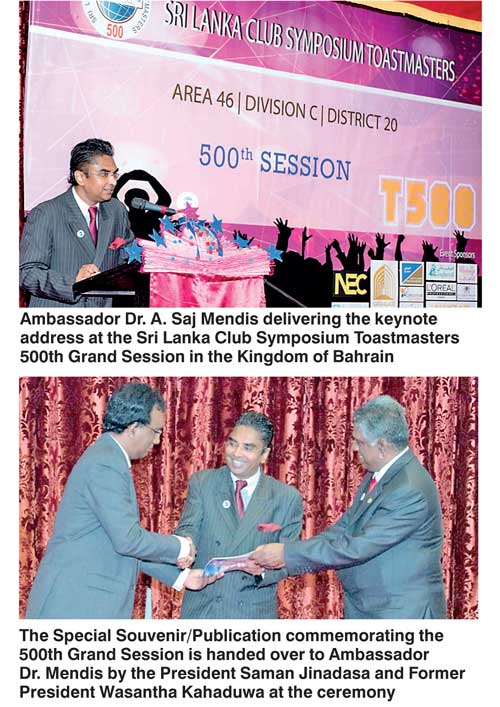 The Toastmasters International, known globally as TI, was formed in 1924 in the city of Santa Ana, in the United States. Today, TI has over 15,000 clubs in over 140 countries with a total membership of nearly 350,000 worldwide. The motto of TI is 'Where Leaders Are Made'.

At this iconic 500th Grand Session of SLCST, Ambassador of Sri Lanka to the Kingdom of Bahrain, Dr. A. Saj U. Mendis stated that the Toastmasters Club of Bahrain had contributed, over the years, immensely in moulding as well as nurturing and fostering skills and competencies such as interpersonal, leadership, communication and public speaking and organisational, among others, thus, enabling a number of members of SLCST to compete both nationally and regionally. It was interesting to note that many of the members have vied at regional Toastmaster competitions not only in Bahrain but in other countries as well. SLCST President Saman Jinadasa in his opening remarks stated that the Sri Lanka Club Symposium Toastmasters have produced and fashioned over 200 excellent leaders to serve the community be it Bahrain, the region of Gulf or Sri Lanka. Jinadasa stated that the Toastmasters of Bahrain meets at 'Sri Lanka Club' every other Tuesday and members and guests are being trained and critically evaluated, particularly, of the communication, public speaking and leadership skills.

Ambassador Dr. Mendis stated that communication, interpersonal and leadership skills are seminal and decisive 'soft skills' be it in the corporate sector or the public sector since most of these Sri Lankan expatriates have to compete with other different nationalities. The SLCST often conducts training programs and workshops not only for adults but also for children in order to develop and to expand their communication and leadership skills, among others. In the recent past, the Sri Lanka Toastmasters Club has invited the World Champion of Public Speaking in the year 2014, Toastmaster Dhananjaya Hettiarachchi to Bahrain to conduct training programs and workshops, which have significantly benefited and inspired the Sri Lankan expatriates in Bahrain. For the celebration of the 500th Grand Session of Sri Lanka Club Symposium Toastmasters, the President Saman Jinadasa, Event Chairman Ravi Jayakody, and organisers have invited Kaishika Rodrigo, one of the top 10 finalists of the Toastmasters World Championship to conduct programs and workshops in the Kingdom of Bahrain. Needless to state that pro-active engagement and participation in Toastmasters Club of Bahrain, Sri Lankan expatriate community has enhanced and augmented their soft skills including communication and leadership skills, in general, and the competitiveness and marketability of the highly exacting job market, in particular.