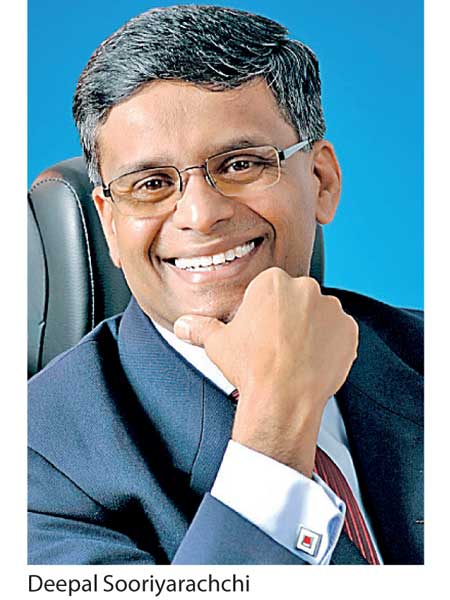 Versatile management development consultant, Deepal Sooriyaarachchi has once again come up with a unique management development program called success 'Siksha'. We met with him recently to find out more about the program. Following are excerpts from the interview:
Q. What is the background of this program?
A: In the last few years, since retiring from full time work I have been working with a large cross section of medium and large business enterprises, especially MDs and company owners. These are highly successful individuals. Most of them have started their own business in a small base and developed it to its current size through hard work and constant effort, mostly learning necessary lessons on their own. They have their ingenious ways of doing things. All they need is another impetus or a platform to think afresh so that they can take their business to the next level. They currently struggle to convert their business from informal to formal, from person dependent to process dependent, without losing the entrepreneurial spirit of the enterprise. They do not have the time or the inclination to go through a formal management education program. Thus I conceptualised this program after closely examining the challenges they face.
Q: How have you designed the program?
A: Rather than being a purely academic type of training program, this will be an interactive session that will encourage critical thinking, discussion and discovery.

The program will be woven covering four key themes:
Strategy
How to define and review the strategy of your business

What are the key areas you need to focus on

How does emerging customer preferences affect your business

How to innovate your business on various fronts
Execution
How to ensure that the intended strategy is properly executed

How to align people, processes and policies of the organisation with the key business strategy
Managing people
Key challenges in managing people

Motivating them and providing them with feed back
Managing self
Techniques to manage stress, improve clarity of thought
Q: Why did you choose these themes?
A: These are central themes that help build organisations as leaders. Actually these themes are similar to the areas identified in well-researched, internationally accepted leadership concepts as well.

And at the end of the session I am sure they will say 'Ah Ha'
Q: What do you mean by that?
A: Well the best way to answer is by providing an example. Once at the end of a program, one such person said, "When we were boys we used to throw stones or sticks and pluck mangoes from trees. But we never calculated the optimum angle of the throw using trigonometry. After listening to you I now realise there was a reason for our action." I thought that was very authentic feedback.

Such discoveries give them further assurance and help approach the business better.
Q. How will you be running the program?
A: As always my programs are rich with local as well as international examples, my own life experiences, having started a career from the bottom I can relate to many aspects of the business with ease. I will be using some case studies and activities to drive learning and ensure that they go back with at least one action point in each area that we discuss.
Q. I see the Ceylon Chamber of Commerce and the Sri Lanka Printers Association (SLPA) are supporting the program…
A: Yes, and I find it really encouraging. In fact I just completed a series of sessions with the SLPA, covering a large number of their members in many parts of the country. The feedback I got from them is the most recent motivation to design this program.
Q: Will senior managers in organisations benefit from this program?
A: Yes of course. Because the principles covered are relevant to them and they will get the added benefit of interacting with real business leaders, thus learning how they can do things differently.
Q: Going through the program outline, one gets the feeling that you are trying to cover quite a lot in a day…
A: In a way yes, but these are very senior people, they will grasp things easily, apart from that my way of presenting things is very simple. Nevertheless depending on the response I am planning to do an extended version of this program with them.
Q: You are known for doing so many things at the same time; what are your other undertakings at this moment?
A: Well, in addition to working on a couple of books, I am actively involved in promoting mindfulness in schools with the 'Sati Pasala' Movement and I'm also devoting a lot of time mentoring senior executives leveraging my years of experience and insight.
Q: That reminds me, how is your Sinhalese business book series doing? In fact you pioneered the introduction of management concepts in simple Sinhala and paved the way for a new style of books, where subject knowledge is presented in simple short chapters appealing to anyone.
A: Oh yes, most of them are in their third or fourth edition. The latest edition is now out in the market as Sarasavi Publications. During the program I will arrange for the books to be given to participants at a special price as well.
Q: Finally when will this program take place and how can one register for the program?
A: It will be on 13 August, Sunday at the Galadari Hotel from 8:45 a.m. to 6 p.m. and registrations are handled by the organiser of the event Inspire One.