Wall Street's 'dean of valuation' Prof. Aswath Damodaran will be back in Colombo on 27 and 28 March to inspire business leaders and decision-makers both in C suite level and finance at a two-day master class on valuation organised by PwC's Academy.

Well known for his ability to move markets, Damodaran will provide participants in Sri Lanka with the latest tools on valuation and how to apply these tools and techniques in different business contexts. The two-day workshop will be held in Colombo, and has attracted elite group of decision-makers.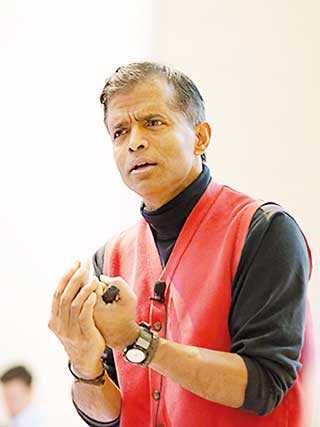 Prof. Aswath Damodaran
During the two days, Damodaran will inspire the participants by helping them understand the intricacies of valuation including contemporary key topics covered such as Startup Valuation, Early Stage Business Valuation, and latest insights on Emerging Market Valuation.

The highly interactive two-day workshop will also be further boosted with participants receiving a certificate of completion signed by Prof. Damodaran, PwC's Academic, and Institute of Mergers and Acquisition and Alliances Austria. The session is endorsed by CFA Sri Lanka chapter.

The one-of-its-kind program is open to top C-suite executives including chief executive officers, board members, business owners, corporate financial staff, head of business development, strategy and M&A, chartered accountants, investment bankers, management consultants, equity research analysts, portfolio managers as well as investors.

Prof. Damodaran is the Kerschner Family Chair Professor of Finance at the Stern School of Business at New York University (NYU) and a top authority on valuation. He is also a recipient of the Stern School of Business Excellence in Teaching Award. Prof. Damodaran teaches corporate finance and valuation courses in the MBA and executive programs.

He is credited with numerous publications in academic journals and has authored several highly-regarded and widely-used books on valuation, corporate finance and investment management. His contributions to the field of Finance have been recognised many times over and the skill and enthusiasm when he speaks is backed by the impressive accolades received from students. He has been voted 'Professor of the Year' by the graduating MBA class nine times during his career at NYU.

"There is no point in valuing companies for the sake of valuing companies. If you are not willing to act on your valuation, this just becomes an intellectual exercise", says Prof. Aswath Damodaran.

During the workshop, Prof. Damodaran will help participants understand how to value any kind of firm in any market, how to use discounted cash flow models (small and large, private and public), how to value a firm using multiples and comparable firms, how to analyse and critique the use of multiples in valuation, as well as how to value firms in special situations (during distressed or start-up scenarios).

Most importantly the discussions are centred on Sri Lankan companies and example which makes the program very unique. He will also educate on how to estimate the effect on value of restructuring a firm.

In recent times, the PwC's Academy has created a benchmark in Sri Lanka for being a specialised academy offering a range of highly specialised customised executive education programs designed and delivered for the benefit of business leaders, C-suite executives and senior professionals, covering a range of topics, pertinent in today's content. PwC's Academy programs are aligned with the ultimate goal of helping organisations reach sustained success by increasing the bottom line of the company.

PwC Sri Lanka CEO Sujeewa Mudalige expressed: "PwC is committed in building relationships and creating in every market we operate, and this is one good example of leveraging our relationships to bring insights on business valuation from one of the best thought leaders on the subject. I congratulate for the participants who made it to the session as we opened it only for a limited exclusive audience. We look forward to a great session filled with insights during these two days."

Following are testimonials from the participants of Valuation Master Class held in January 2018:

"Considering that he is the Financial Valuation Guru and since I also work in the valuation, it helps me to get the perspective from a world-class leader who knows about the subject and gives us the insight about how to value industries which are difficult to value" – Brand Finance Lanka Ltd. Valuations Manager Aliakber Alihussain

"Lot of valuation professionals have gathered here to get insights from the valuation guru himself and we have actually learnt a lot and he has given us lots of perspective and lots of evolvement that is being taken place, not only in the Sri Lankan market but also in the Global Market" – NDB Securities Ltd. Research Analyst Ramakrishnan Raguram

A few more seats available for registrations, for more details of the program or to register, contact Sheran Dunlas on,

Telephone – +94 77 3656 655

Email – sheran.dunlas@pwc.com.