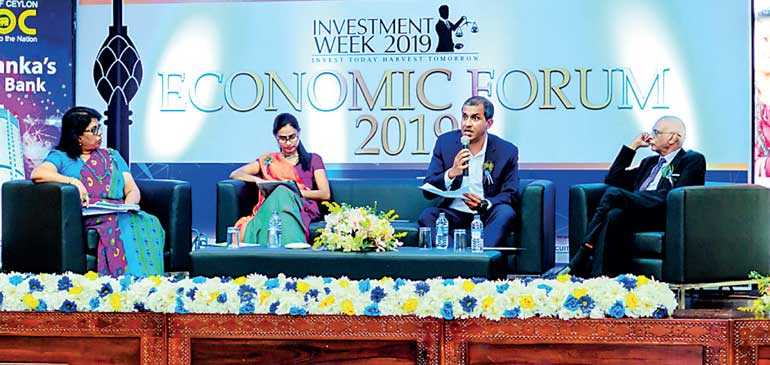 Panel discussion in session
---
The Economic Forum 2019 organised by the Finance Students' Association of University of Kelaniya, successfully concluded on 26 November 2019, at the Auditorium of Faculty of Commerce and Management Studies, University of Kelaniya.

Themed 'Turning Around Sri Lanka,' the forum brought together leading economists and capital market specialists to shed light on how growth in Sri Lanka's economy can be accelerated. Conducted at an opportune time, when Sri Lanka's economic policy direction is in the spotlight of many, the event was actively participated by academics, corporate partners and undergraduates.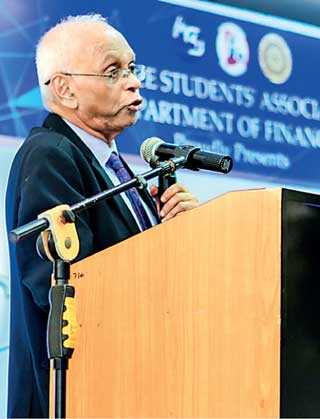 Keynote Speaker
Delivering the Keynote Speech, CBSL former Deputy Governor Dr. W.A. Wijewardena, termed the economic policy of the newly-elected President as 'Gotanomics' and went on to highlight the economic policies in President Gotabaya Rajapaksa's election manifesto.

Dr. Wijewardena elaborated the positives as well as challenges in the proposed policies such as lower direct and indirect taxes, simplified tax regime, reduction in telecommunication levy and abolishing the fuel formula.

Acuity Knowledge Partners (formerly known as Moody's Analytics Knowledge Services, a leading provider of research, analytics, and intelligence services to global financial institutes) Country Head Chanakya Dissanayake enlightened the audience about how investing in education would assist elevate poverty, further strengthening the services sector and resolve other issues faced by Sri Lanka. He also explained how the introduction of certain capital market products, such as securitised debt, can help the banking and insurance sectors in particular and the economy in general.

At the forum, the Ceylon Chamber of Commerce Economist Jayani Rathnayake focused on myriad of opportunities present to Sri Lanka in the trading side. She pointed out that Sri Lanka was in the process of negotiating three comprehensive agreements with India, China and Thailand. Once these agreements come into force, Sri Lanka will have access to a market of 2.9 billion people which accounts for 39% of the global population. She also added that full and early implementation of Trade Facilitation Agreement of WTO would be a game changer for countries like Sri Lanka.

The event was organised by the Department of Finance of University of Kelaniya as the second day of seventh consecutive 'Investment Week,' themed 'Invest Today – Harvest Tomorrow'.

Charted Institute of Logistic and Transport (CILT) Chairperson Gayani De Alwis moderated the event.