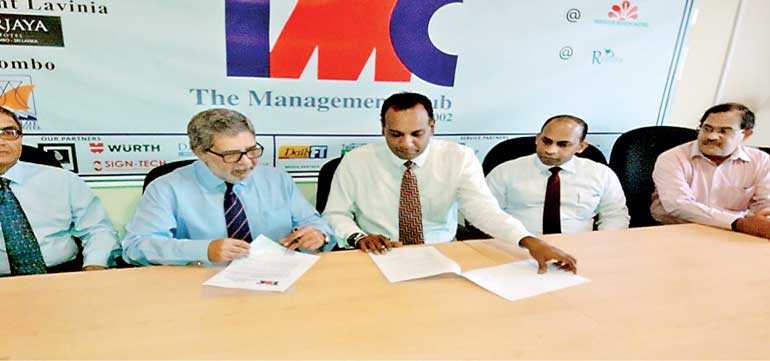 From left: TMC Immediate Past President Abdul Nasser Majeed, TMC President Emeritus Fayaz Saleem, STBC President Chaturanga Perera, STBC Immediate Past President Sampath Kulatunga and STBC Executive Committee Member in charge of CSR Projects Shankar Sithambaram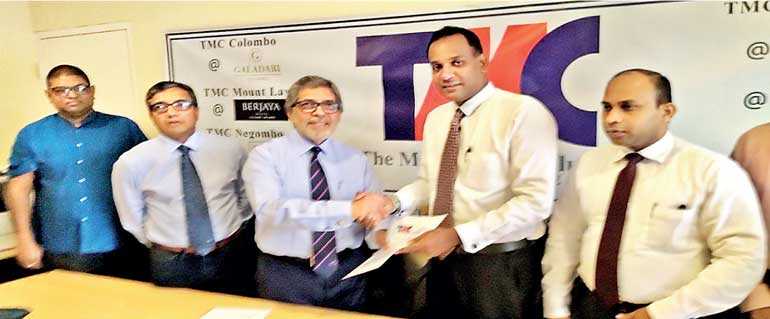 From left: TMC Vice President/Treasury Yoshan Fernando, TMC Immediate Past President Abdul Nasser Majeed, TMC President Emeritus Fayaz Saleem, STBC President Chaturanga Perera and STBC Immediate Past President Sampath Kulatunga
---
The Management Club signed an MOU with the Sunday Times Business Club on 20 June at the Boardroom of TMC at the Galadari Hotel on a reciprocal basis that would create some synergy between the managers of TMC and the business executives of STBC.

Both organisations agreed to provide an opportunity for members of each organisation to join the other on reduced entrance fees. Due to certain constraints a limited number of members will be accepted by STBC from TMC, whilst membership of TMC will be open to any or all members of STBC provided such membership criteria of each organisation is met.

Both organisations will treat each other as corporate members as per their constitutions. STBC members who join may avail themselves of a range of benefits applicable to all TMC members. Among the range of benefits are 20% discounts on food and beverages at all outlets of TMC's host hotels; they are the Galadari in Colombo, Berjaya Mount Royal in Mount Lavinia, Hibiscus Beach in Kalutara, Camelot Beach in Negombo, Ramadia Ranmal in Panadura and any other hotels in the future.

The membership can also avail themselves of numerous other benefits at retail outlets, gym, pool and rooms. Another significant benefit to the membership would be the use of their lounge, boardroom, and bottle bank facilities at TMC Colombo-Galadari Hotel. TMC organises a host of different events from speaking presentations, management programs to fun entertainment.

Membership of STBC entitles TMC members to free entrance to their monthly meetings, at which a sumptuous snack menu is provided and an opportunity to listen to reputed speakers on current topics and networking. STBC and TMC will together organise joint programs which may be open not only to the membership but also to select invitees/guests.