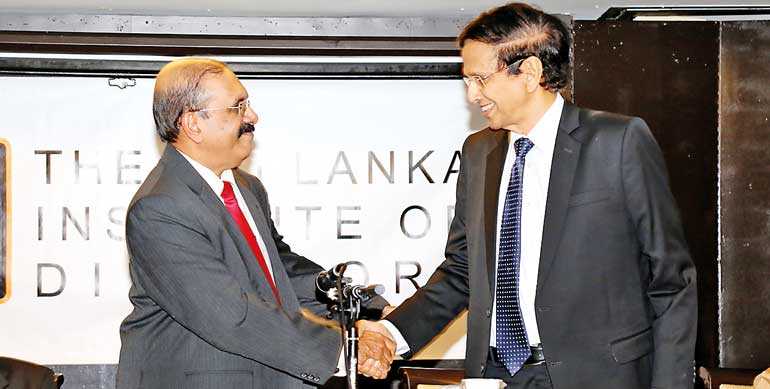 SLID new Chairman Rasakantha Rasiah being congratulated by his predecessor Preethi Jayawardena

Council of members for the year 2019/20. From left: Vice Chairman Aroshi Nanayakkara, Senior Vice Chairman Faizal Salieh, Chairman Rasakantha Rasiah, Past Chairperson Shiromal Cooray, Immediate Past Chairman Preethi Jayawardena, Vish Govindasamy, Nadija Tambiah and SLID CEO Chamindā de Silva. Members of the new Council not present were Dinesh Weerakkody, Prakash Schaffter, Dilshan Rodrigo, Dr. Roshan Perera and Samadanie Kiriwandeniya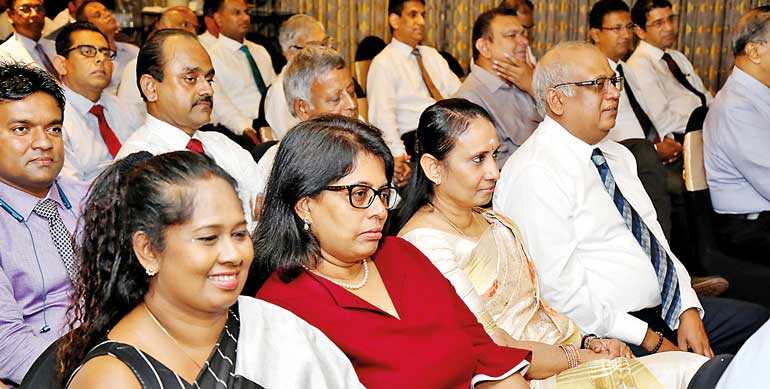 By ChamindÀ de Silva
The Sri Lanka Institute of Directors (SLID) held their Annual Membership Meeting (AMM) on 27 June with over 100 members in attendance at this momentous evening when the leadership of the Institute changed hands.

Preethi Jayawardena completed his two-year term as Chairman and at the AMM Rasakantha Rasiah was elected unanimously as the new Chairman of SLID for the next two years.

Shiromal Cooray steps down from the Governing Council after serving more than 12 years first, as a Council Member, then as the Chairperson during the period 2015-17 and lastly as the Immediate Past Chairperson. She has been one of the main driving forces behind the transformation of SLID. She will continue to support SLID actively in her role as a Committee Member of the Women Directors Forum.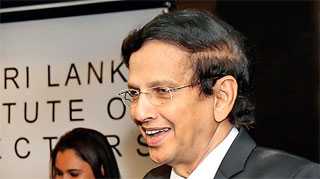 SLID new Chairman Rasakantha Rasiah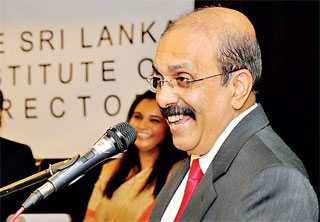 Outgoing Chairman Preethi Jayawardena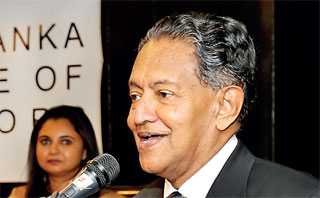 Chief Guest Dr. Kanag-Isvaran
The other officials elected to the Council of members for the year 2019/20 were Faizal Salieh as Senior Vice Chairman, Aroshi Nanayakkara as Vice Chairman and Dinesh Weerakkody, Prakash Schaffter, Vish Govindasamy, Dilshan Rodrigo, Nadija Tambiah and Dr. Roshan Perera. Samadanie Kiriwandeniya was elected to fill the vacancy created by the retirement by rotation of Shiromal Cooray from the Council.

The Annual Report and Financial Statements for the period ending 31 March 2019 were presented and approved by the membership whilst KPMG were re-appointed as the Auditors for 2020.

The outgoing Chairman, Preethi Jayawardena in his speech spoke of SLID's journey from the beginning and was proud of where SLID has come. He shared his appreciation of Immediate Past Chairperson Shiromal Cooray's immense contribution to SLID and called her the 'Iron Lady' of SLID! He described her as 'Susanthika' who took over the baton and ran as fast as she could to bring SLID to where it is today making his two year term easier. He continued his address by sharing the achievements at SLID which he termed the 'feathers in his cap'.

SLID was active in its advocacy and had many discussions with the SEC on the inclusion of women on Boards of listed companies which resulted in the inclusion of progressive gender quotas in the budget presented by the Minister of Finance in March this year. He said,"We believe that this is a first step and keen to assist companies to have more gender diverse Boards as well as to build a pipeline of Board ready women." He also thanked the Chairman of the SEC, Ranel T. Wijesinha for his leadership and support.

Activity at SLID is not restricted to the private sector only and under the auspices of the National Human Resource Development Council, together with the Institute of Chartered Accountants Sri Lanka, SLID co-authored the 'Handbook on Good Governance for Chairmen and Boards of Directors of Public Enterprises' which was published in December 2017.

A new initiative, spearheaded by Vice Chairman Faizal Salieh, the "Independent directors' Forum" was launched in 2017 to promote Boards comprising of independent directors, directors who are not afraid to voice their independent opinions, regardless of whether those views oppose those of the Chairman or the majority of the Board. The forum which is open to all private and public sector directors, meets once every two months. He thanked the Ceylon Chamber of Commerce and the SEC for providing the venue free of charge for this forum.

The Audit Committee Forum in its sixth year is supported by a dynamic working committee comprising of able and experienced senior directors who prepare quarterly topical discussions where information relevant to an audit committees responsibilities, relating to governance, risk management, auditing, accounting and financial reporting, current issues, future changes and international developments is discussed. KPMG hosts the working committee meetings and the alternate sessions and the Institute of Chartered Accountants provides the venue for the alternate session free of charge.

In this regard, in keeping with its firm commitment to fostering good corporate governance and encouraging diversity in the Board, SLID recently launched a Women Directors Forum. The forum aims at enhancing the number of women Board Directors and ensuring a female leadership pipeline in listed, unlisted, public and private corporate entities in Sri Lanka. The forum is open to SLID members. He thanked Aroshi Nanayakkara for spearheading this initiative.

In closing he thanked Immediate Past Chairperson Shiromal Cooray for her support and sound advice. He remarked that 99% was advice and 1% was sound, as opposed to his wife where 99% was sound and 1% was advice! He also thanked all the Council Members who served on the Council during his tenure for their unwavering support and contribution which made his leadership easier. He concluded by thanking the CEO and the Secretariat for a wonderful job, the media, especially Nisthar Cassim of the Daily FT who has been a good friend and supported SLID from the very beginning.

Rasakantha Rasiah, the newly elected Chairman, thanked the members for electing him as the Chairman. He thanked the outgoing Chairman for his services for the last two years. He went on to say that they had a good time working together delivering and achieving a lot. He thanked Cal Exports for providing the venue for the meeting and ungrudgingly providing the refreshments as well, the CEO and the Secretariat for their work in keeping the organisation active.
Board Leadership Director Certification

Rasiah spoke about SLID's main flagship program the Board Leadership Director Certification, which is well-received in the corporate world, and conducted twice a year. He shared that it had become so popular that many organisations have requested for customised training for their Directors.

Rasiah said,"We propagate Corporate Governance, not only in Colombo but also in the outstations.We have covered quite a few cities from the South to the North, East to the West conducting the programs not only in English but in Sinhala and Tamil as well." SLID continues to organise the regular events where we share knowledge on topics relevant to Directors.

The Council has Sub Committees led by Council Members such as the Board Leadership Program. Recently, as Preethi shared, an Independent Directors Forum, led by Faizal, was launched recently which has gathered momentum and the last session was very successful which was in partnership with the SEC. He also thanked Ranel T. Wijesinha for his support in this regard.

He spoke about the Audit Committee Forum which was started by Richard Ebell, Anthony Jayaranjan, and Razik and they have now passed the baton to the next generation, the 3 S's as they are known, Suran Wijesinha, D. Soosaipillai, and Suren Rajakarier. The forum is very successful and is one of SLIDs main forums. The Women Directors Forum was launched in June this year, and he is confident that this too would be successful.

Rasiah shared his plan and direction for SLID. He commented that he is not a politician and will not be changing anything. The baton has been passed on and we will continue with all the programs that were done, but better and bigger.For that he requested for the support of all the members. He shared that when nominations were called for there were quite a few people who had expressed their interest. However, as the number on the Council is limited we are unable to accommodate all.

He invited those who were interested to join and serve on the sub committees.He requested members to feel free to give advice, comments, and constructive criticism. He said that we do whatever we can and we propagate Corporate Governance across the country and we can make mistakes. There could be outside thinking. He concluded by inviting those who are outside the Governing Council, who may have a better view or different ideas to share it with SLID.

Introducing the Chief Guest of the evening, Dr. Kanag-Isvaran, Rasiah said that Dr. Kanag-Isvaran is a well-known personality and a champion of corporate governance and very vociferous in his expression and looked forward to his keynote address.

Dr. Kanag-Isvaran started his keynote address by commenting that he last addressed a SLID forum on the invitation of Founder President Desh. Ken Balendra, just before the 2007 Companies Act was introduced. He spoke on the importance of Corporate Governance in an organisation in a progressive and aggressive corporate environment. It is believed to be crucial to the achievement of a new frontier of competitive advantage and profitability.
Corporate governance

He questioned "What is Corporate Governance?"Historically the expression 'Corporate Governance' was imported from the US to the UK in 1970s and took root in the late 1980s. So it wasn't a long time ago. The UK Company Law was reformed after the financial scandals such as the Bearings crash and Polypex scandal, that led to the early versions if the UK Corporate Governance Code. 1992 definition was the Cardbury Committee that defined Corporate Governance as the system by which companies are directed and controlled.

Parallel to this there was the rise of shareholder activism whereby institutional shareholders began to introduce voting policies on issues such as independent Non-Executive Directors, separation of the Chief Executive and the Chairman, and the remuneration of executives. However, during the economic downturn of 1997 -2003, due to well published corporate collapses, such as Enron, Worldcom, and Tyco which were due to fraudulent accounting practices compounded by poor auditing practices, unaccountable and as they described outrageously overpaying CEOs and Non-executive Directors who did not understand the business and whose independence was undermined by inappropriate remuneration and benefits and commercial side deals and the like led to the formation of the new combined code on Corporate Governance in 2003. It comprised of 17 main principles and 26 supporting principles and 47 provisions.

These events echoed in Sri Lanka. He summarised these as the Institute of Chartered Accountants Code of Best Practice on matters relating to financial aspects in December 1997, The Audit Committees in May 2002, and Corporate Governance in March 2003, the latest being released in 2017.

Rules on Corporate Governance for listed companies as a mandatory code came into operation in August 2008 (the previous versions were for self-regulation), and for Banks and Financial Companies the Central Bank has issued from time to time directions and circulars on Corporate Governance and regulatory matters.

Fast forwarding the events to today in the UK. There is a CG code of 2016. The purpose is to facilitate effective entrepreneurialism and management that can deliver long-term success to companies. Today, Corporate Governance is there for what the Board of a company does and how it sets the values of a company.It has been distinguished from the day to day operations management of the company by the executive directors. Towards this end the new UK Code of 2016 outlines main principles of Corporate Governance and emphasises Leadership, Effectiveness, Accountability, Remuneration, and Relations with Shareholders.

He went on to briefly examine what it means under each of the heading.

A common understanding is emerging around the world that a company's long term financial success goes hand in hand with its social responsibility, environmental stewardship and corporate ethics. Recent studies have shown that corporate responsibilities is here to stay. Transparency is an irreversible force. Reporting and disclosure will be driven by lower barriers to information access. Higher public interest and regulatory changes. The ever growing impact of business on society means that citizens and consumers expect corporate power to be used responsibly and the corporate community will have to be proactive on building trust.

Business is expected to do more in areas which used to be the domain of the public sector. Ranging from health, education, community investment to environmental stewardship. Overcoming barriers to growth such as civil violence uneducated work force and unsustainable sources of energy, water, minerals, and soil is now in the interests of business.

The Harvard Law School forum on Corporate Governance and Financial Regulations published an article in December 2018 titled '2019 Global and Regional Trends in Corporate Governance' forecast 5 governance global trends which are Board quality and composition, deeper focus on oversight of corporate culture, investor placing limits on shareholder supremacy, and emphasising long termism, Environmental, Social and Governance (ESG) continues to be critical issue globally, and the fifth, active investors continue to impact Boards.

Board quality and composition is at the heart of Corporate Governance and Boards are expected to be vigilant as they consider individual tenure, directors overboarding (holding multiple Directorships at the same time), and gender imbalance. Increasing body of evidence shows that Board diversity pays dividends. Diversity means, gender, ethnic and cultural diversity. The lesson is that companies can boost their competitive edge by increasing diversity. He was appreciative of the work done by SLID in promoting women on Boards and in conclusion congratulated the Institute for its forward thinking on Board diversity and wished it every success.

The vote of thanks was delivered by Chamindā de Silva who thanked Dr. Kanag-Isvaran for accepting the invitation to grace this occasion and for sharing his thoughts on Corporate Governance and hoped that the participants would take this message back to their Boards and implement them. She thanked the Annual Corporate Sponsors Stafford Motors Ltd. and BoardPAC, Print Media partners Daily FT and Daily Mirror, and the event hospitality partner Cinnamon Grand.

The Chairman terminated the meeting which was followed by fellowship and cocktails.