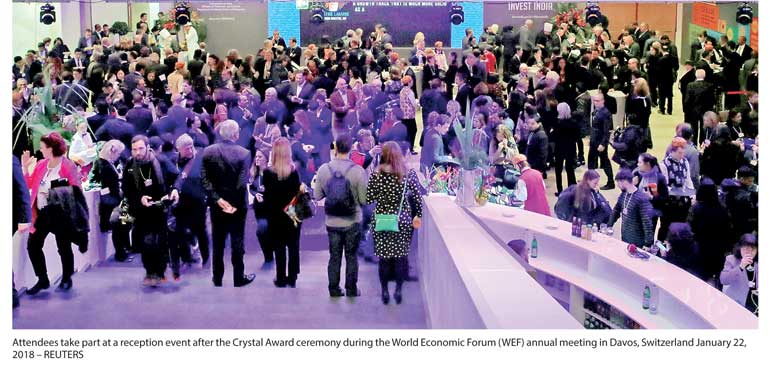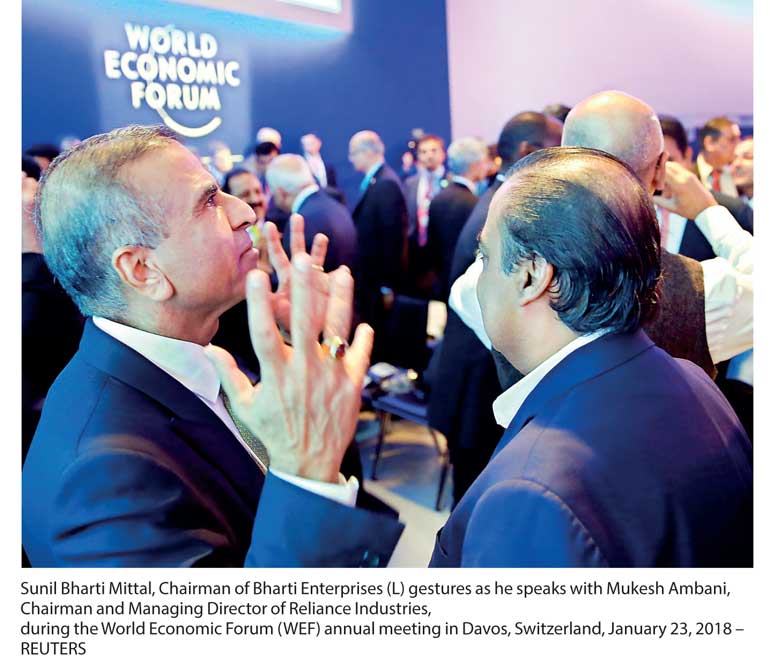 Steep rise in confidence about 12-month economic outlook
US CEOs especially bullish on Trump tax cuts, deregulation
Gains mask longer-term anxiety over politics, cyber, terrorism
DAVOS, Switzerland (Reuters): Chief executives are more optimistic about the economic outlook than they have been for many years although anxieties are rising about geopolitics, cyber threats and terrorism, a survey showed on the eve of the World Economic Forum (WEF) in Davos.

The PwC survey of nearly 1,300 CEOs found that 57% expect global growth to improve in 2018, almost twice the level of last year and the largest increase since the survey began in 2012.

The optimism was especially strong in the United States after a year of robust growth, deregulation and tax cuts under President Donald Trump.

Some 59% of US CEOs expressed confidence in the economy, compared to 24% last year, and 52% said they expected this to translate into revenue growth for their companies in 2018, up from 39%.

"With the stock markets booming and GDP predicted to grow in most major markets around the world, it's no surprise CEOs are so bullish," said Bob Moritz, global chairman at PwC.

But the optimism over the one-year outlook masked deepening anxiety over a range of societal threats.

At least 40% of CEOs admitted to being "extremely concerned" about geopolitical uncertainty, cyber threats and terrorism, while 31% worried about climate change after a year of devastating storms.

Last week, the WEF's Global Risks Report pointed to rising concerns about war after a year in which Trump threatened to "totally destroy" nuclear power North Korea and pull the US out of a deal between Western powers and Iran aimed at curbing its nuclear program.

"The higher level of concern is being driven by larger societal and geopolitical shifts rather than the dynamics of business leaders' own markets" said Moritz.
Record rally
A decade after the bankruptcy of US investment bank Lehman Brothers helped trigger a global financial crisis that plunged economies into recession, growth is accelerating and stock markets are setting new records.

Last week, the Dow Jones Industrial Average pushed above the 26,000 mark for the first time on optimism over company earnings in the aftermath of the US tax overhaul, which will push the corporate tax rate down to 21% from 35%.

Trump is expected to laud his tax plan in a speech on the final day of the WEF, which runs from Jan. 23-26 under the banner "Creating a Shared Future in a Fractured World".

Asked to pick their most important foreign market for growth, CEOs chose the United States, ahead of China, Germany, the United Kingdom and India in that order.

While the UK held steady in that ranking, its plans to exit the European Union appear to be affecting how business leaders in the country view prospects for their own companies.

Just 34% of CEOs in Britain said they were confident about delivering revenue growth in 2018, down from 41% in 2017 and against the broader trend.

On a sectoral basis, technology, business services and pharmaceutical companies were most bullish.

The survey showed that CEOs had different views on the main threats to growth depending on where they came from. In the United States, cyber attacks topped the list of concerns, while in Europe populism was the chief worry and in the Asia-Pacific region it was skills shortages.

The PwC survey was based on interviews with 1,293 CEOs in 85 countries between August and November 2017.
Fourth Industrial Revolution creating crisis of trust,

more regulation inevitable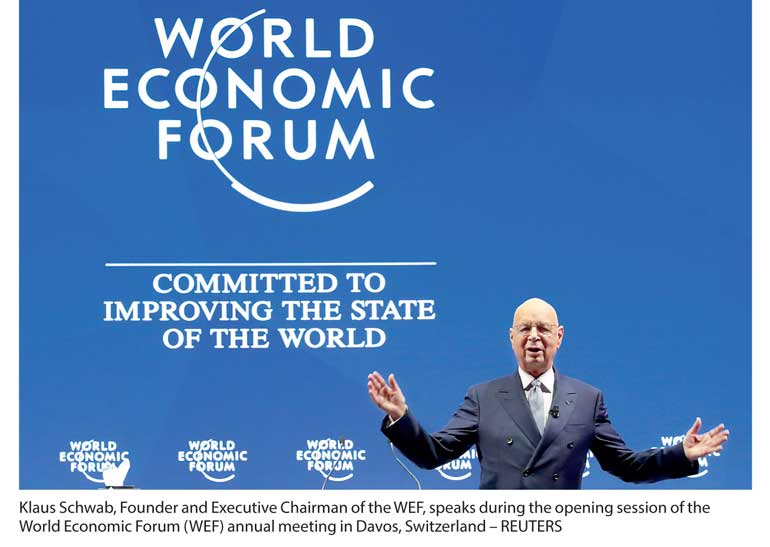 The pace of technological change is accelerating convenience but undermining trust
Automation of work and data is fuelling populist mistrust of technology and fears about jobs and privacy
Unless tech CEOs put values and trust at the core of their companies, moreregulation is inevitable
Davos, Switzerland: The speed of technological change is accelerating convenience at the expense of trust, raising questions about tech companies' values, intentions and responsibility to consumers, argued a stellar panel of participants on the first day of the World Economic Forum Annual Meeting.

The Kalamazoo shootings of February 2016, when Uber driver Jason Dalton shot six people dead, raised questions about whether "convenience is trumping trust," said Rachel Botsman, Visiting Academic and Lecturer at the Saïd Business School, University of Oxford, United Kingdom. "Trust needs a bit of friction," said Botsman – we need to slow down and assess what's risky and what isn't.

Uber does use data to create safer experiences, said Dara Khosrowshahi, Chief Executive Officer of Uber Technologies, USA. In Mexico City, for example, the ride-sharing service blocks ride requests from areas where carjacking is a risk at certain times of day. "Ratings are real," said Khosrowshahi, and a user has more information on their driver than if they hailed a taxi. But ultimately, "a 4.9 is a rating of how they drive, not the state of their mind."

The deeper issue at stake is whether the big tech companies are doing enough to build trust in their values and intentions. Under its previous chief executive, Uber suffered from a "growth at any cost" culture, exposed by whistleblower Susan Fowler. But, in the world of new, connected products and services – the Fourth Industrial Revolution – "trust has to be the highest value in our company," argued Marc R. Benioff, Chairman and Chief Executive Officer of Salesforce, USA, adding: "If anything trumps trust, we're in trouble."

CEOs need to be more transparent about the values they embrace. For Benioff, equality is key, especially in terms of employee pay and promotion. For Ruth Porat, Senior Vice-President and Chief Financial Officer of Alphabet, USA, Google's core value is respect – for the user, for the opportunity and for one another. Highbrow values are fine, but do companies' intentions measure up? Amazon's Alexa now has a built-in camera that can rate what a person is wearing, recommend upgrades to their wardrobe and order with a single click. Is it right that technology not only does things for us, but also decides things for us? Online retailers such as Amazon now gather so much data that they know more about users than the users themselves, raising serious questions about the privacy of that data and who has the authority to use and monetize it. Botsman asked: Is technology encouraging us to give away our trust too easily?

The signs are pointing towards more regulation, according to Benioff. "When CEOs don't take responsibility, then governments have no choice but to step in," he said. Benioff likened the accelerating power of today's technology to the complex financial products of a decade ago. Regulators weren't paying sufficient attention then, and the headlong rush into mortgage-backed derivatives and the like created the worst financial crash for generations. Regulators need to adapt much faster to the new reality.

There is a political angle to this argument too, said Sir Martin Sorrell, Chief Executive Officer of WPP, United Kingdom, one of the world's largest advertising companies. The spread of artificial intelligence, driverless cars and stores with no workers or check-outs is making ordinary people nervous. These voters are less worried about trust than about whether their job is secure – and this populism is sure to have an impact at the ballot box. Automation might bring prices down, but chief executives and governments alike need to take on the task of skills training with far greater urgency. With the tech space increasingly dominated by a handful of huge players, such as Apple, Google and Facebook, regulation of data sharing, privacy and responsibility for platform content is an increasingly urgent issue, argued Sorrell.

Ultimately, however, we cannot rely on regulators alone to solve these problems. In the case of newsfeeds, argued Botsman, do we want Facebook or regulators to be the arbiters of truth – or is that role best left to users themselves?