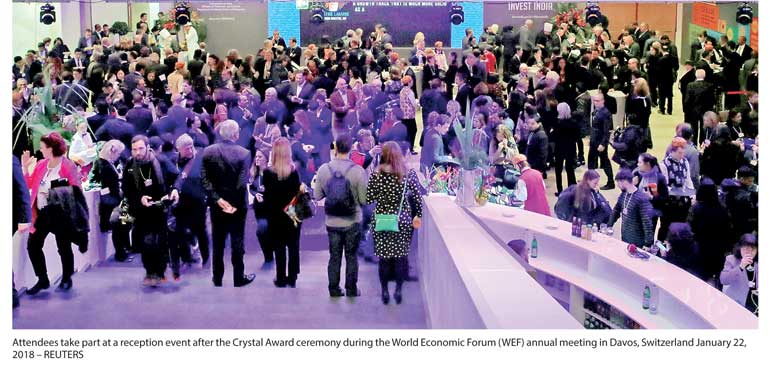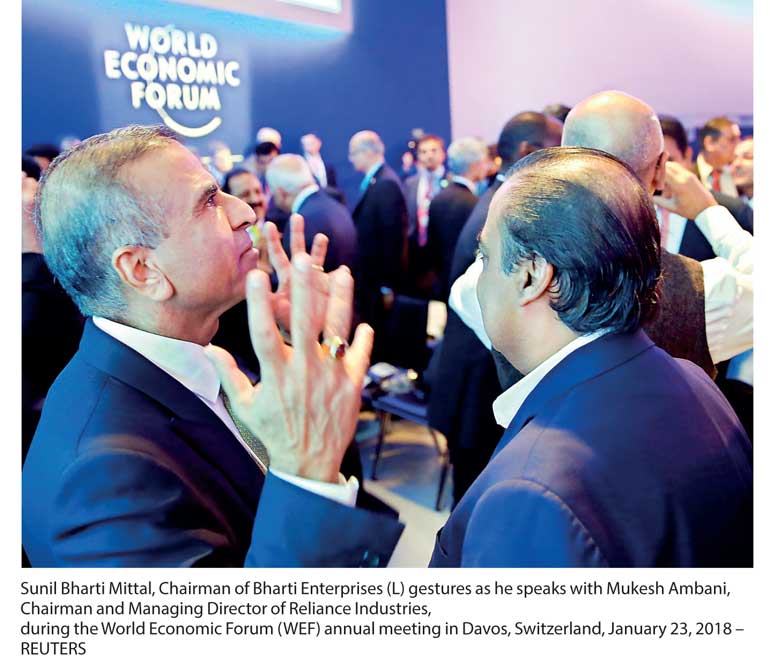 Steep rise in confidence about 12-month economic outlook
US CEOs especially bullish on Trump tax cuts, deregulation
Gains mask longer-term anxiety over politics, cyber, terrorism
DAVOS, Switzerland (Reuters): Chief executives are more optimistic about the economic outlook than they have been for many years although anxieties are rising about geopolitics, cyber threats and terrorism, a survey showed on the eve of the World Economic Forum (WEF) in Davos.

The PwC survey of nearly 1,300 CEOs found that 57% expect global growth to improve in 2018, almost twice the level of last year and the largest increase since the survey began in 2012.

The optimism was especially strong in the United States after a year of robust growth, deregulation and tax cuts under President Donald Trump.

Some 59% of US CEOs expressed confidence in the economy, compared to 24% last year, and 52% said they expected this to translate into revenue growth for their companies in 2018, up from 39%.

"With the stock markets booming and GDP predicted to grow in most major markets around the world, it's no surprise CEOs are so bullish," said Bob Moritz, global chairman at PwC.

But the optimism over the one-year outlook masked deepening anxiety over a range of societal threats.

At least 40% of CEOs admitted to being "extremely concerned" about geopolitical uncertainty, cyber threats and terrorism, while 31% worried about climate change after a year of devastating storms.

Last week, the WEF's Global Risks Report pointed to rising concerns about war after a year in which Trump threatened to "totally destroy" nuclear power North Korea and pull the US out of a deal between Western powers and Iran aimed at curbing its nuclear program.

"The higher level of concern is being driven by larger societal and geopolitical shifts rather than the dynamics of business leaders' own markets" said Moritz.
Record rally
A decade after the bankruptcy of US investment bank Lehman Brothers helped trigger a global financial crisis that plunged economies into recession, growth is accelerating and stock markets are setting new records.

Last week, the Dow Jones Industrial Average pushed above the 26,000 mark for the first time on optimism over company earnings in the aftermath of the US tax overhaul, which will push the corporate tax rate down to 21% from 35%.

Trump is expected to laud his tax plan in a speech on the final day of the WEF, which runs from Jan. 23-26 under the banner "Creating a Shared Future in a Fractured World".

Asked to pick their most important foreign market for growth, CEOs chose the United States, ahead of China, Germany, the United Kingdom and India in that order.

While the UK held steady in that ranking, its plans to exit the European Union appear to be affecting how business leaders in the country view prospects for their own companies.

Just 34% of CEOs in Britain said they were confident about delivering revenue growth in 2018, down from 41% in 2017 and against the broader trend.

On a sectoral basis, technology, business services and pharmaceutical companies were most bullish.

The survey showed that CEOs had different views on the main threats to growth depending on where they came from. In the United States, cyber attacks topped the list of concerns, while in Europe populism was the chief worry and in the Asia-Pacific region it was skills shortages.

The PwC survey was based on interviews with 1,293 CEOs in 85 countries between August and November 2017.