Presented by Nujjith Samarawickrema
The Members Speak was yet another gathering numbering over 28 participants comprising of members of the TMC, sponsors and guests taking the opportunity of listening to Spryn Logistics Ltd. Managing Director/CEO Nujjith Samarawickrema on a current and interesting topic, 'Supply Chain Management (SCM) key to organisation's success', on 20 June at the Galadari Hotel.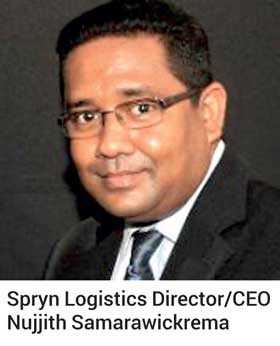 Samarawickrema who has over 23 years of experience in the Logistics and Supply Chain Management industry expressed his ideas to the audience on 'What is Supply Chain Management (SCM), how to create high-performing value systems that provide companies, its customers and its suppliers a sustainable competitive advantage, what leads to an unsuccessful operation and advanced SCM practices that leads to organisation's success'.

He further explained that the supply chain strategy is at the cutting edge of contemporary business re-design. However, most organisations have not been able to realise the full potential of their supply chains. The reason is that they continue to work with traditional mind sets. To maintain sustainable competitive advantage, companies need to align business goals and objectives with their supply chain strategies. He emphasised the need for organisations to break down their internal functional barriers and view the organisation in a holistic manner, in order to reap the benefits of an integrated supply chain. To do this, he stated that the organisations need to imbibe a new mind set.

Explaining further he stated that the supply chain management has emerged as one of the most powerful business improvement tools available today. Suppliers, manufacturers, distributors, retailers, and a host of service organisations have discovered that they must either transform their operations and tactics or be beaten by competitors with more innovative and aggressive supply networks.

At the macro level, supply chain initiatives include the integration of various processes, e.g., procurement of material, manufacturing, distribution, retailing, marketing, HR, etc.; at the micro level, each process involves various organisations which work together to achieve mutual benefits across the supply chain. In order to bring to life any supply chain improvement effort, it is critical for the firm to discover the value of looking collectively at its individual functions. Therefore, stress is laid on bringing about an integration of the functions within the organisation.

However, most organisations have divisions with separate functions; these divisions fragment the company's resources and create vertical communication channels that insulate business units and prevent them from sharing their strengths with one another. Poor internal partnering and departmental turf battles act as serious obstacles to genuine reform. In order to overcome their problems, it becomes imperative for organisations to bring about a shift from perceiving an organisation as a 'hierarchy of static roles' to thinking of it as a 'portfolio of dynamic processes'. He emphasised that the first principle is that of 'Thinking Towards a Shared Vision'. It incorporates the mission for which the organisation stands. The vision is where the organisation wants to see itself in future. Finally he stressed that the values suggest how an organisation intends to operate on a day-to-day basis towards accomplishment of vision and the goals and the realistic and visible milestones the organisation sets to achieve in its journey towards its vision.

At the conclusion of this very interesting presentation, Samarawickrema engaged the enthusiastic participants on an interesting interactive session to further educate and clarify certain relevant points raised by the audience.